LIFE SCIENCES
Bring Better Products to Market Faster
Carbon DLS™ enables functional parts that can meet stringent, industry-specific criteria.
BEST-IN-CLASS MATERIALS FOR LIFE SCIENCES
Becton Dickinson Produces On-Demand, Low-Volume Hemocytometer Adaptor
BD optimized the part to reduce print time by 55% and use 7% less material, accelerated their product development cycle, and economically produced final parts.
"With Carbon parts, we are able to deliver parts that have excellent surface finish and meet the mechanical requirements of a range of different parts required by our businesses."
Larry Monahan Corporate CAE Team, BD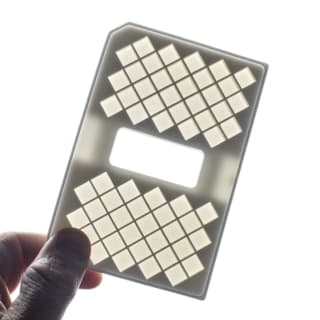 Dynamical 3D Achieves 70% Cost Savings for Low-volume Production
Dynamical 3D worked with Técnicas Radio Físicas (TRF) to produce radioactivity sensors on the Carbon platform. The team completed prototyping in one day with rapid design iterations. Printed sets of five unique end-use parts in EPX 82 that meets strict material requirements for 'hot' laboratory equipment. Ultimately, this achieved 70% cost savings for short and medium run production with Carbon compared to injection molding.
S4 Medical Shortens Medical Device Design Cycle to Improve Cardiac Care Procedures
S4 developed the "Protect-E" a potential breakthrough solution for minimizing risk associated with a critical cardiac care procedure. By partnering with Carbon Production Network (CPN) Partner Resolution Medical and using the Carbon Multi-purpose Polyurethane (MPU 100) material, S4 was able to greatly reduce their time to market by shortening design cycles, ultimately helping them secure early clinical trials which are crucial for medical device startups like S4.
"The ordinary 6-8 week or greater time cycle for producing tooling and iterating the design using injection molding could be the difference between life and death for a small medical startup trying to get clinicals. By using the Carbon Platform and biocompatible materials, the design cycle time was cut down to days and parts that were not readily injection moldable were easily handled by our team."
Blane Larson CVP of Development, Resolution Medical