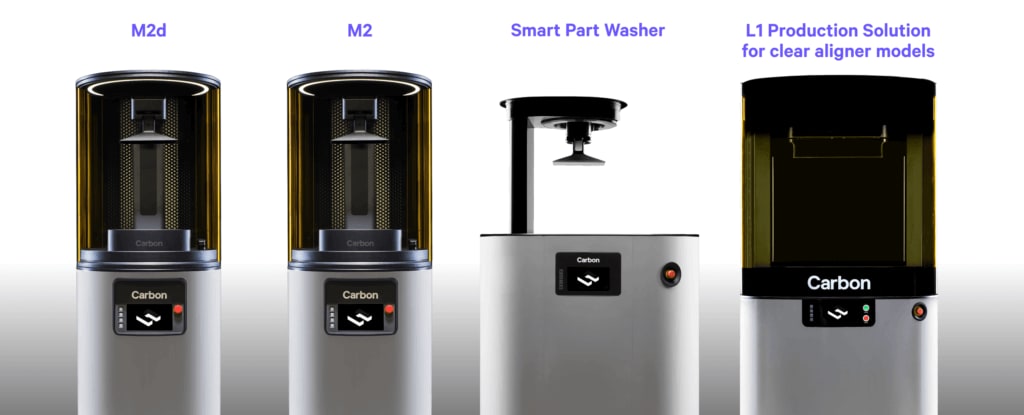 Carbon to introduce fully integrated and scalable production solutions at IDS, including M2d Printer, L1 Production Solution and new materials
REDWOOD CITY, CA – March 11, 2019 – Carbon® (www.carbon3d.com), the world's leading Digital Manufacturing Platform, will unveil its fully scalable production solution for the global dental market at the International Dental Show (IDS) in Cologne, Germany this week. Carbon is expanding its dental offering to provide an integrated technology platform that combines advances in software, hardware and materials. An industry first, Carbon is offering an end-to-end solution designed from the ground up to meet all the needs of dental and orthodontic labs, enabling them to scale quickly and economically. As part of this expanded offering, Carbon will announce its new M2d printer, perfect for mid-sized dental and orthodontic labs with lower volume needs, as well as its L1 Production Solution for high-volume production of clear aligner models. Carbon also will announce new dental resins and a materials initiative for creating recyclable dental models.
"Our fully integrated and scalable production solution is the gold standard for digital manufacturing and production for dental and orthodontic labs," said Brian Ganey, General Manager of Carbon's Dental Business.  "Our groundbreaking software, hardware and materials clearly set us apart in the industry. The Carbon Platform also enables our partners to achieve operational excellence, improved workflow and better margins—all made possible by our subscription-based business model and world-class support and training."
The updates to Carbon's software, hardware and materials include:
Software:

Recent upgrades to Carbon's software

allow for maximum efficiency by

automating workflow, fleet management and digital traceability. Specifically:

Validated workflows designed for compatibility with leading CAD/CAM software for dental practices and labs, such as 3Shape, exocad and AvaDent

Auto-nesting (and auto-packing and auto-queuing for thermoforming) capabilities for an efficient and integrated workflow

Real-time data analytics on throughput

Over-the-air updates typically every 6-8 week

New printers and hardware:

Carbon's hardware solutions have expanded to include products that are specifically tuned to the dental market, including:

M2d Printer:

This new printer has a smaller build area than Carbon's M2, perfect for mid-sized labs with lower volume needs. With a remote software upgrade, the M2d printer can also scale up to the same production capacity as an M2. Through September 2019, every new Carbon M2d subscription comes with a free month of the much larger M2 build area for maximum throughput.

Smart Part Washer:

For M-series printers, the Smart Part Washer is a connected device that automatically cleans dental models, making post-processing easy.

C6 Cassette:

Available as an accessory for M2, this product enables dental labs to do model production and model and die production up to two times faster than current offerings.

L1 Production Solution:

Our end-to-end solution for high-volume model production of clear aligners for thermoforming. Built on Carbon's newest printer, the L1, this solution is designed for high-volume runs of models for clear aligners (thermoforming applications only). This "factory in a box"  allows labs to immediately start printing thousands of aligner models a day and is designed for maximum accuracy and volume.
Materials:

Carbon has released 15 new resins in the last 18 months and will continue to innovate by introducing several additional third-party resins as well as a new materials initiative.

At IDS, Carbon is launching multiple new third-party resins, including:

Keystone Industries KeySplint Soft Clear, exclusively for Carbon: Expected to be the first FDA Class II approved resin for dental splints and nightguards
Dreve FotoDent Castable for Carbon: For removable partial dentures
Dreve FotoDent Indirect Bonding Tray: For orthodontic applications
Dentsply Premium Denture Resin: For premium dentures

Carbon's new materials initiative, recyclable dental models, is part of the company's continued commitment to sustainability. As such, Carbon has initiated a program to develop a fully recyclable resin for dental models.
Carbon is also announcing two new partnerships with Anaxdent and Skillbond, extending Carbon's dental operations throughout Europe. Together, the companies will offer training and education courses led by top educators from around the world to promote the use of digital manufacturing in the dental industry.
About Carbon
Carbon, the world's leading Digital Manufacturing Platform, is reinventing how polymer products are designed, engineered, manufactured, and delivered, towards a digital and sustainable future. Based in Silicon Valley, Carbon brings together innovations in software, hardware, and molecular science to deliver industry-leading digital manufacturing solutions. With Carbon's ground-breaking Digital Light Synthesis™ technology and broad family of programmable liquid resins, manufacturers can unlock new business opportunities such as mass customization, on-demand inventory, and previously impossible product designs. The Carbon Platform allows customers to build uniquely differentiated products while reducing waste and speeding time to market. To learn more, visit www.carbon3d.com, like the Carbon Facebook page, or follow Carbon on Instagram and Twitter at @Carbon.
Connect with Carbon:
Twitter: https://twitter.com/Carbon
LinkedIn: https://www.linkedin.com/company/Carbon
Facebook: https://www.facebook.com/PrintCarbon
Instagram: https://www.instagram.com/Carbon