adidas 4D
Meet the midsole that broke the mold. Since 2017, the adidas 4D has become an icon.
UNCONSTRAINED INNOVATION
"With Digital Light Synthesis, we venture beyond limitations of the past, unlocking a new era in design and manufacturing."
About this Project
adidas has provided the world's greatest athletes with top-performing, innovative products since its inception. In 2016 adidas came to Carbon to realize completely new paradigms in their designs and manufacturing that would allow them to once again raise the bar of performance.
Rising to the Challenge
Carbon's material scientists developed an entirely new elastomeric material, EPU 41, that could live up to the demanding mechanical properties of a revolutionary running shoe midsole. Additionally, the development of cutting-edge additive processes and tools were critical for efficiently manufacturing the new unmoldable midsole at scale.
The Result
A world-class 3D printed midsole designed by using two decades of high-speed motion capture and force data from nearly 4,000 runners. The Carbon DLS™ process allowed adidas designers to create one of the most advanced shoes with a multi-zone midsole created from a single print. The monolithic, lattice design comprises over 10,000 individual struts that enable the precise tuning of the midsole for performance––increased lattice density provides support, while decreased density creates cushioning, giving runners lasting comfort with responsive feedback.
HIGH-VOLUME PRODUCTION
Over 1MM 4D Midsoles Produced on Carbon's L1 3D Printer.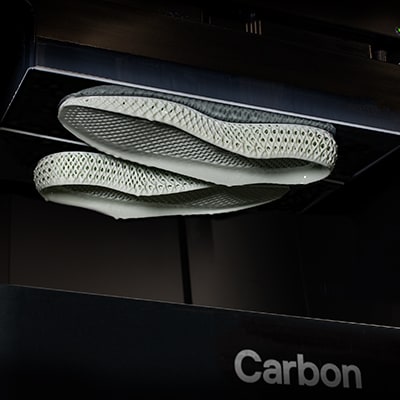 Development
Carbon DLS™ enabled adidas to rapidly iterate over 50 different lattices for the midsole before landing on the current design.
Launch
Carbon developed a full print and post-processing method for the new 4D midsole, ensuring that the end result was the best combination material and print process for adidas's design.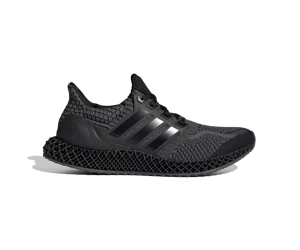 Expansion
The Carbon DLS™ process enabled adidas to expand its product portfolio rapidly, responding to market demands and customer desires faster than ever before.
Post-Processing
Automated, Solvent-Free Spinning and Vacuuming Followed by Dual-Cure
DLS Advantage
High-Performance, Unmoldable Geometries, Programmable Metamaterials
Get Started with the Carbon DLS Process
Carbon Design Engine
Generate conformal lattices faster than ever before with Carbon Design Engine.