Accelerated development: Go from idea to a functional latticed part in hours
Design Engine's powerful cloud-based computation can generate advanced conformal lattices in minutes. Pair with a 3D printer, and go from idea to printed part in just a few hours.
Designed for designers: Save time by eliminating tedious, rote work
Design lattices that work right away. Carbon Design Engine reduces and usually eliminates any need for the tedious, manual editing of struts or structures post-generate. Carbon Design Engine automatically resolves lattice features, both large and small, while robustly transitioning between different zones inside the same part for tunable performance.
Proven in production
The core lattice technology in Carbon Design Engine has been used to deliver award-winning products from companies like Specialized and CCM.
The Specialized Romin saddle with Mirror technology
The latest high-performance product to use Design Engine for ultimate control.
Define Multiple Performance Zones and Optimize Each Independently
Precisely control performance characteristics across multiple zones in your product for massive tunability of a single material. This capability leverages different lattice cell types, cell sizes, or strut diameters to create different zones of performance. Design Engine uses patent pending technology to seamlessly blend zones, producing attractive, functional lattices ready to use in real-world applications.
Choose Your Printer
Design Engine offers compatibility with most common additive manufacturing techniques by outputting generated lattices as STLs.
Learn From Application Engineers
Carbon Design Engine: Project Dashboard & Creating a New Project with Shawn Fortner
Carbon Design Engine: Generating a Single Zone Lattice with Kaitlyn Bailey
Carbon Design Engine: Trim and Base with Alyson Borrell
Carbon Design Engine: Offset Mesh with Shawn Fortner
Carbon Design Engine: Multi-Zone with Alyson Borrell
Carbon Design Engine: Feature Edges with Shawn Fortner
Different Subscription Options for Different Needs
Standard
An automated conformal, single-zone lattice design generator ideal for fast and easy exploration of lattice designs
Pro
An automated conformal, multi-zone lattice design generator intended for complex lattice shapes intended for production
Enterprise
Customizable features and concurrent users for your whole organization
Lattices: A New Building Block for Innovative Products
Lattices turn materials into programmable building blocks that can be tuned to deliver the characteristics you require at every millimeter.
Need Help Getting Started?
Get a demo of Carbon Design Engine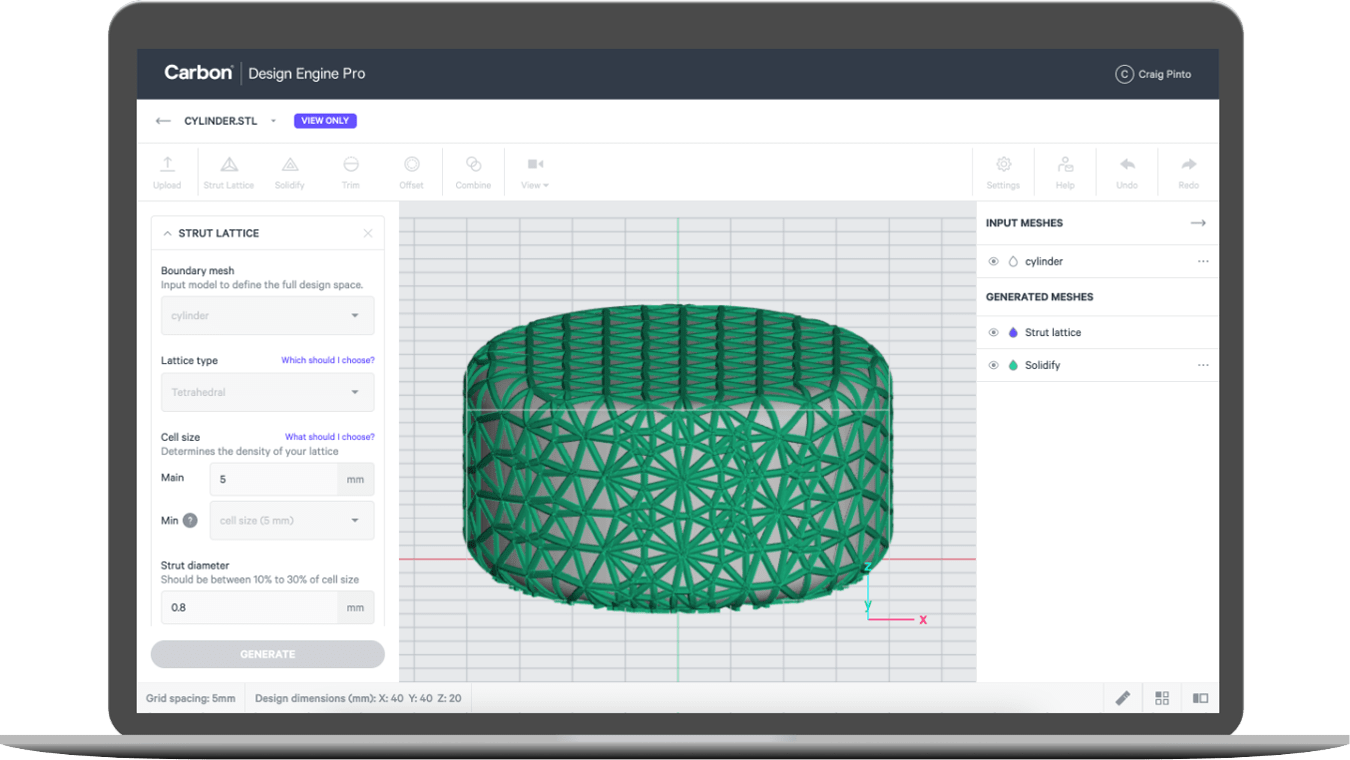 Download the Latticing White Paper