Carbon Design Engine™
Generate Conformal, Performance-Oriented Lattices
Lattices offer a radically new set of tools for product design. They reduce material usage, improve cushioning and dampening, increase breathability, and differentiate products with a slick, novel aesthetic. With Carbon Design Engine, making lattices is easier than ever. Carbon Design Engine is a lattice design generator that automates the process of creating conformal, single-zone lattices, saving engineers significant time and effort.
From Idea to Functional Lattice in Hours
Design Engine's powerful cloud-based computation can generate advanced conformal lattices in minutes. Pair Design Engine with Carbon's 3D printers and you'll go from idea to printed part in just a few hours.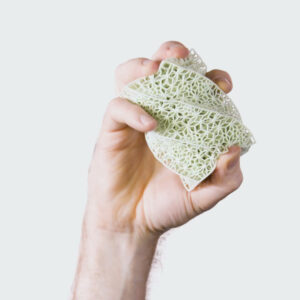 Download Latticing White Paper
A Closer Look
Lattices can save material and speed up print times. Design Engine helps you choose the right lattice pattern to meet your needs and make your production more efficient.
Material Usage Reduction
57%
Performance-Oriented Lattice Parts
Before you click generate, Design Engine saves you time and helps you tune your design by accurately predicting material savings and mechanical responses as you experiment with different lattice designs.
Proven in Production
Carbon Design Engine is a core lattice-design technology used in real-world, production parts today. Offering deep integration with Carbon's best-in-class materials and reliable, consistent 3D printing platform, Design Engine makes producing end-use lattices simple.
Read how Design Engine helped produce nasopharyngeal swabs during a critical shortage
Powerful Tools, No Tedious Tuning
Designing lattices can require tedious, manual work that is prone to errors that can significantly impact part performance. Carbon Design Engine automatically resolves lattice features, both large and small, and cuts down on development time by accurately predicting mechanical performance when lattices are printed with Carbon's industry-leading materials.
Amazing New Capabilities, One Great Subscription
It's easier than ever to make latticed parts because Carbon Design Engine is included with every Carbon printer subscription.
Get Your Part Latticed
Do you have a project that would benefit from a high-performance conformal lattice? We can give you a demo of Carbon Design Engine or help you find a Carbon Production Network partner that can work with you to develop your design.
Get Your Custom Part Made