Printers Driven by Digital Light Synthesis™
The Carbon M2 and L1 3D printers offer the groundbreaking Carbon DLS™ process. Implemented along with the automated Smart Part Washer, they allow a wide range of industries to design, engineer, prototype, produce, and deliver end-use parts using one common manufacturing workflow.
M2 Printer
Ideal for functional prototyping and all production levels
Offering speed, accuracy, and an effective build platform size, the M2 is well suited for a wide range of applications.
---
Produce at the Right Volumes
The M2 allows for cost-effective production with no minimum volumes.
Speed Up Production
The M2 has a built-in print planner that optimizes every build, assigning variable print speeds to match the part's needs.
XY, Z resolution
75 µm, 100 µm
Layer thickness
Layerless, isotropic parts
Accuracy
+/- 200 microns
Build volume
7.4 x 4.6 x 12.8 in

189 x 118 x 326 mm
---
"We are amazed at the quality, accuracy, and consistency of the parts that our Carbon M series printers provide. They are the true workhorses in our lab."
Kaila Nakanishi Technical Manager of Digital and All-Ceramics, Nakanishi Dental Lab
L1 Printer
The most advanced printer in the industry
The L1 printer is a sophisticated, proven tool for product designers, engineers, and manufacturers who need to produce at high volumes consistently. Powering innovative, end-use products like adidas Futurecraft 4D midsoles and Riddell Diamond helmets, the L1 provides the reliability and quality needed for on-demand production.
---
Produce Bigger Parts or More Small Parts
Offering over 1,000 cm² of build area, the L1 printer produces large parts in single prints, or many small parts for high throughput production.
Accelerate Time-to-Market
Produce functional prototypes quickly, then move to high-volume production on the same system.
Producing Millions of Parts
The L1 is making history in digital manufacturing, scaling production to the millions of parts for companies like adidas, Specialized, and Riddell. Learn more about what customers have to say here.
XY, Z resolution
160 µm, 100 µm
Layer thickness
Layerless, isotropic parts
Accuracy
+/-300 microns
Build volume
15.7 x 9.8 x 18.1 in

400 x 250 x 460 mm
---
Smart Part Washer
Optimized post-processing in less time
Improve part quality and reduce labor with the Smart Part Washer for Carbon printers.
---
Maximize Part Quality
With optimized wash protocols, every part is consistently cleaned with minimal manual labor, resulting in lower per-part cost.
Smart and Connected
Our next-generation software provides automatic, part-specific wash protocols, process control data for part traceability, and regular software updates.
Manufacturing at Scale
The Smart Part Washer delivers simple, repeatable part washing, enabling manufacturing at scale and environmental stewardship.
---
Software that Powers Innovation
Carbon's state of the art software optimizes your part designs and leverage data to control every stage of manufacturing, from ideation and prototyping to large-scale production.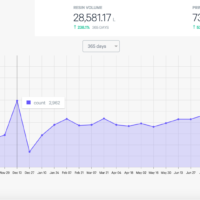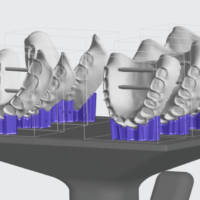 Use Familiar Tools
Carbon's software supports STL files. Use standard CAD tools to generate your design, and upload the STL into Carbon's print planning tool.
Lattice Design
Carbon software tools help customers generate the perfect lattice to fit desired form, mechanical response, and durability requirements.
Surface Textures
Add branded, aesthetic, or functional textures to your parts, all from within Carbon software. There's no need for a complicated pipeline of third-party tools.
Automated Print Preparation
Auto Layout
Save time when preparing builds with multiple parts by using Carbon's auto layout feature.
Advanced Auto Supports
Advanced auto supports save time by offering a reliable, FEA-backed strategy for supporting parts during printing.
Manufacture at Scale
Because every machine is connected, Carbon's entire workflow can be logged, monitored, and reviewed through tools and dashboards to offer deep insights into fleet performance and utilization.
Fleet Management Dashboard
Review production data and manage a fleet of devices in real-time from one dashboard. Queue new projects seamlessly.
Part Traceability
Preserve a part's entire history—from CAD file, to design, to print—in one digital record. Streamline quality assurance with embedded unique part identifiers to quickly review a part's history.
Over-the-Air Software Updates
Carbon's 3D printers constantly get better, even after they're installed. Regular software updates improve every aspect of the Carbon DLS™ process, offering improved user experience, faster and more accurate prints, and more sophisticated process management.
Real-time Status and Control
Monitor and manage printer and parts at every stage of the printing process wherever you are, regardless of whether you have one or hundreds of Carbon 3D printers.
Accelerated Customer Support
Carbon's customer support team can identify and troubleshoot printer issues remotely without interrupting business operations. Data-backed predictive maintenance through real-time alerts inform customers about issues that might impact production.
Carbon Isn't Just a Printer, It's a Complete Solution
Carbon's subscription model allows you to become part of our partner community. The Carbon subscription provides ongoing access to technology, service, and support.
The Carbon Difference from Day One
Carbon provides full-service installation; our technicians deliver and install your system professionally at your site, ensuring that you can start producing quickly.
Carbon Only Gets Better with Time
Most 3D printers start down the path of obsolescence at the moment of purchase. That's not the case with Carbon. We make sure that you always have access to the latest features by automatically pushing over-the-air software updates to your printer.
Support Whenever You Need It
Carbon's support technicians are available to help with any issue at any time. Get printer support at the touch of a button, or contact our customer service team by phone or email.
Education to Help Maximize your Return on Investment
At Carbon, the goal is to support every customer throughout their printing journey. As part of the Carbon subscription, we offer extensive training at all levels to help your entire team make the most of Carbon's products and services.
"The subscription model is beneficial as we're able to make payments over time versus one large capital investment. This enables us to keep costs down and allows for the flexibility to add more printers as the division grows."
Nick Windlow Director of Business Development, Smile Shapers