Primary is part of a select group of contract manufacturers with the expertise in 3D printing production parts using Carbon's revolutionary Digital Light Synthesis (DLS) technology. As a Carbon Production Partner, Primary has expertise in delivering 3D printing solutions to customers that require the highest quality and value. Soundz is a South Dakota based mid-size business with expertise in power sports audio products. Their speaker products come with the promise of being the loudest with cleanest audio quality.  The nature of their application in power sports such as motorcycles, utility task vehicles (UTV), and boats make it imperative to have parts that have the highest quality and real-world reliability.
Customer Challenges
Soundz was seeking a high quality, low lead time solution for a new tweeter housing grill. This particular tweeter housing grill (Figure 1) was needed for the launch of a new after-market speaker product for a globally-known motorcycle brand. Therefore, grill quality as evaluated in terms of surface texture, finish, and fit were important. Additionally, reliability as measured by part strength, UV stability, and abrasion resistance were critical.
The second challenge that Soundz had was to meet a tight time-to-market deadline of only one week. Soundz had been struggling to get the grill manufactured and delivered on time to launch its new speaker product at the Daytona Bike Week, one of the largest auto trade show. The long lead times of 3-4 months to get the tweeter grill designed, prototyped, tooled and produced with the traditional injection molding process was unacceptable to Soundz CEO, Peter Jensen. These two challenges pivoted Soundz to explore 3D manufacturing– something they had never done before.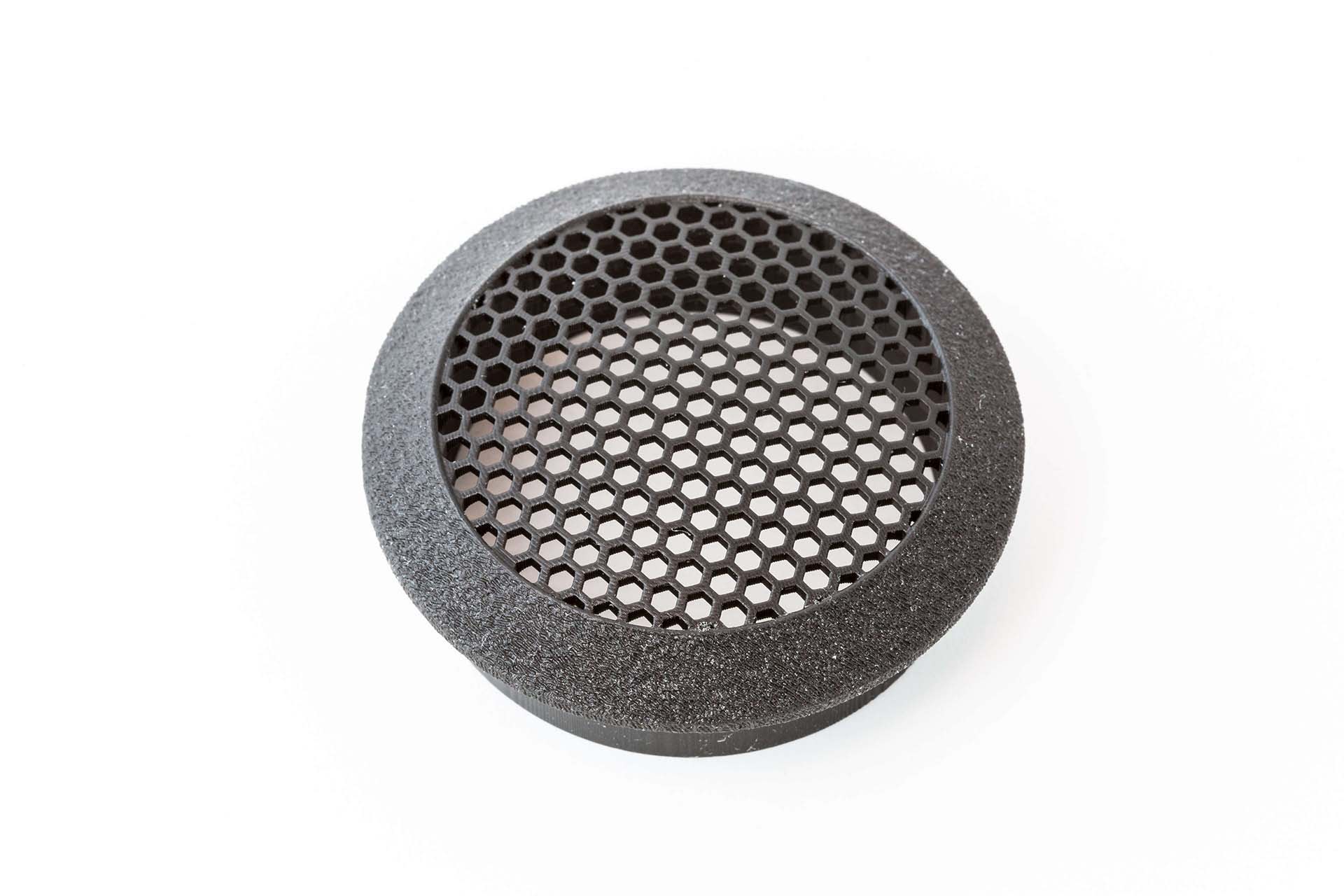 Figure 1: Soundz Tweeter Housing Grill
Solution Details
Soundz approached Primary Manufacturing due to their reputation for delivering 3D printing solutions with fast response times.  After listening to the customer needs for (a) low lead time and (b) textured production grade high-quality parts; Primary decided to explore 3D printing of these parts using Carbon's RPU70 resin. The RPU70 was selected due to its ability to render parts with strength, abrasion resistance, and UV stability.
Primary Manufacturing was not only able to manufacture the grill within a week using Carbon's M1 printers but also delivered highest quality parts. Netfabb® software was used to design the part support structures to ensure the parts printed successfully while minimizing the amount of post-processing needed. Soundz did intensive mechanical testing and approved the parts. Additionally, as the motorcycle customers highly value speaker aesthetics, an inspection was done to make sure the part texture, fit and surface finish met customer requirements. Carbon's ability to 3D print textures on the production part directly without the need for any additional post-processing, significantly differentiates its DLS technology from any other available additive or non-additive manufacturing technologies in the market.
"Carbon's technology and resins are amazing. The things we do for our customers using the Carbon M1 are a glimpse of what the future of manufacturing holds. Customers like Soundz know they can have lead times of days not months for parts that they can take directly to market in the real world."
Ladd McCluskeyCEO, Primary Manufacturing
Solution Benefits
Upon receiving the CAD files from Soundz, Primary Manufacturing developed the first functional validation of the tweeter grill within 24 hours. This quick turn-around is where the unique differentiation and benefits of Carbon's DLS technology shines:
the ability to do much faster functional validation and iterations at low cost
eliminate costly and time consuming tooling process steps
go into final production faster and with more confidence
For the case of tweeter grill, there were a few quick iterations done to get the texture and aesthetics match to the base speaker grill.  Primary Manufacturing delivered final production parts to Soundz within a week from initial enquiry, a dramatic speed increase versus a lead time of 3-4 months to get the same part made from traditional manufacturing process. The key results of using Carbon's M-series 3D printers to Soundz were:
Launch a new motorcycle audio product at a premier motorcycle trade show
Meet time-to-market and capture revenue otherwise lost
Delight end-customers with aesthetically beautiful and highly reliable 3D printed tweeter grill
"The collaborative effort among Primary Manufacturing, Carbon and Soundz allowed my company to bring an idea to market faster than we ever thought possible. That potential led us to sell completely out of stock of this speaker during its launch at Daytona Bike Week."
Peter JensenCEO, Soundz
Conclusion
At Carbon, our mission is to foster manufacturing innovation and help customers who are manufacturing end-use parts in low to high volumes. According to Mckinsey & Company2, Industry 4.0 success will ride on capturing key value drivers and at Carbon, we believe our products will be at the epicenter of this transformation and add value to our customers via:
Ability to manufacture high quality production-grade parts
Meet time-to-market demands
Help manage supply-demand imbalances
Deliver world-class service/after-sales support
A connected printer with highest asset utilization
13D Printing Comes of Age in US Industrial Manufacturing: http://www.pwc.com/us/en/industrial-products/3d-printing-comes-of-age.html
2Manufacturing Next Act: http://www.mckinsey.com/business-functions/operations/our-insights/manufacturings-next-act
Netfabb® is a registered trademark of Autodesk Inc.