SNAPSHOT OF ORAL ARTS DENTAL LAB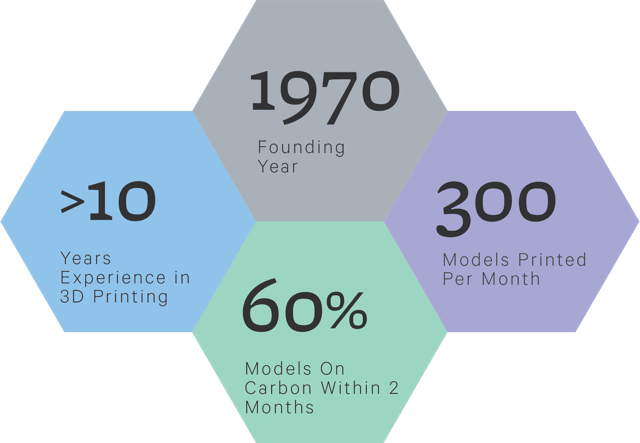 With extensive experience working with numerous dental printing solutions in the market, Oral Arts recently made the decision to subscribe to Carbon's M Series printer. Due to superior performance relative to existing dental model solutions, Oral Arts has migrated 60% of all their dental model production to Carbon within a short span of two months. The speed of transition is a testimony to the efficacy of Carbon's solution, including the DPR 10 resin for the dental model market. Listed below are the differentiated benefits that Oral Arts shared about Carbon. These benefits helped transform Oral Arts' business, enabling quick acceleration to final production.
Benefits to Oral Arts
QUICK AND EASY INSTALL PROCE

SS
Carbon's fast and professional install process ensures minimum downtime for your business. In most cases, customers are up and running within 1-2 days.
FAST POST-PROCESSING 
Post-processing with Carbon is 30% faster compared to other competitive solutions, resulting in higher production efficiency. In fact, Oral Arts has adopted Carbon's post-processing best practices across their lab.
ROBUST AND RELIABLE
Oral Arts appreciated the best-in-class reliability of the robust Carbon printers. The design and engineering of the printer deliver higher uptime, relative to the competition.
SUPERIOR CUSTOMER SUPPORT 
With a Carbon printer subscription, service and support are included. In addition, Oral Arts valued the unmatched speed with which Carbon resolved technical issues. This customer-first mindset enables Oral Arts to go into production with confidence.
ACCURATE AND DURABLE MODELS
Oral Arts was impressed by the accuracy and durability of models printed using Carbon printers and DPR 10 resin. For dental labs, performance metrics are critical, and Carbon surpassed all required metrics.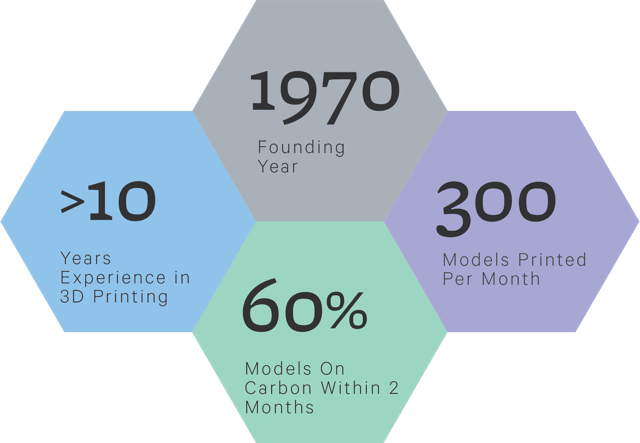 SUMMARY
Oral Arts embraced 3D printing technologies over ten years ago in order to provide a great end-consumer experience. Over time, dental labs such as Oral Arts have struggled to extract maximum value from their previous 3D printer investments. Carbon dental solutions are solving this problem for dental and orthodontic labs, as evidenced by Oral Arts migrating 60% of their dental models to Carbon printers within a two-month time span.
"Carbon's dental solution continues to impress us, from the super smooth printer install to the speed at which Carbon responds to our technical needs. The easy to use printers were producing accurate models on day one."
Matt Winstead VP of Certified Dental Technician, Oral Arts Dental Labs
If you are a dental or orthodontic lab looking for a partner that can fundamentally improve the speed of your business through best-in-class printer uptime, accurate dental models, and excellent customer support, learn more about Carbon's dental solutions here. Contact our dental team at dental@carbon3d.com.