JINS Eyewear Designs and Creates Unmoldable Lattice Temple Cushion with Carbon
---
Key Takeaways:
Developed an unmoldable lattice temple cushion with unique geometry that improves the comfort and breathability of eyewear
Shortened product development from 1 year to 4 months (66%) by prototyping, designing, and producing with the Carbon DLS™ 3D printing process
Uses the elastic yet durable Carbon EPU 40 3D printing material, which proves ideal for this cushioning application functionality and aesthetics
---
JINS, a high-quality global Japanese eyewear brand, set out this past year to define what the best eyewear would be and to ultimately make the unmakeable. After rebranding its J glasses line to "J Eyewear Lab," JINS's vision was to create new and exciting eyewear by utilizing best-in-class additive manufacturing processes and challenging its top product designers to innovate with expanded design freedom.
CHALLENGE:
JINS had been using FDM 3D printing for prototyping for years. However, JINS could not use FDM for final eyewear products due to brittle materials and poor surface-finish quality. JINS needed a 3D printing process that could offer both design freedom and end-use part quality.
SOLUTION:
After researching additive manufacturing technologies, JINS found that the Carbon Digital Light Synthesis™ (Carbon DLS™) 3D printing process and 3D printing materials met its production needs. JINS then began working with JSR, a Carbon channel partner based in Japan, to design, prototype, and produce innovative eyewear parts for JINS's "J Eyewear Lab" line using the Carbon DLS 3D printing process. With Carbon, JINS tapped into a new dimension in 3D printing materials and unmoldable geometries that inspired the creation of Neuron4D, a revolutionary new frame with a 3D-printed temple lattice cushion that enables unparalleled comfort. JINS used 3D printing as a means of production for the first time.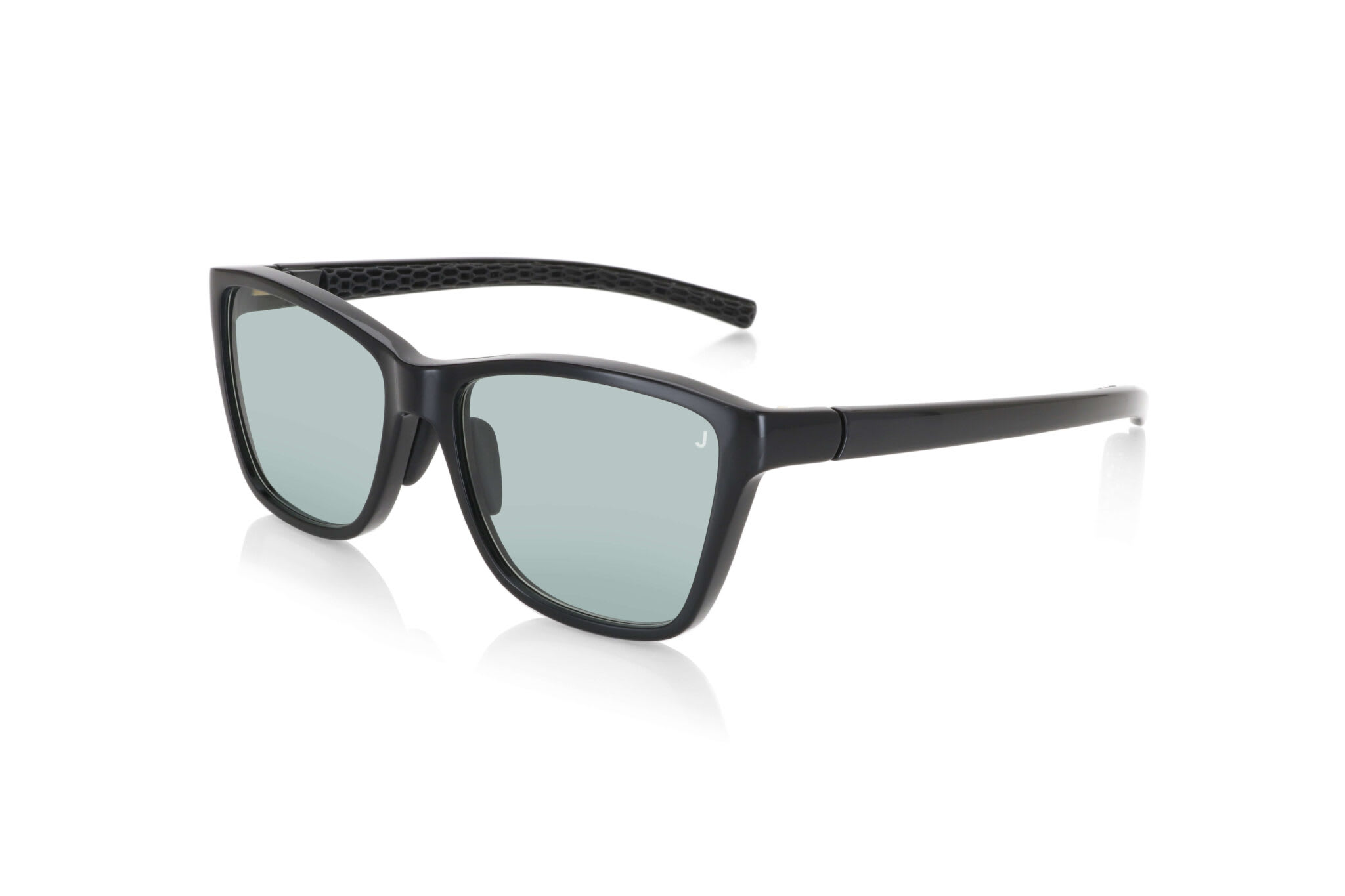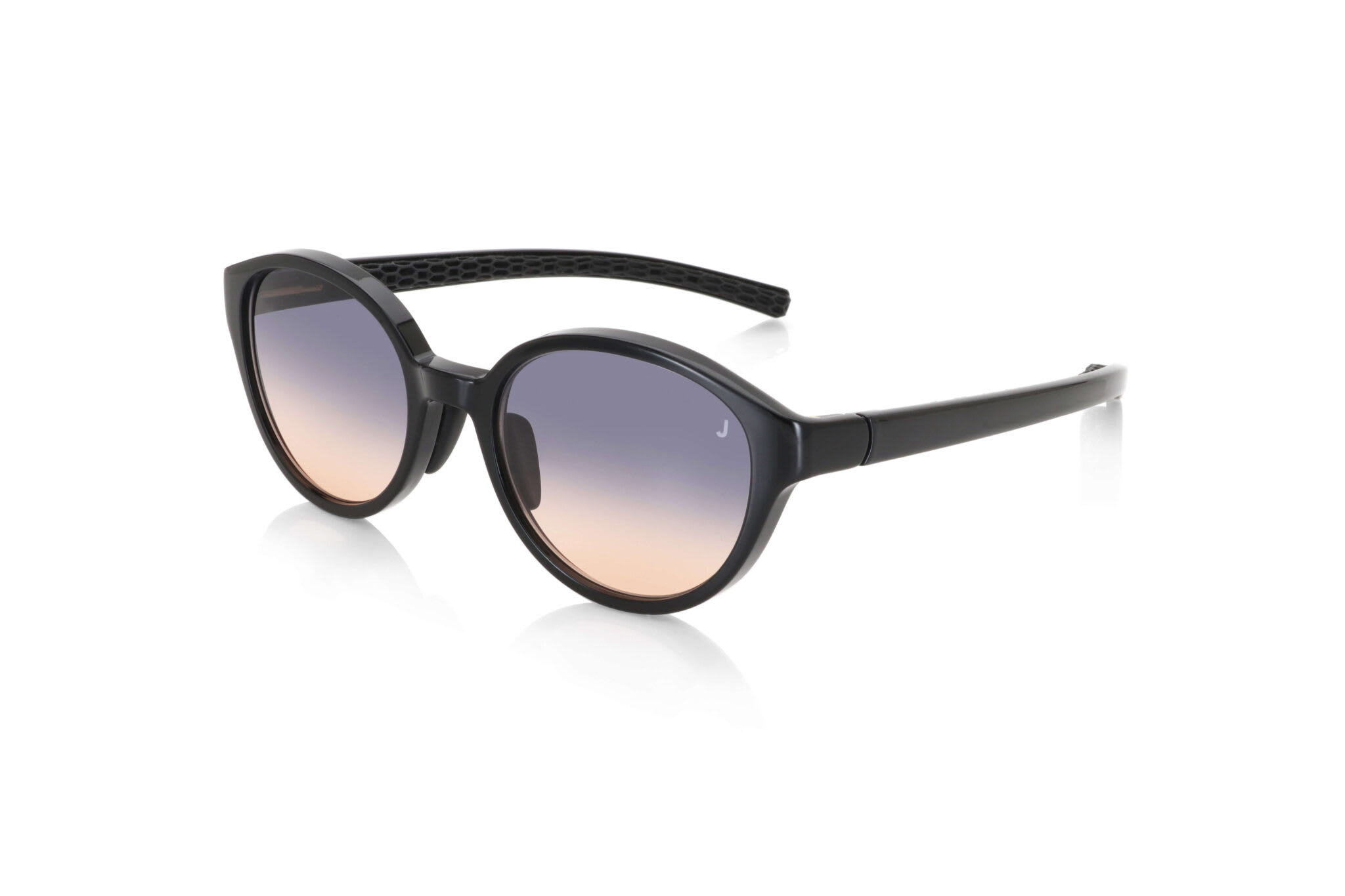 "The fusion of additive manufacturing technology and conventional eyewear has accelerated the evolution of the functional domain. Until now, eyewear in the active scene has sacrificed comfort in exchange for 'not slipping.' Now, Neuron4D has a cushion in addition to being hard to slip due to the precise lattice structure realized only by the Carbon DLS process."
Mitsuharu NakayaDirector, J Eyewear Lab
High-Quality 3D Printing Materials for End-Use Part Functionality and Aesthetics
JINS was initially inspired by the Carbon EPU 40 3D printing material because the material had the end-use mechanical properties and durability required for a real part that would be in the hands of consumers. Highly elastic, tear resistant, and resilient, EPU 40 proved to be an ideal material fit for JINS eyewear endeavors.
In addition to functionality, EPU 40 also met JINS's aesthetics requirements–enabling the optimal balance between delicacy and function that characterizes high-quality eyewear. With a strong first impression from EPU 40, JINS decided to move forward and begin the design iteration process.
Rapid Design Iterations to Speed Up Product Development
JINS's use of FDM 3D printing was limited to early-stage prototyping because the printed parts were deemed unacceptable for end use. This forced JINS to utilize traditional manufacturing technologies like injection molding for production and subsequently experience the lengthy and costly nature of tooling.
However, thanks to the speed of the Carbon DLS 3D printing process, JINS was now able to rapidly iterate designs and test functional prototypes made from the same material that would be used in the final parts. This reduced the development cycle from 1 year to only 4 months–eliminating tooling timelines and accelerating planning and production as a whole.
After multiple design iterations, JINS decided to focus on the temple cushion–the ultimate location to innovate design for comfort, and an ideal candidate for the EPU 40 3D printing material.

Performance-Driven Lattice Geometries: Lattice Temple Cushion
With design help from Carbon, JINS was able to create a lattice temple cushion with an unmoldable geometry that is flexible and breathable–simultaneously enabling an active lifestyle while increasing comfort. This unique lattice geometry has a gradation of hardness that measures within 100 microns and that molds to the shape of the head without exerting excessive pressure. This comfortable fit prevents slippage during active movements.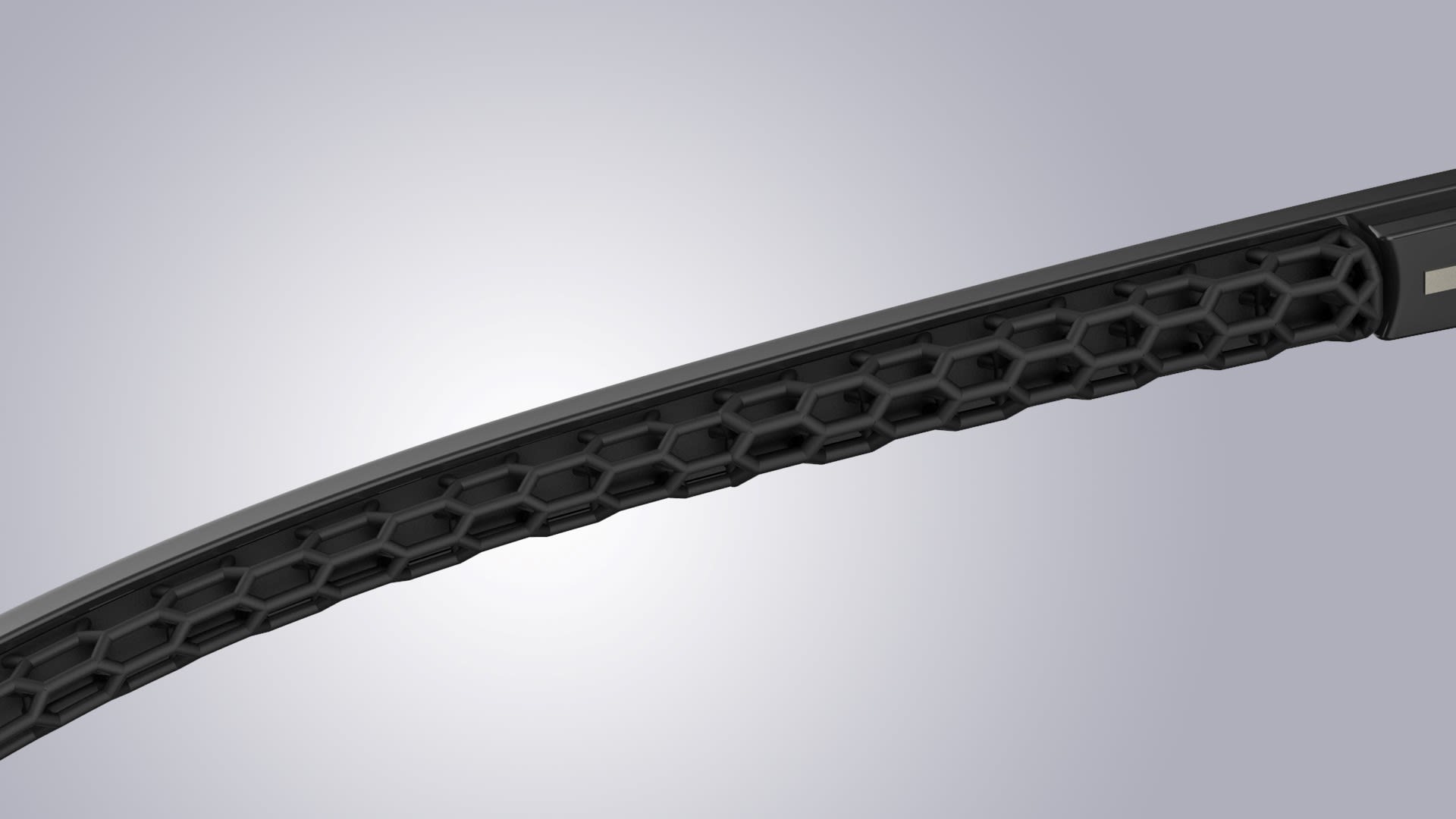 "The biggest challenge was to build a lattice structure with so little space–we had no idea how many layers could be incorporated in a grid within the width of the temple cushion. With Carbon we could tune lattice structures depending on the data input and characteristics that we wanted, and set the appropriate manufacturing conditions for it. Carbon's design support was integral to reach Neuron4D's unprecedented level of comfort."
Keiichi AsadaDesigner, J Eyewear Lab
RESULTS:
With the Carbon DLS 3D printing process and EPU 40 material, JINS created an unmoldable lattice temple cushion and was able to drastically accelerate development by being able to design, prototype, and produce on the same platform. By integrating a unique lattice geometry into eyewear temple cushions, JINS improved the comfort of traditional eyewear frames and redefined the next generation of eyewear.
After success with Carbon DLS™ for the high-end "J Eyewear Lab" line, JINS is eager to expand the use of Carbon technology across the entire JINS brand in the future. JINS looks forward to working with JSR and Carbon to continue innovating toward better eyewear, with a focus on customization and sustainability.
3D as It's Meant to Be
Learn more about how you can create better consumer products using the Carbon DLS 3D printing process by reaching out to us here.