Carbon: How would you describe Core3dcentres and your business?
Greg Harris: Core3dcentres focuses on providing the most extensive and precise production center services to the dental laboratory industry. Our Las Vegas, Nevada facility produces more than 20,000 models and an equal amount of zirconia restorations. Core3dcentres serves more than 500 dental labs in the U.S. every year. Having been in the business for 10 years, we take great pride in the quality and timeliness of our work.
In addition to being leaders in digital dentistry, we offer education and support on a wide range of topics for labs and their employees.
What prompted you to evaluate Carbon's dental solution for your business?
Greg Harris: With a long history of embracing new technologies, Core3dcentres has always been at the forefront of digital dentistry. When Carbon first announced the M1 printer in 2015, we wanted it immediately. The Carbon printer offered unprecedented speed, accuracy, and surface finish compared to other printers on the market. Once Carbon entered the dental market in 2017 with DPR 10, we were one of the first production centers with a subscription.
After the initial evaluation and employee-training phase, we successfully integrated Carbon into our production workflow. Within six months, we had successfully transformed our business, and now the majority of dental models are manufactured using Carbon M Series printers, at the most competitive costs while exceeding our throughput expectations. The strong Carbon brand has catapulted the Core3dcentres image in the dental lab industry.
How has your transformation journey with Carbon's technology progressed?
Greg Harris: Like every new technology, there were challenges and opportunities to learn. But what took us by surprise was the attention and responsiveness of the Carbon dental team to help us succeed. We were especially impressed by Carbon's high level of customer support, which was a departure from our previous experience working with various technologies in digital dentistry.  Carbon's technology and superior technical support have enabled Core3dcentres to serve our customers with great dental parts—enabled by a completely digital workflow with enhanced accuracy, efficiency, and consistency.
My leadership style is to empower my employees while providing them with strategic direction—segmenting our portfolio of work into independent workflows. Once we completed this segmentation, our team established a process of identifying exactly the type of models we could print with Carbon faster and more efficiently than with any other printer on the market.
The process of workflow segmentation was a turning point in our manufacturing journey with Carbon. Based on this clarity, we tripled our number of Carbon printers in the last quarter, and they are among the most highly utilized printers at our Las Vegas facility. This is where I think the classic combination of people [Core3dcentres employees], process [workflow segmentation and Carbon's standard operating procedures], and technology [Carbon's end-to-end dental solution] came together to create a business transformation.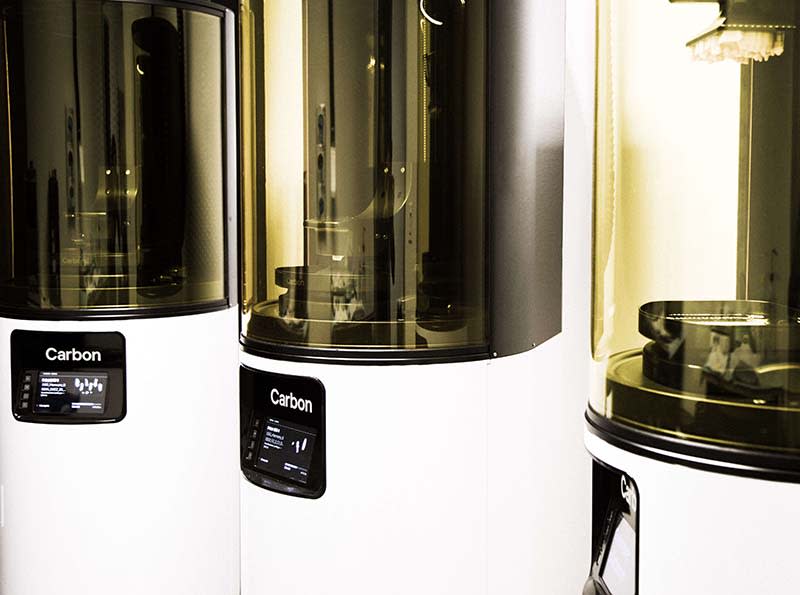 You mentioned workflow segmentation; how easy was it to integrate Carbon into your production workflow?
Greg Harris: Carbon's intuitive software and easy to use printers made workflow integration simple and fast. Most of our staff were trained within a couple of days and were immediately productive. Compared to some of the other 3D printing software on the market, Carbon's print planning and workflow management are straightforward and ensure the highest utilization of both printer and technician time. The M Series from Carbon has one of the best printer uptimes in the industry, and that always helps in building employee trust in the printers.
Additionally, our technicians appreciate how the standard operating procedures defined by Carbon make the printing process highly repeatable, with the cleanest and fastest post-processing steps. The exhaustive training and education modules from Carbon, which are included as part of the printer subscription, were another valuable resource for our employees.
Any advice for production centers and dental labs that are considering their first 3D printing technology for their business?
Greg Harris: Having been a lecturer in the field of digital dentistry for more than 25 years and worked on almost every 3D production printer, my advice to my peers is to embrace new technologies and invest in your employees. As the Head of Lab Operations, I provided my technicians access to Carbon's technology and empowered them to make decisions on how to best integrate Digital Light Synthesis™ technology in our production workflow. Our employees' ingenuity and ability to identify production workflows efficiently leveraged Carbon's capabilities to print the right type of dental models at high speeds.
Additionally, all of us at Core3dcentres were impressed by the commitment of the Carbon dental team and how invested they are in our success. The Carbon dental team's dedication and professionalism helped them to win the trust of my technicians. In my opinion, B2B companies are run by real people with real interactions, and at the end of the day trust in each other is as important as trust in new technologies.
Lastly, any significant trends in digital dentistry that you predict will shape the industry in the near future?
Greg Harris: Data is going to be the most significant trend in the digital dentistry world. In addition to having a diverse portfolio of accurate materials and fast printing, the ability to track and maintain the full digital record of the manufactured dental parts is going to be key. Companies like Carbon are at a significant advantage because their software can monitor printing process parameters for each layer, for each part, on each build platform. They can make this full lineage of part data available to the FDA when necessary.
Core3dcentres was able to leverage their workforce, clearly defined business processes, and Carbon's game-changing technology to have a meaningful impact on their brand and their customers' business. However, what is equally important for B2B business transformation is to identify and collaborate with the right business partner.
Carbon's Digital Light Synthesis™ technology is only one element of our end-to-end solution. Our partnership philosophy with clearly defined operating procedures and a dedicated dental team ensures fast integration with minimal disruption to our partners' business operations.
Interested to embark on a data-driven digital dentistry journey with a diverse portfolio of validated materials on the highly reliable M Series printer? Contact the Carbon Dental Team at dental@carbon3d.com.