KEY TAKEWAYS:
Reduced material cost by over 30% vs. milled
Reduced processing turnaround time by up to 50%
Increased labor efficiencies compared to milled and traditional hand processing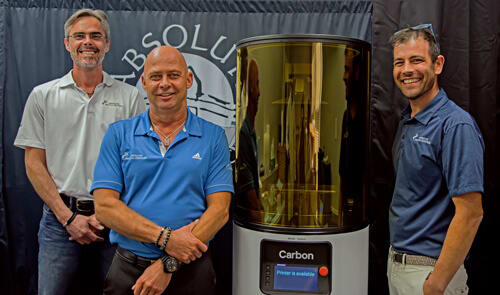 Finding the Right Time to Go Digital
Digital production of dentures has been growing the last few years as 3D printing has become more popular given its scalability versus milled or traditional approaches, which have limited throughput and high costs from labor and tooling. However, Absolute wasn't impressed by the quality of materials and 3D technologies that it had seen at the time.
Accuracy, natural aesthetics, and durability are the key attributes of quality dentures. The resins commonly used in 3D printing had inferior material properties compared to milled and traditional denture resins and often lacked the aesthetics integral to the look and feel that patients desire.
Absolute's perception of 3D technology shifted when it saw a Carbon® M2 printer in action for the first time at the 2019 LMT Chicago trade show. The dental lab was immediately impressed by the high accuracy of the parts, increased throughput, and speed delivered by the Carbon M2 printer and Digital Light Synthesis™ technology. However, Absolute was still unsure about the quality of the materials used to print dentures and wasn't ready to transition to this digital technology just yet.
All that changed when Absolute saw the digital dentures printed on the Carbon M2 printer using the Dentsply Sirona Lucitone Digital Print™ resin. Dentures created with Lucitone Digital Print provide a more natural look than other 3D print resins. They are also the first to exceed ISO high impact and flexural strength standards — making them high strength, fracture-resistant, and stain-resistant. Absolute knew it had finally found the right combination of innovation and materials to make digital dentures that it could be proud to offer customers.
"I didn't believe that 3D printed dentures would ever be good enough to meet our standards. After seeing the new Dentsply Sirona Lucitone Digital denture from Carbon, I ordered a Carbon printer on the spot."
Conrad RensburgOwner and Head of Digital Implants at Absolute Dental Services
Creating better-looking premium dentures, faster
Absolute began producing digital dentures on the Carbon M2 printer during the summer of 2019. With Carbon's "plug-and-play" assembly and intuitive technical workflow, the transition to digital production was smooth and seamless.
Absolute's workflow was antiquated and labor-intensive before going digital. Carbon allowed the dental lab to speed up processes like tooth set-up, wax-up, and processing and cut the time needed to finish the final product. Previously, 10 days were required to complete a set of dentures. Carbon DLS technology allows Absolute to finish a denture in as little as two days, and even return a final product within 24 hours in some cases.
Since installing its first Carbon printer, Absolute has seen increased efficiency in labor compared to milled acrylic methods and traditional hand processing. Absolute has also seen a materials savings of ~30% over milled denture products and a total cost savings of ~40% over traditional hand-processed techniques. As the dental lab continues to streamline its digital workflow, it expects its efficiencies to potentially double in the next few years.
Digital enables a better patient experience
Creating denture replacements for customers has also become easier since Absolute transitioned to digital. Clinicians and technicians can now scan an existing denture and import the data, streamlining the process and saving time. This has eliminated the need for bite rims and offers a valuable starting point for creating a new prosthesis. Absolute can now instantly print a new set from a digital file, resulting in less patient chair time and faster turn-around.
Finally, the traceable print workflows available through Carbon software provide the dental lab with full visibility into quality control issues from the printer level to the post-processing workflow. This transparency made it easy and cost-efficient for Absolute to identify and remove parts that don't meet its standards.
A Partner for the Future
Absolute's experience with Carbon has exceeded all its expectations. From the start, the dental lab was delighted to find that Carbon's relationship philosophy and company core values were tied closely to its own. As Absolute expanded its relationship with Carbon, it continued to be impressed by the people and the level of customer service provided.
The response that Absolute has received from its own customers since offering Carbon digital dentures has been equally great too. Rensburg says, "I have found many clinicians shy away from restoring dentures because of the challenges posed by establishing a correct VDO. The extremely predictable clinical workflow that Carbon's process offers has been an absolute game changer!" As the dental industry continuously shifts at a rapid pace to digital and automated workflows and products, Absolute sees Carbon as a significant partner well into the future.
Are you interested in finding out more about the Dentsply Sirona Lucitone Digital Print™ resin? Contact the Carbon Dental Team at dental@carbon3d.com for a no-obligation consultation.