INTRODUCING
Carbon EPU 41 Black
Carbon's latest engineering-grade, dual-cure resin.

Today, we are excited to unveil our latest innovation, expanding the variety of engineering-grade materials in our portfolio: EPU 41 Black.
EPU 41 has been a signature material for additive manufacturing, powering groundbreaking projects like the adidas 4D midsole and the fizik Adaptive saddle. At Carbon, we see these high-volume production applications as the crucible to prepare new materials for use by our entire customer base. EPU 41 Black, like EPU 41 Green, has been leveraged for various high-volume efforts. Now it's ready for every customer.
EPU 41: The 3D-Printed Elastomer Powering Millions of End-Use Parts
EPU 41 is a production-scale 3D printing material that is making 3D printed, end-use elastomeric parts a reality. Highly elastic and tear resistant with high cycle fatigue resistance, EPU 41 is comparable to commercial TPUs. By combining isotropy, good surface finish, and accuracy, parts made from EPU 41 are functional, ready for end use, and tuned for peak performance.
EPU 41 Black, the latest engineering-grade elastomer from Carbon, contains several core improvements over EPU 41 Green while offering the same mechanical properties and a more neutral aesthetic choice. The default print planner has been optimized, offering greater local accuracy and faster print speeds on many geometries.
Create Better Products with EPU 41 Black
EPU 41 Black is well-suited for applications that require energy return or cushioning, and is ideal for elastomeric lattices in which high resiliency is needed. Leading brands like adidas, Specialized, and fizik have already leveraged EPU 41 Black to develop next-gen products that maximize comfort and performance through precisely tuned elastomeric lattice cushions.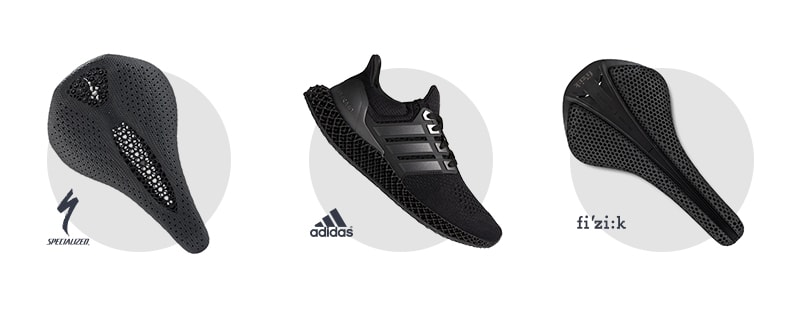 Design Better Parts with Carbon Design Engine™
Carbon customers can now begin to explore elastomeric lattice applications made from EPU 41 Black through Carbon Design Engine™, our performance-oriented lattice design generator.
Continual Platform Improvement
With the release of EPU 41 Black, we stay committed to bringing our core innovations to all Carbon customers so they can deliver better products to market in less time. And thanks to our connected 3D printers and over-the-air software updates, we're able to provide immediate support for new materials, as well as extensive training and real-time troubleshooting, so our customers can quickly start printing engineering-grade parts.
As we continue to push the envelope of what 3D printing is capable of and expand customer access to premium 3D printing materials, we're excited to see how customers will explore new applications in EPU 41 Black through Carbon Design Engine and beyond.
3D as It's Meant to Be
Interested in getting a custom part made? Submit a custom part request here and we'll connect you with a certified Carbon production partner.
If you are a Carbon subscriber, EPU 41 Black is now available for purchase in North America, Japan, and Europe in 5-L bulk resin packaging. This requires a bulk resin dispenser. Carbon's validated dispenser for EPU 41 is the PAR 3CM from Meter Mix® Systems US Inc.