Carbon Platform Improvements:

April 2021

Carbon is innovating at every stage of product development, expanding what 3D printing can do and constantly raising the bar in quality and efficiency.

Here is how the Carbon platform improved in April 2021
---
Expanded Range of Functional Materials
EPU 41 Black is Now Available to All Carbon Customers

EPU 41 Black is the newest addition to Carbon's material library and is now available to all Carbon customers. This new production-scale elastomer is well suited for applications that require energy return or cushioning, and is ideal for engineering-grade elastomeric lattices. EPU 41 Black offers the same mechanical properties as EPU 41 Green but in a more neutral aesthetic choice. Additionally, EPU 41 Black offers several key improvements over previous EPU 41 materials, including the following:
Optimized default print planner
Greater local accuracy
Faster print speeds on many geometries
EPU 41 Black is now available for Carbon customers to purchase in North America, Japan, and Europe in 5-L bulk resin packaging. Please note that EPU 41 Black requires an approved bulk resin dispenser. Carbon's validated dispenser for EPU 41 is the PAR 3CM or MM38 from Meter Mix® Systems US Inc.
Better Part Quality
Updated Carbon DLS Accuracy Guidelines
We recently published updated Carbon DLS™ accuracy guidelines. Previously, we gave very conservative high-level guidance around our tolerances. We now offer more granular guidance based on several years' worth of CT scans and field data on both general first-print accuracy and production accuracy following process optimization, as well as accuracy for dental applications. The following figures are a summary of the updated guidelines.
Updated General Accuracy Guideline
| | |
| --- | --- |
| Metric Units | Up to ±70 μm + 1 μm per mm dimension size |
| Imperial Units | Up to ±0.003 in + 0.001 in per in dimension size |
Updated Production Repeatability Accuracy Guideline
| | |
| --- | --- |
| Metric Units | Up to ±40 μm |
| Imperial Units | Up to ±0.002 in |
Updated Dental Indication Accuracy Guidelines
| | |
| --- | --- |
| DPR 10 Model + Die Local Accuracy | 94% of points within ±50 μm (±5%) |
| DPR 10 Clear Aligner Model Accuracy | 96% of points within ±100 μm (±5%) |
Dive deeper into the updated Carbon DLS accuracy guidelines here:
Improved Efficiency
New Carbon Design Engine™ Features
Carbon Design Engine™ provides engineers the best and easiest way to manufacture performance-oriented lattices that achieve a variety of mechanical responses. After launching this new software design tool to our customers a few months ago, we're now excited to release two new features:
We have included helpful tips in the menu that add more context about which cell size is appropriate for your design.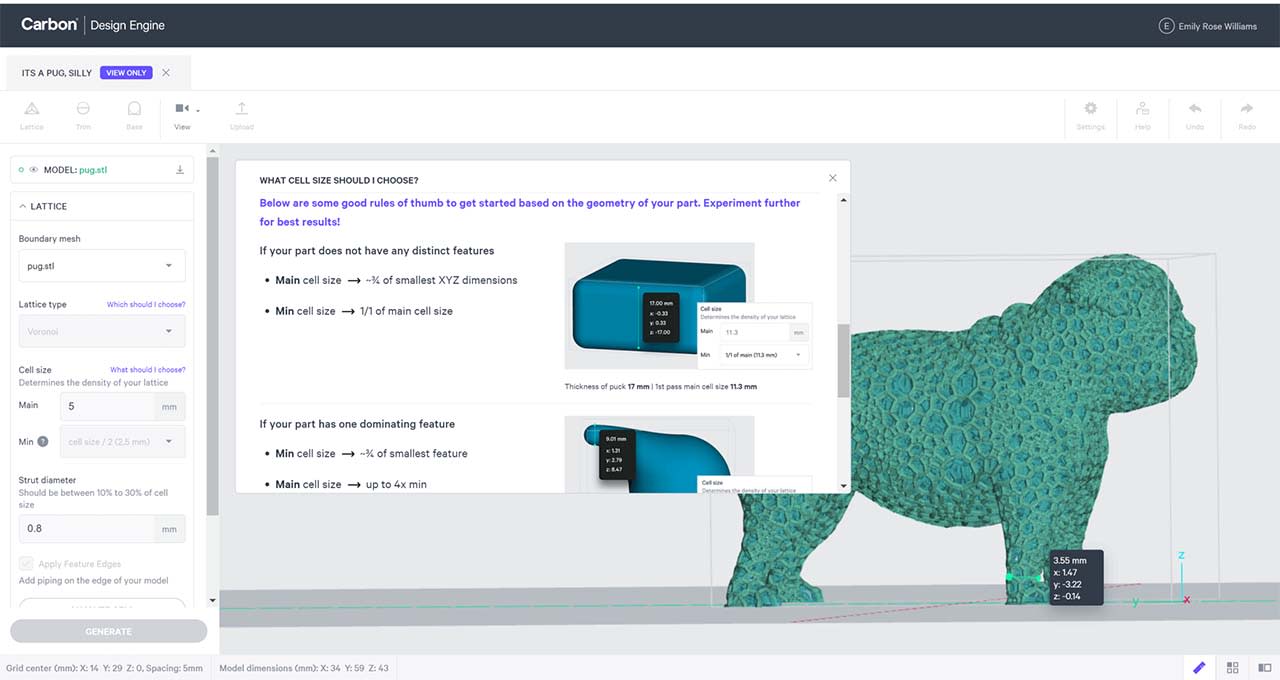 We have also added a ruler to the screen so you can get a better sense of different feature sizes without having to leave Carbon Design Engine.
More Efficient Print Prep –– v.1.30 Software Release
Our latest software release, v.1.30, improves print prep efficiency with a more responsive UI. You can now plan your build more easily by toggling which parts appear on the print platform. Hiding parts can be useful when you need to see what is behind them or when having many parts rendered on your platform slows down your browser. Please note that all hidden parts will still be printed. To access this new feature, make sure to install software update v.1.30.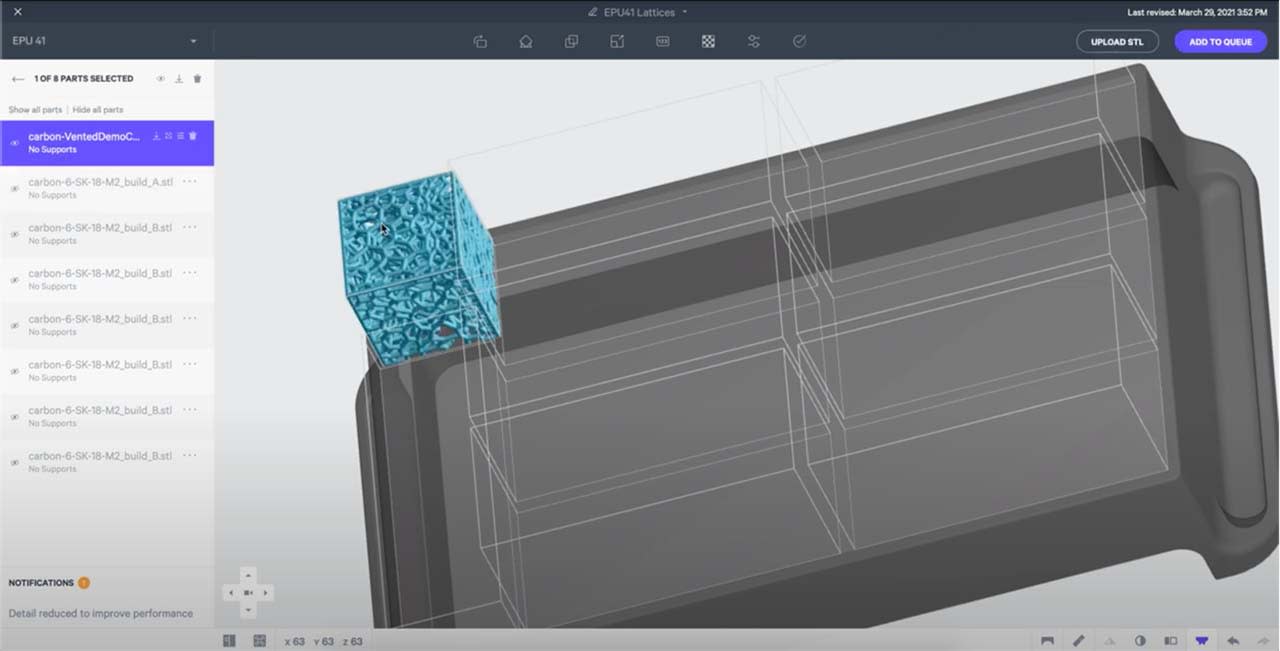 3D as It's Meant to Be
Thanks to our subscription model and connected 3D printers, we're able to easily roll these innovations out to our customers as soon as they are ready. To learn more about our subscription model, check out this blog.