ADVANCED SOFTWARE TO MANAGE PRODUCTION
Since day one, we've been committed to our business partners' success and ongoing needs. Now, recent over-the-air updates to Carbon's software help our business partners reach maximum operational efficiency through automated workflows compatible with leading CAD/CAM software for dental practices, real-time fleet management, and digital traceability.
SOLUTIONS FOR EVERY LAB
Carbon digital manufacturing solutions are suitable for dental model and die production at every scale. We started with the M2 printer, which combines high quality, fine resolution, and the throughput needed by mid and large-sized labs. To increase the throughput of the M2 printer, we introduced the C6 Cassette to produce dental models and dies up to two times faster than current offerings. Last but not least, the L1 Production Solution is the industry's first end-to-end solution for the high-volume production of orthodontic models for clear aligner thermoforming. Designed for maximum accuracy and volume, this "factory in a box" can efficiently produce 30 models in 35 minutes on a single L1 printer.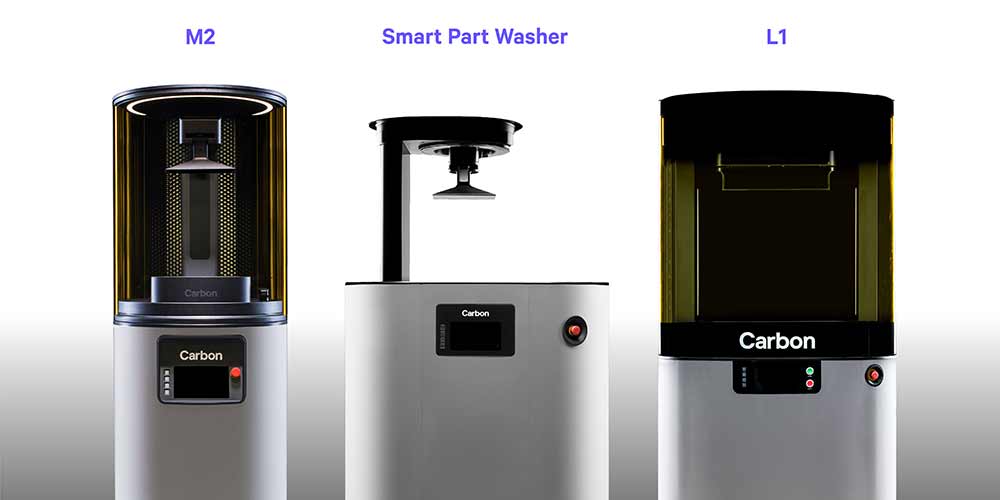 Carbon's dental customers have expressed superior satisfaction with its technology and service shown after receiving an unprecedented Net Promoter Score of 89 as published by NADL.
MORE DENTAL-SPECIFIC MATERIALS
We've released 15 new resins over the past 18 months, and we're just getting started. We're excited to make these recently released third-party materials available to our customers:
If you're interested in learning more about our fully scalable production solution, contact us at sales@carbon3d.com.
To keep up with our dental news and updates, join our Dental Facebook group, follow Carbon's LinkedIn + Twitter, and subscribe to our blog below!