The First High Impact, Premium 3D Printed Denture
System: Part of the Lucitone Digital Print Denture™ (LDPD) System
Accurate: The accuracy and reliability you expect from a denture made with Carbon DLS™
Efficient: Produce more dentures, faster and with less work
Durable: Exceeds ISO high impact and flexural strength standards
Better Patient Experience: Better fit with excellent function and aesthetics
Versatile: Multiple on-label workflows proving breadth of tooth options
Optimized for the Carbon M Series platform
Lucitone Digital Print™
Dentsply Sirona
Flexural Strength

>65 MPa

>9 ksi

Work Fracture

>900 MPa

>131 ksi

Flexural Modulus

>2000 MPa

>290 ksi

Impact Strength (Notched)

Exceeds ISO high impact standards
Discover Lucitone Digital Print and Carbon
---
Resin availability may vary across countries and is subject to change. Resin properties and specifications are established by their manufacturers and provided by Carbon for convenience purposes. For up-to-date information on resin availability across different jurisdictions or for additional information regarding resin properties or specifications, please contact the resin manufacturer.
Address a Wide Range of Cases with Multiple Tooth Options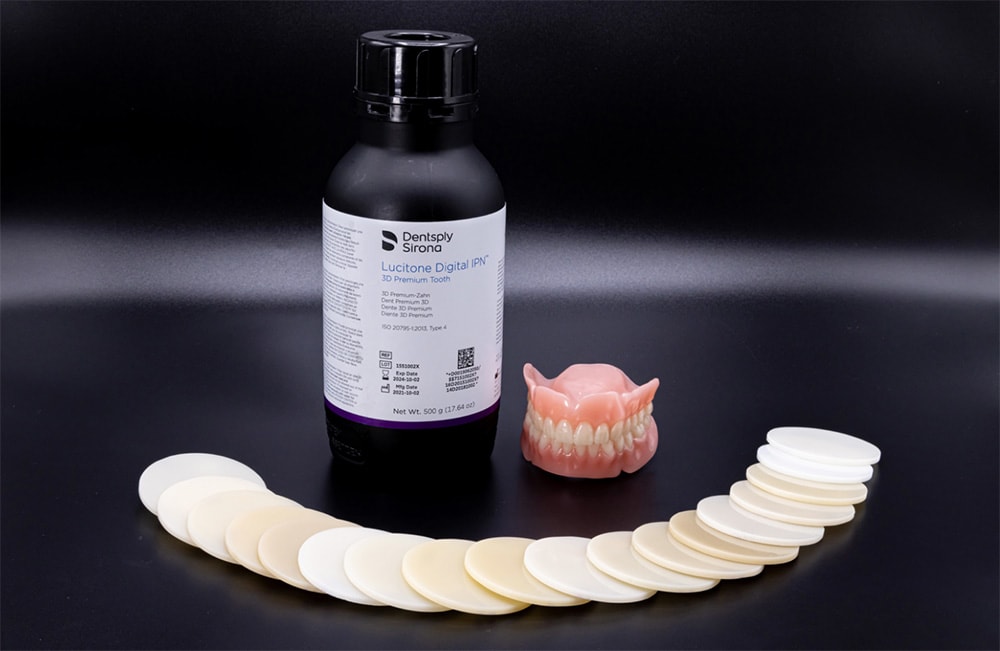 LUCITONE DIGITAL IPN™ 3D PREMIUM TOOTH RESIN
Premium-level wear resistance and translucency, available in 16 A-D and two bleach shades.
Learn more from Dentsply Sirona on other available tooth options.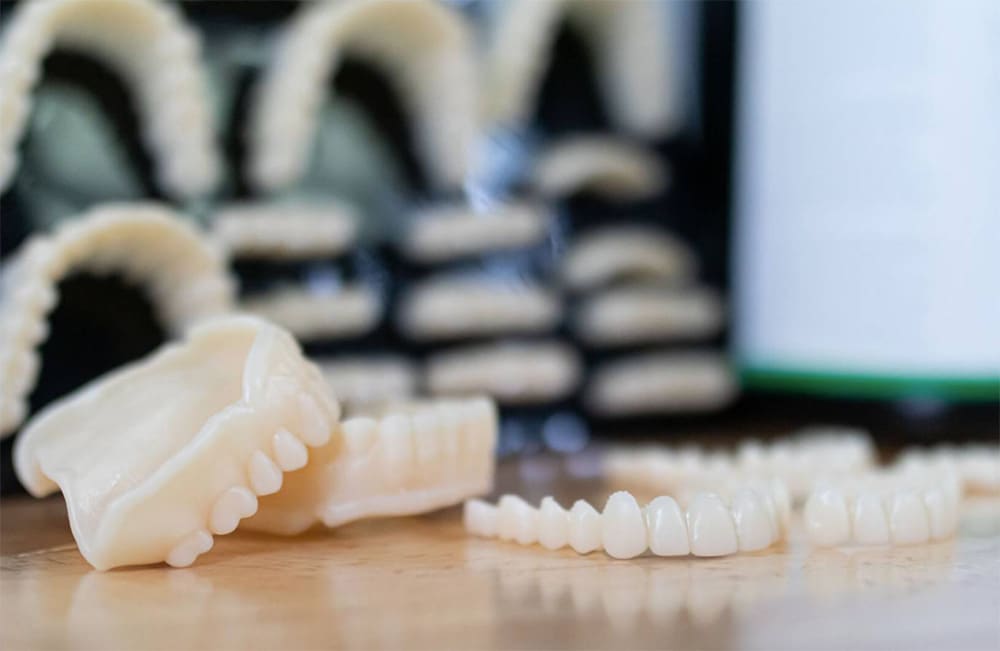 LUCITONE DIGITAL VALUE™ 3D ECONOMY TOOTH AND TRIAL PLACEMENT RESIN
Dual-use material for printing economy teeth and try-ins, available in 6 most popular A-D shades and 1 bleach shade.
Simple, Efficient Workflow
With this new digital workflow, laboratories can design a Dentsply Sirona Lucitone Digital Print Denture and gain the capacity that is needed to meet increasing patient demand. The workflow is simple and easy for labs to integrate into their existing digital practices.
Scan & Design
Print
Wash & Recycle
Fuse & Cure
Finish
TRANSFORM YOUR PRODUCTION AND PRODUCE DENTURES AT SCALE
Watch this short video to see the entire digital denture workflow from Carbon and Dentsply Sirona. This ground-breaking workflow is optimized for the Carbon platform and represents a paradigm shift in strength, aesthetics, and laboratory efficiency for 3D-printed dentures.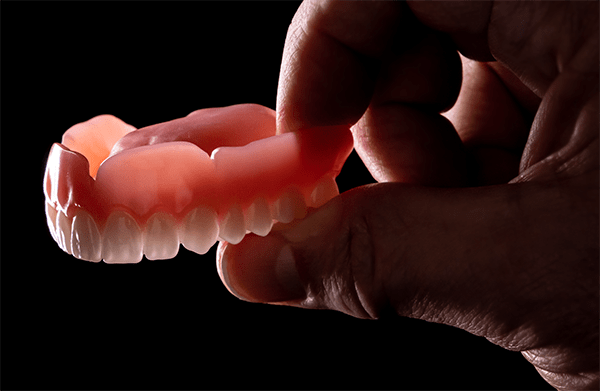 Indications for Use
Lucitone denture materials represent a complete, validated and approved workflow for producing dentures. Lucitone Digital Print denture base material is available in 5 Lucitone shades of denture bases with True Color Technology for consistent shade results. Lucitone Digital Value 3D Economy Tooth and Trial Placement Resin is available in the five of the most popular A-D shades and one bleach shade. Lucitone Digital IPN 3D Premium Tooth is available in 16 A-D shades and two bleach shades.
Full dentures
Implant Overdentures
Try-in Dentures
Denture Tooth Segments or Full Arch
LEARN HOW CARBON CAN HELP TO GROW YOUR LAB BUSINESS
Learn as Jamie Stover, CDT, Senior Manager of Dental Laboratory Applications, breaks down the business case for Carbon.
THE POWER OF PRINT: RESHAPING REMOVABLE PROSTHETICS
This panel discussion, featuring Dr. Stephen Wagner, Dr. Andrew Johnson, Frankie Acosta, Conrad Rensberg, and moderator Jamie Stover, takes you through the latest technologies and discuss how embracing the change to digital has led to better workflows, shorter turnaround times, higher quality, and an improved experience for the lab, clinician, and patient.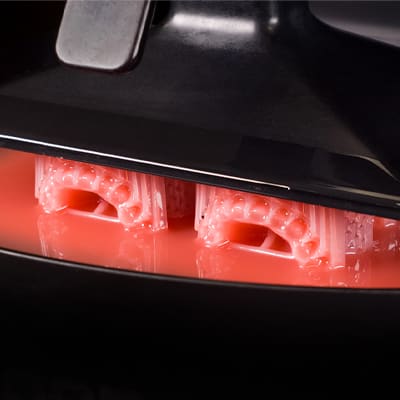 Speed/Consistency
Nakanishi Dental Laboratory accelerates digital production with Carbon by 54% and decreased hands-on labor cost by 60%.
Flexibility/Control
Carbon digital dentures exceed expectations for Absolute Dental Services by decreasing material cost by 30% vs milling and reducing turnaround time by 50%.
Eliminate Outsourcing/Rework
Golden Ceramic Dental Lab reduced denture refits by 85% and moved overseas denture production to the US.