KEY TAKEAWAYS:
54% increase in monthly print volume
23% increase quarter over quarter
60% decrease in hands-on labor/costs in denture and nightguard production
Carbon customer support is fast and reliable
Founded in 1953 by Ray Nakanishi, Nakanishi Dental Laboratory, Inc. is a family-owned full-service dental laboratory in Bellevue, Washington. Representing three generations of the Nakanishi family, the dental lab prides itself on providing only the highest quality products and exceptional and personalized customer service to dentists all across the country.
As one of the largest dental labs in the Pacific Northwest, Nakanishi was looking for a manufacturing solution that could easily scale with its growing business, and evolve and adapt to the ever-changing technology in the dental industry.
Carbon Wins with Service and Reliability
Nakanishi had a 3D printer from another company with the intention to print models but the printer was never able to achieve the accuracy needed. In early 2018, the dental lab was still skeptical of 3D printing when it was introduced to Carbon. However, Nakanishi decided to give 3D printing another shot after seeing the quality of models Carbon was able to produce and how easy the workflow was.
With Nakanishi's fast-growing business, it wasn't long before the dental lab's Carbon printer maxed out its production capacity for models and surgical guides. To support customer demand, Nakanishi had to outsource a portion of its production of models. The lack of production capacity also meant that Nakanishi couldn't move the production of more products to digital. Nakanishi knew that it needed another digital printer.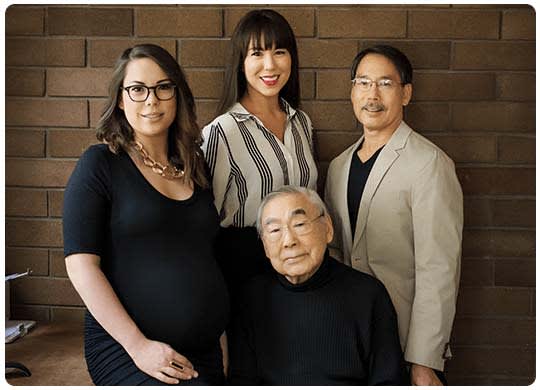 "With Carbon, we know that we're always at the forefront of dental technology. Our customers love that they can depend on us for high-quality parts in a fraction of the time it used to take with traditional manufacturing methods."
Kaila Nakanishi, CDTHead of the Digital Department at Nakanishi Dental Laboratory, Inc.
During December, one of the busiest months of the dental lab, Kaila Nakanishi CDT head of the Digital Department, began exploring their 3D printing options, when two of their three mills at the lab suddenly went down. The dental lab went into troubleshooting mode while frantically trying to contact customer support for help. At the same time, the lab's Carbon printer had an error message pop up on the screen.
Before Nakanishi could even dial the Carbon customer support number, she had received an email from Carbon with steps for troubleshooting. When the issue turned out to be one that required a technician, Carbon scheduled for one to come on-site. To her surprise, a Carbon technician was at the lab by 6 am the next morning with no extra effort on her behalf. Before the lab was officially open at 8 am, the Carbon printer was back up and running.
While the dental lab was still trying to figure out how to fix its mills, its Carbon was already back up and running. Nakanishi was so impressed with Carbon's customer service, it became very clear the value of their Carbon partnership. Nakanishi signed the contract for a second Carbon M series printer that very day.
Accelerating Digital Production with Carbon
With two Carbon printers now printing more than 100 hours a week, Nakanishi was able to rapidly grow its print volume and bring all its model production back in-house. The dental lab has increased print volumes 50% month-over-month and 23% quarterly with Carbon. Kaila Nakanishi, Technical Manager of Digital and All-Ceramics at Nakanishi says "We are amazed at the quality, accuracy, and consistency of the parts that our Carbon printers provide. They are the true workhorses in our lab, and after our experience with Carbon's service, we truly wish all our technology operated in a similar model. We love the subscription model!"
Carbon's wide range of dental materials, many of them exclusive to Carbon, has been instrumental in helping Nakanishi work towards going fully digital. Today, the dental lab digitally produces a full range of products on the Carbon platform including:
Models with Carbon DPR 10 material (Carbon exclusive)
Soft tissue for implant models with Dreve Fotodent® gingiva
Whip Mix surgical guides
Dentsply Sirona® Lucitone™ digital print premium dentures (Carbon exclusive)
Keystone Industries® KeySplint Soft® Clear nightguards (Carbon exclusive)
Nakanishi believes that with the combination of the Carbon Digital Light Synthesis™ technology and its materials portfolio, Carbon has the potential to eventually support nearly every product it offers dental office customers.
The transition to 3D printing has been a rapid and exciting journey for Nakanishi. In less than two years, the dental lab has gone from a fully traditional milled workflow to now splitting its time almost equally between printing and milling. Nakanishi is excited to continue its path to becoming a fully digital dental lab with Carbon. Says Nakanishi, "With Carbon, we know that we're always at the forefront of dental technology. Our customers love that they can depend on us for high-quality parts in a fraction of the time it used to take with traditional manufacturing methods."