Key Takeaways:
85% decrease in the number of denture refits
40% decrease in patient visits needed in denture workflow
More than 50% decrease in time needed for denture creation
Moved from overseas production to local in the US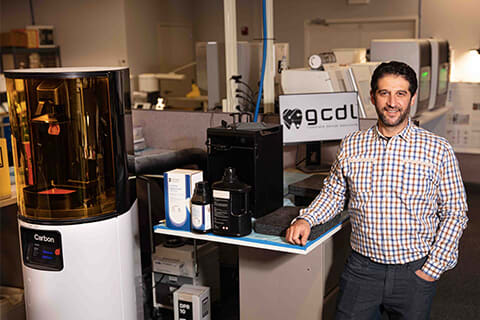 Patience and perseverance have been the key to success for Ben Topaz, founder and President of Golden Ceramic Dental Lab (GCDL) in Prospect Heights, Illinois. Starting from his basement in 2006, Topaz has grown GCDL into a full-service lab with a team of 30 staff. Today, the dental lab provides implants, removables, crowns and bridges, and orthodontics to dental practices all over the United States.
Through the years, Topaz has faced challenges familiar to small businesses, including balancing new operational expenses for new equipment and materials. However, keeping up with the latest technology in the dental industry has been a top priority for Topaz.
GCDL, an early adopter of digital technology, went digital in 2010 and started exploring 3D printing three years ago. The dental lab has a commitment to providing its customers with solutions that will have a valuable long-term impact on their practice. When GCDL heard that Carbon® could help them to create high-quality digital dentures, faster and more economically, it was curious to learn more.
Unrealized costs of out-sourcing
Removables have been an integral part of GCDL's business, with the dental lab sending almost 1,000 pairs of dentures monthly to its customers. To save on manufacturing costs, compensate for lack of skilled technicians, and leverage high-volume production capabilities, GCDL outsourced the production of dentures. However, this process required a lot of back and forth with the patient, and would often take up to two months before the patient received finished dentures.
During a Carbon consultation at GCDL in 2019, the Carbon team noticed the large volume of denture cases waiting to ship overseas throughout the lab. The Carbon team mentioned how Carbon could not only help them to free up space by allowing them to produce the same volume in-house, but the M2 printer could produce parts better and faster. GCDL was excited at the idea of having full control of the denture workflow. However, there were concerns over how much transitioning to Carbon would cost.
GCDL sat down with Carbon to do a full cost analysis, comparing its current denture production costs to using Carbon for manufacturing in-house. The dental lab was surprised to find that the costs of production were not that different. GCDL realized that it previously hadn't accounted for expenses associated with producing beyond those for the cost of goods sold (COGS), such as overseas delivery times and extra patient visits for fittings.
Topaz and his team visited Carbon headquarters in Redwood City, California, in June. While there, they saw the Carbon M2 printer and Carbon Digital Light Synthesis™ (DLS™) technology in action for the first time. The combination of speed, quality, and accuracy of the parts created on the M2 was beyond what GCDL had seen with its other 3D printers.
Premium dentures in less time
In October, GCDL began using the Carbon M2 printer to produce standard DENTCA dentures and Dentsply Sirona® Lucitone™ premium digital dentures on-site. The results and feedback from dental practices were overwhelmingly positive. To the delight of both dentists and patients, the dentures not only looked more natural and had a great fit, but the scan and fit process required 40% fewer office visits compared to before. Creating the dentures in-house allowed GCDL to deliver a final set to patients in just three to four weeks, less than half the time required previously.
Additionally, the improved accuracy and fit of the Carbon printed Lucitone premium dentures and DENTCA standard dentures have resulted in a 85% reduction in refits among customers. Even when refits are needed, the patient experience was much more pleasant with the digital workflow. Before Carbon, GCDL had to use a patient's existing pair of dentures to make adjustments, often leaving the patient without functional teeth. Thanks to digital scans and records, patients could now continue using their existing set of dentures while waiting for a new pair.
An innovation partner for dental
GCDL continues to receive great feedback on dental parts created on Carbon. The dental lab has expanded the parts it manufactures on its Carbon M2 printer to include models with Carbon DPR 10 resin and denture try-ins with Dentsply Sirona Lucitone Digital Try-in material. Producing more parts in-house in the United States has allowed GCDL to stay true to its core values—a hyper-focus on consistency and quality production.
Topaz believes that his patience and perseverance has once again paid off in helping him find the right 3D printing technology. Carbon isn't a one-time technology solution and is instead a partner that GCDL can grow with. Says Topaz, "When we were first approached by Carbon, we didn't think we needed another 3D printer. However, the benefits of Carbon go beyond quality and speed. The Carbon team's willingness to be available at the drop of a dime embodies the same values we hold towards our customer relationships."