FinMan Fishing Innovations worked with certified Carbon Production Network (CPN) Partner Gallagher Corporation to create FinMan: a multi-function fishing tool heralded as the "Swiss Army knife" of fishing (Figure 1). Learn how FinMan was able to meet challenging mechanical requirements and bring this previously unmoldable design into scalable production by utilizing the Carbon Digital Light Synthesis™ (Carbon DLS™) process via Gallagher.
Design Complexity + Material Requirements
FinMan has a complex body design, including precise features, undercuts, thru holes, and surface textures (Figure 2). It needed to be made from a strong material that was flexible, but tough enough to withstand demanding use.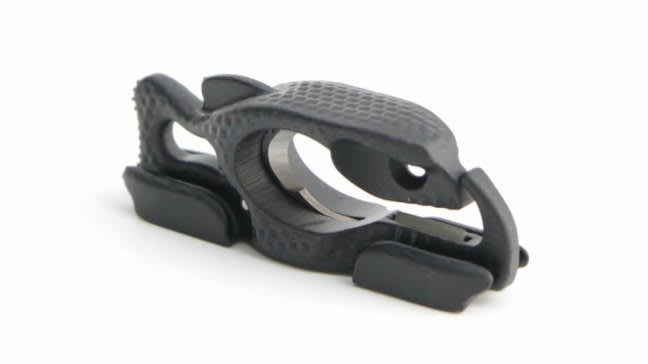 After looking to injection molding as a manufacturing solution, FinMan was told that they needed to re-design to simplify manufacturing. However, the needed changes would detract from FinMan's form and function. Instead, they looked to CPN Partner Gallagher Corporation to find a manufacturing solution for this unmoldable design and to ensure that it maintained its superior functionality and attractive aesthetic.
Why Carbon
Gallagher turned to the Carbon DLS process because of its ability to produce FinMan's preferred body design, despite its complexity of shape, tight tolerances and surface texture. In addition, the Carbon RPU 70 3D printing material, a rigid polyurethane, met FinMan's material requirements in terms of strength, toughness and flexibility. With Gallagher's design help, FinMan was able to incorporate a functional surface texture that resembles fish scales and improves grip.
Carbon worked as both a prototyping and production solution for Gallagher due to its engineering-grade materials and capability to produce parts with uniform mechanical properties, precise tolerances, and excellent surface finish. Equally important was the speed of the Carbon DLS process, which enabled FinMan to quickly progress from design, to prototyping, to production (Figure 3).
The Results
The final result was FinMan: a breakthrough in fishing gear line management that combines the functionality of scissors, nippers and a knife in a safe and easy-to-use tool, heralding it the "Swiss Army knife" of fishing (Figure 4). The FinMan can either be attached to the fishing pole or clipped to a lanyard and allows any angler to slice, snip, and stow their tackle. Anglers can now change out lures and cut line without having to reach for and use multiple tools.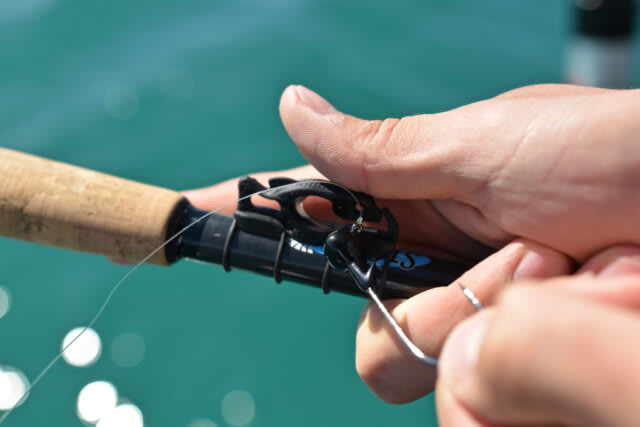 Summary
With Gallagher, FinMan was able to simply produce this complex design, which otherwise would not have been possible with traditional manufacturing methods. In addition, FinMan has been able to scale towards mass production with Gallagher due to the speed and build capacity of the Carbon DLS process. Further down the line, Cutler is open to the possibility of quickly updating the FinMan through rapid design iterations made possible with Carbon.