Why was it important for your company to manufacture PPE equipment?
"We knew we had to do something once we found out about the shortage on PPE from some of our doctors as well as family members in the medical field. We had the equipment and the ability to help, and felt it was important to do what we can to help keep as many people safe as possible."Derby Dental Laboratory
"This answer is three-fold: We want to support our healthcare workers in whatever means we can, demonstrate how additive manufacturing can be far more responsive than other traditional manufacturing methods, and ensure that we kept a revenue stream open so that we can retain as many employees as possible when the lockdown is lifted."Paragon
"We first and foremost wanted to show support for health workers who are on the front line. We also wanted to show our colleagues that as a company we could be responsive and alter our business path in order to both ensure their job security and make a positive impact in our community. After working closely with our partner, Mario Dedivanovic, we were able to donate 900 face shields to healthcare workers in New York."Element Packaging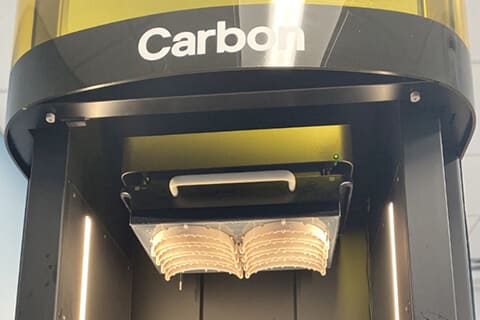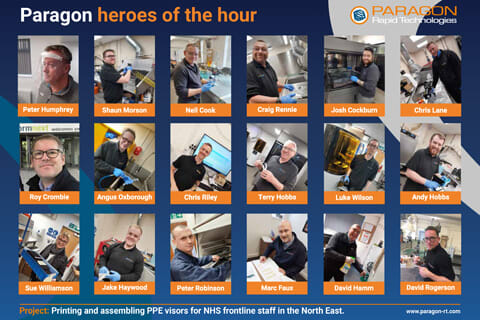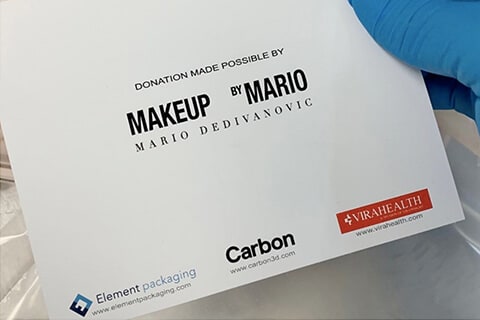 How are your PPE products helping your local community?
"We've conducted mask fit tests with key opinion leaders and 3rd party verification companies, and achieved scores of >195 for N95 compliance (100 being the standard). This has created incredible confidence in both our offering for our clients' emergencies and our own back-to-business planning."Aurum Group / Core3dcentres
"These face shields are allowing people to be seen and cared for in situations that would normally be off limits without this proper PPE gear – dental emergencies are a great example."Castable Ceramics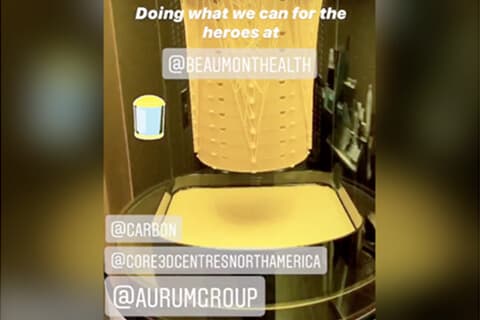 How many have you printed so far?
"So far we have printed 3.5K+ face shields and each of these has been privately sponsored. The vast majority of these have been donated to NHS facilities, care homes, general practices, and even paramedics. The response has been incredible – not only do they have a free face shield, but they're also comfortable and can be worn all day with no issues."Byrnes Dental Lab
"We have printed and donated more than 1,000 valves in biocompatible material (Carbon RPU 70) that are being used to create emergency oxygen masks for critical patients. In addition, we printed and donated tens of parts to adapt a snorkel mask to PPE for doctors and nurses. With this part, you can add a Fpp2 filter to the mask and attend to COVID-19 patients."Dynamical 3D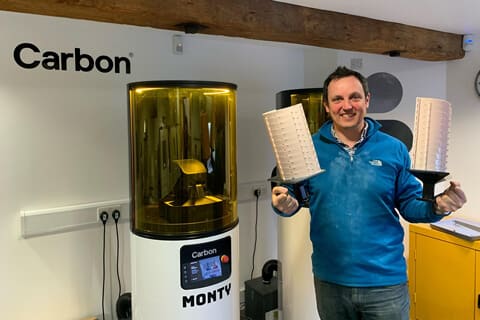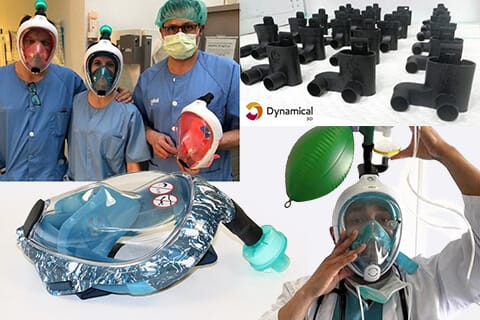 What's been the feedback or response to your offering of PPE?
"The response has been very positive. When we started this, we weren't looking for recognition. We were looking for a way to help others as well as keep some of our team working. The news got out on what we were doing and since then we have been on our local news and radio, which has been great because it allowed the people in our community to know where they can get PPE."Derby Dental Laboratory
"Our solutions are helping create a lot of hope in hospitals. The valve pieces printed with Carbon are giving better results than others printed in polyamide because they are free of dust and you can easily sterilize them."Dynamical 3D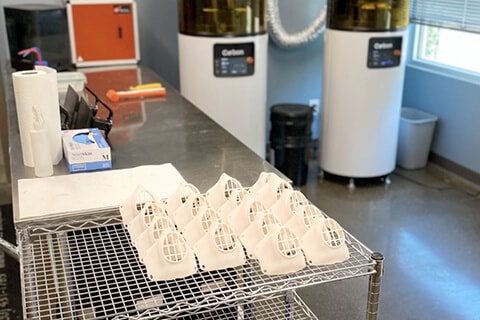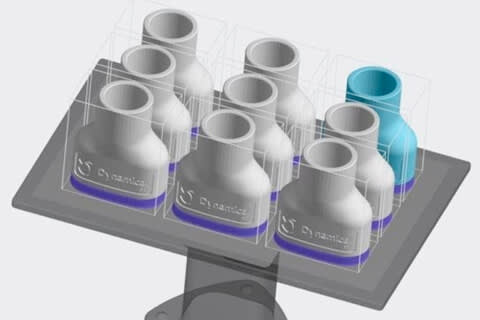 What's your employee response to making PPE?
"Our efforts to produce and donate the PPE during the time of uncertainty boosted our company's morale and kept the atmosphere light and positive. It's given them a sense of pride that their company is answering the call when others are just closing down."Apex Dental Lab
"They're both proud and excited around the prospect of getting back to work and being a part of an exciting new business platform that can positively impact our local communities."Aurum Group / Core3dcentres
Thank you to our production partners who are supporting our healthcare heroes during the COVID-19 pandemic. If you are interested in joining these PPE and medical device production efforts, learn more here.
Are you a Carbon partner who would like to share your story? Please reach out to your account manager for more information.