Carbon Platform Improvements 2021:

A Year in Review

Carbon is innovating at every stage of product development, expanding what 3D printing can do and constantly raising the bar in quality and efficiency. In 2021 alone, we released four new materials, five printer software updates, and many other platform improvements so our customers can produce better parts, faster.

Dive into the entirety of Carbon's platform improvements throughout this past year:
---
Expanded Range of Functional Materials
Carbon customers can now print with four more best-in-class materials than they could at the start of the year. These materials uniquely combine excellent mechanical characteristics, high resolution, and exceptional surface quality into isotropic parts ready for real-world products. Explore the following materials we launched in 2021.
EPU 41 Black
In April, we added EPU 41 Black to Carbon's material library. This production-scale elastomer is well-suited for applications that require energy return or cushioning, and is ideal for engineering-grade elastomeric lattices. EPU 41 Black offers the same mechanical properties as EPU 41 Green but in a more neutral aesthetic choice. Additionally, EPU 41 Black offers several key improvements over previous EPU 41 materials, including an optimized default print planner, greater local accuracy, and faster print speeds on many geometries.

Keystone Industries® KeySplint Hard®
In May, we introduced Keystone Industries KeySplint Hard®, a third-party material addition to Carbon's industry-leading library of 3D printing materials for dental and orthodontic applications. KeySplint Hard combines rigidity, hardness, and durability to yield a final product with unmatched accuracy, stain resistance, and fracture resistance. KeySplint Hard is indicated in the US, Canada, EU, and Australia for the fabrication of orthodontic and dental appliances such as splints, mouth guards, night guards, repositioners, and retainers.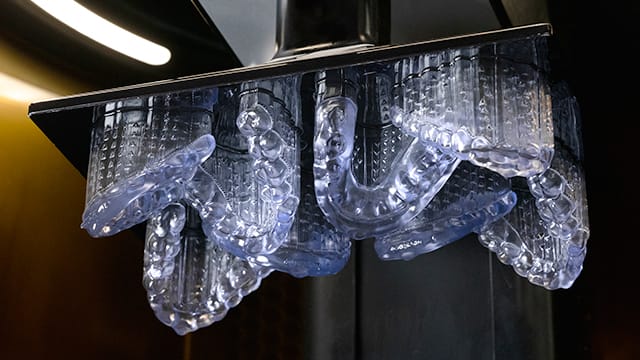 Keystone Industries® KeyGuide® Surgical Guide Resin
In June, we announced another groundbreaking, third-party resin addition to our dental material library: KeyStone Industries® KeyGuide®. KeyGuide is an extremely strong FDA-cleared, biocompatible, photocurable Class I medical device resin intended for the manufacturing of surgical guides that allow doctors to stably place implants at a precise angle and depth. KeyGuide combines the clarity, rigidity, and durability needed for surgical guide applications and yields a final product with unmatched accuracy and consistency.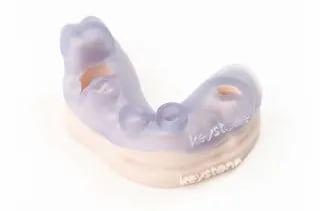 Lucitone Digital Value™ 3D Economy Tooth and Trial Placement Resin
In September, Dentsply Sirona and Carbon expanded denture tooth offerings for the Lucitone Digital Print denture system to now include printable denture teeth. Dental labs can now address the majority of denture cases with a fully digital solution that provides faster production times and lower material cost. Labs will be able to handle more complex cases, leading to fewer clinical appointments, for a better experience for dentists and patients.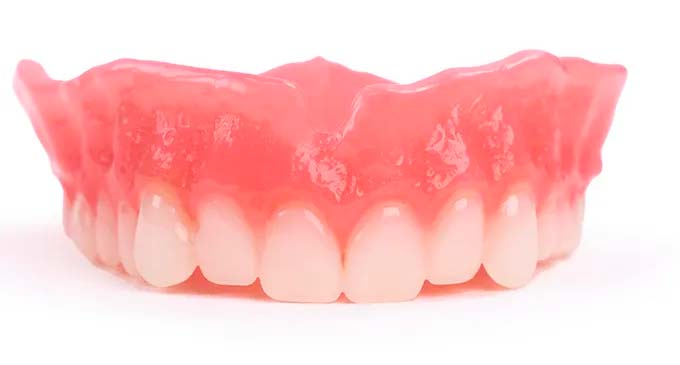 Improved Efficiency
With our over-the-air software updates and growing Carbon ecosystem, we were able to improve the efficiency of the Carbon platform through the rollout of new printer software releases, updated features, streamlined workflows, and more.
Carbon Design Engine™: Generate Conformal, Performance-Oriented Lattices
In March, we announced that customers now have access to Carbon Design Engine™: a sophisticated design tool that automates the process of creating performance-oriented lattices, saving design engineers significant time and effort. With the release of Design Engine to all Carbon customers, we are giving better design control within the product development lifecycle and helping users iterate faster for more effective designs. Learn more about why Carbon is developing software design tools like Carbon Design Engine here.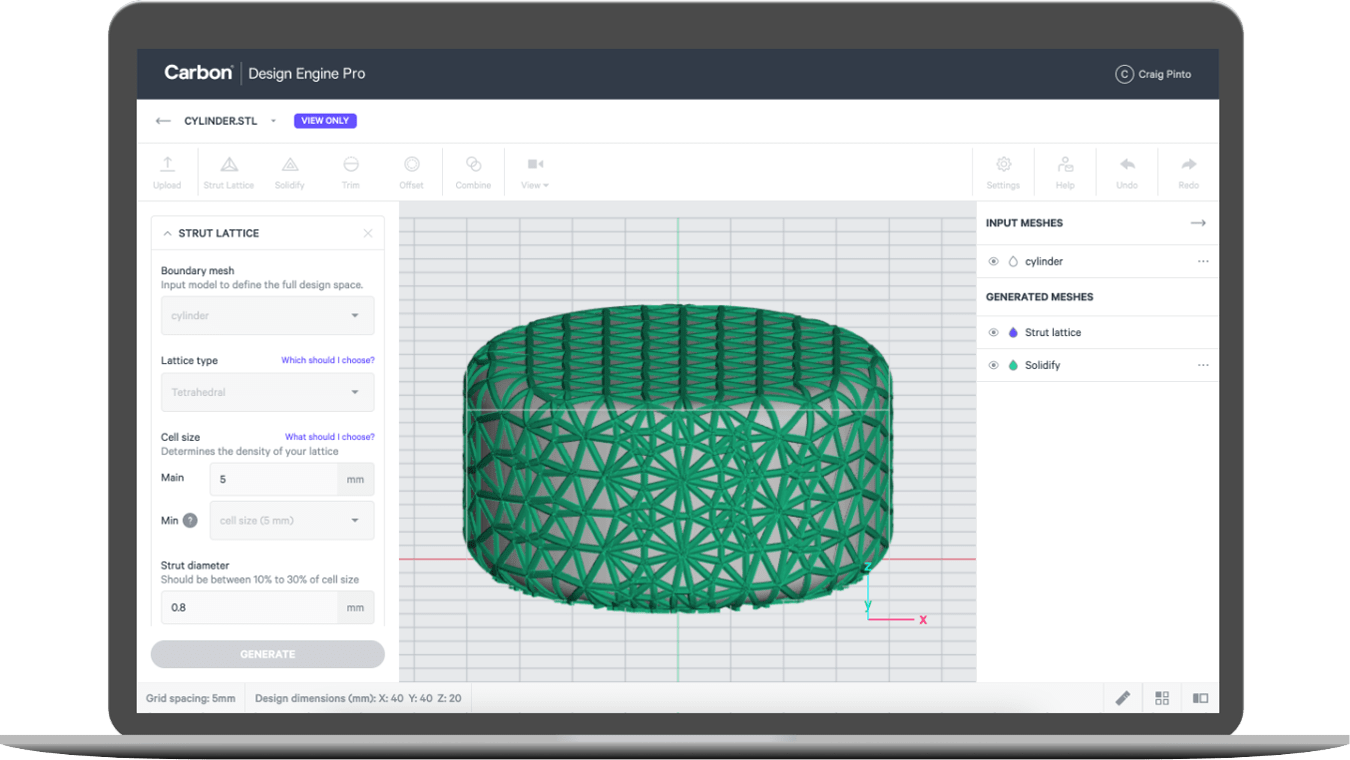 Automate Washing with PostProcess® Technologies DEMI 910™
We added the PostProcess® DEMI 910™ solution to the Carbon ecosystem to provide customers with more post-processing options. The DEMI 910 is the first resin-removal solution that can fit a single L1 build platform or two M2 build platforms simultaneously without removing parts. The DEMI 910 solution can also optimize production of dental models using DPR 10 resin on Carbon M2 printers. Learn how this integrated technology can improve the quality, productivity, and throughput of your part production on the Carbon platform.
Version Lock
Version Lock 1.31 gives customers more control over on-printer software. With the release of printer software version 1.31, customers may now "lock" version 1.31 to their printer for up to two years. Version Lock extends Carbon support to a fixed version of the printer software.
This is a solution for process-sensitive, high-volume manufacturers that pauses future software updates to maintain consistent print parameters. For most customers, we still recommend accepting new software updates to enable ongoing printer functionality enhancements.
More Efficient Print Prep
In April, v.1.30 improved print prep efficiency with a more responsive UI. Customers can now plan a build more easily by toggling which parts appear on the print platform. Hiding parts can be useful when you need to see what is behind them or when having many parts rendered on your platform slows down your browser. Please note that all hidden parts will still be printed.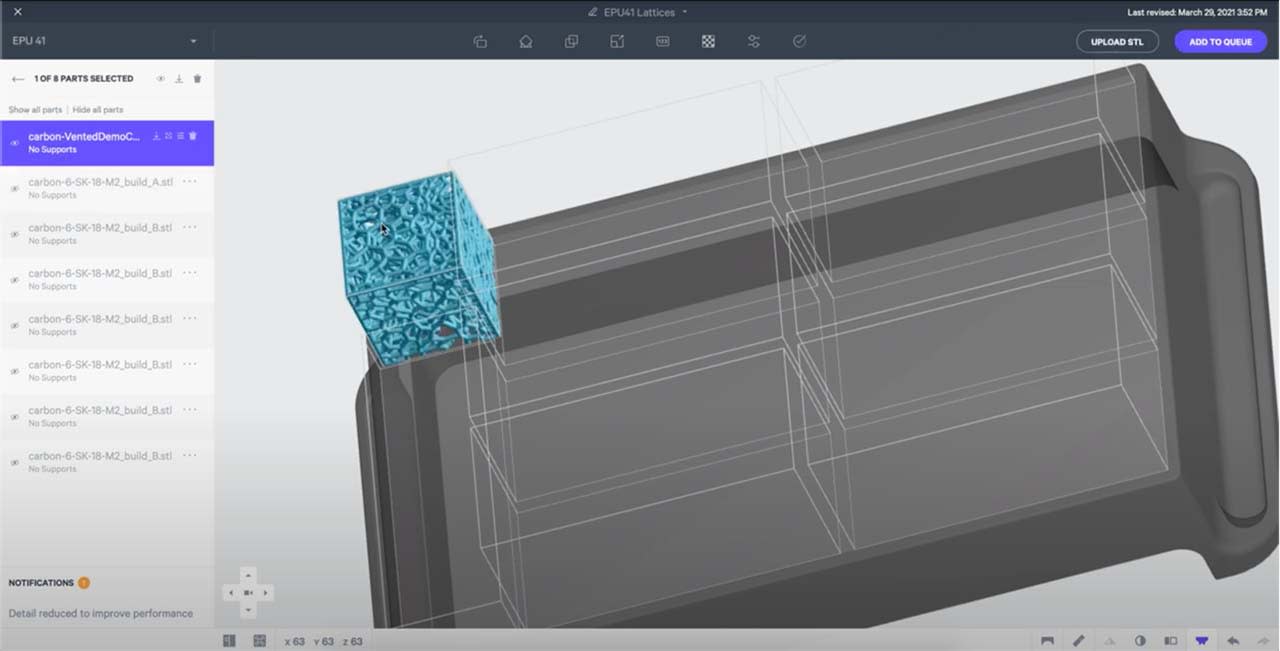 Faster, More Robust Supports
In August, the Basic Auto support tool and the patch support tool received a number of upgrades in v.1.32, the most notable being that they generate supports much faster for most parts. Additional improvements include:
Fewer bar supports that intersect with the part
For patches specifically, reduced number of fence supports that intersect with the part
When the tool identifies an island (i.e., features that do not connect with the platform or previously printed slices, appearing as floating features when they begin printing), it will attempt to support it with a bar-type support
Fills the entirety of the interior of a given patch to ensure that it is sufficiently supported
Auto-Orientation Tool Beta
To save time preparing projects and to simplify the workflow for new prints, Carbon introduced an auto-orientation tool that is currently suited for rigid, non-dental materials. The beta tool adds the ability to recommend orientations for parts printed directly on the build platform. The tool is fast and typically orients parts successfully in less than 10 seconds. Additionally, the tool is configurable. You can define what "best" means for your individual print so you can automatically prioritize those aspects. We will continue to expand the tool's effectiveness to all the various types of parts customers want to print.
To learn more about the feature and general best practices on orienting to achieve a successful part, please refer to our Carbon Academy training module.
Increase in Print Speed on L1s for Densely Packed Builds
With better characterization of the heat dissipation of L1 printers, Carbon is increasing the print speed on builds that would have reached the thermal limit previously. For densely packed builds or builds with parts that have large cross sections on the L1 printer, you may notice faster print times. The time will vary depending on your build. As an example, for a build of 22 full-palate orthodontic models printed in DPR 10, you can expect up to 35% faster print time. In our testing, mechanical properties and accuracy were shown to be unchanged when printing faster.
Better Estimates for L1 Print Times
L1 print plans adapt to the forces generated during the print, meaning the actual print times vary with live conditions. With better characterization, v.1.33 improved how we estimate print times to better represent the actual print times. Note that this only impacts the print time estimate and has no impact on the actual printing.
Additional efficiency improvements included the following:
Improved fence supports
Streamlined project creation and editing performance
Project creation dialog
Project name label
​​More efficient recognition of overlapping triangles in initial model upload
Enhanced analytics dashboard
Updated high-speed and security-protected login with Okta
---
Better Part Quality
From updated accuracy guidelines to improved printability, Carbon platform improvements have continually improved part quality for customers this year.
Updated Carbon DLS™ Accuracy Guidelines
This year we published updated Carbon DLS™ accuracy guidelines. We now offer more granular guidance based on several years' worth of CT scans and field data on both general first-print accuracy and production accuracy following process optimization, as well as accuracy for dental applications. Dive deeper into the updated Carbon DLS accuracy guidelines here:
Improved Part Consistency
V.1.32 improved overall part consistency by adjusting the light intensity while printing. We have improved the accuracy and consistency of parts printed both:
Across a build (i.e., parts printed anywhere on the build should be closer in accuracy)
Between printers
The improvements are most noticeable when printing multiples of the same part on the same build in serial production, or when printing mating parts such as dental models featuring removable dies. The typical accuracy change is on the order of <10 μm for vertically print oriented holes and features. The change will be less for XY print oriented features.
Improved Printability on M-Series Printers
Prints with all resins on M-series printers will benefit from eliminating a rare print quality issue known as flashing. The v.1.33 printer update introduced a pre-exposure delay on the first few slices, dramatically reducing the chances of flashing at the base of the part. This will add a small amount to print time, with the specific amount varying depending on the resin and geometry of the parts. These improvements already have been implemented on parts with large cross sections, and effects will be less noticeable.
Increased Efficacy of EPU 40 Prints
Carbon introduced new print parameters for EPU 40 for better printability, improving adhesion and lamination. This print mode introduces a tradeoff of an additional 30% in print time, and can also reduce accuracy as well as small feature resolution. Parts that print well in EPU 40 today can continue to print with the existing parameters with the new EPU 40 (Legacy) resin dropdown.

Updated EPU 40 TDS
To achieve the improved EPU 40 printability, small changes have been made to the material properties of EPU 40, resulting in an update of the EPU 40 technical data sheet (TDS). The differences to note are the bayshore resilience value (now 17 percent) and the compression set values, which you can view in the updated EPU 40 TDS on the Carbon website.
Please note that parts that print well in EPU 40 today can continue to print with the existing parameters with the new EPU 40 (Legacy) resin dropdown.
Additional part quality improvements included the following:
Henkel Loctite® IND405 Clear improved part accuracy
Poisson slicer: a better slicing option for STLs
---
Thanks to our subscription model and connected 3D printers, we're able to easily roll out these innovations to our customers as soon as they are ready. To learn more about our subscription model, check out this blog.
Additionally, check out our Software Release Notes to stay up to date on our recent innovations.