Exceptional Chemical Resistance, High Heat Resistance, and Functional Toughness
EPX 150 is an engineering-grade material that exhibits excellent chemical resistance, creep resistance and mechanical performance comparable to high-performance thermoplastics, like PEEK and PSU, with a heat deflection temperature of 155°C. EPX 150 is well-suited for efficient production of parts with fine features and tight tolerances. It enables new capabilities in applications that require high temperature and chemical resistance like sealed electrical connectors and fluid spray nozzles, and reusable medical devices.
Steam Sterilization
Compatible with over 200 cycles
Ultimate Tensile Strength

76 MPa

11 ksi

Heat Deflection Temperature

155 °C

311 °F

Elongation At Break

5 %

Impact Strength (Notched)

36 J/m

0.67 ft-lb/in

Tensile Modulus

2700 MPa

392 ksi
High-Performance (PEEK, PEI, PSU, PSSU), PBT, Polyamides / Nylons, Polycarbonate
CHEMICAL RESISTANCE
EPX 150 is resistant to long-term, high temperature exposure to a broad variety of chemicals including water, water/glycol mixtures, common medical disinfectants, and pH 2-12 buffers, with no change in visual appearance and minimal change in tensile properties.
HEAT RESISTANCE
EPX 150 has excellent retention of material properties during high temperature aging, temperature/humidity cycling, and thermal shock and is recommended for long-term use at temperatures from -30-125°C. This property retention in combination with improved chemical resistance enables retaining sealed connection systems under humid and harsh vibration conditions.
STEAM STERILIZABLE
EPX 150 can withstand over 200 cycles of 134°C/ 4min steam autoclave cycles with minimal property or dimensional change, meeting sterilization standards required for reusable medical devices like surgical guides and trays.
Example Applications
These applications combine a need for chemical resistance, temperature resistance, and functional toughness, in addition to isotropy, great surface finish, and accuracy.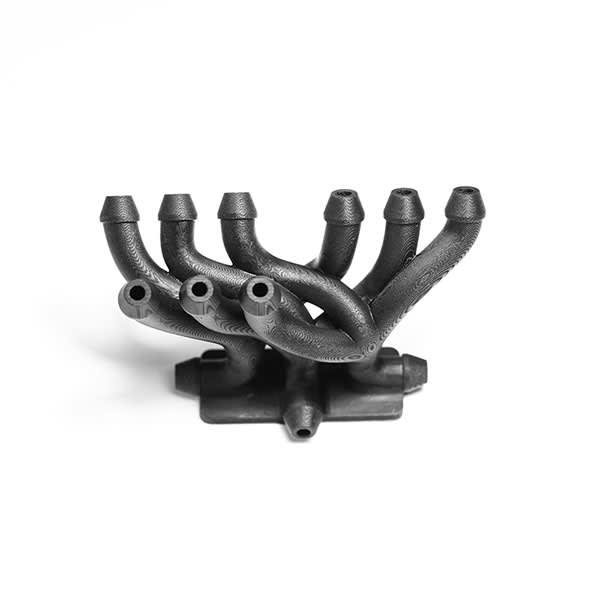 FLUIDIC ROUTING
Engineers are able to design complex geometries with unmoldable assemblies and internal features that produce better part performance and more attractive economics.
HIGH-TEMPERATURE SEALED ELECTRICAL CONNECTORS
Automotive T3 connectors that require toughness, stiffness, temperature resistance, chemical resistance, accuracy, and surface finish.
AUTOCLAVABLE MEDICAL DEVICES
Medical devices that require sterilization via steam autoclave cycles must be able to withstand extreme heat and high temperatures for hundreds of cycles.
What Our Customers Have to Say
"EPX 150 pairs excellent temperature and chemical resistance with sufficient toughness and efficient production, allowing us to make higher- performing parts with faster turnarounds and attractive economics in partnership with Carbon partner Paragon." Michael Walsh Chief Product Architect at Xaar