Improving On-Demand Fulfillment With Autonomous Handling Robot
Adaptive Gripper
Because the materials handling robot would have to be agile enough to pick up virtually any product from a shelf, the strength and flexibility of the grippers was crucial. They were designed to be human-like in nature and needed to be nimble, able to twist/turn, and most importantly, able to conform around various sized products in a retailer's inventory.
Looking for a true elastomer that can bend, return to form, and doesn't lose its shape, Bastian Solutions found that the Carbon EPU 40 material was the perfect match for the proprietary "Shark Fin" adaptive gripper, meeting all of its mechanical requirements (Figure 1).

Carbon's material enabled Bastian Solutions to develop a very unique set of grippers that are strong yet pliable – capable of picking up anything from a football to a tube of lip gloss (Figure 2).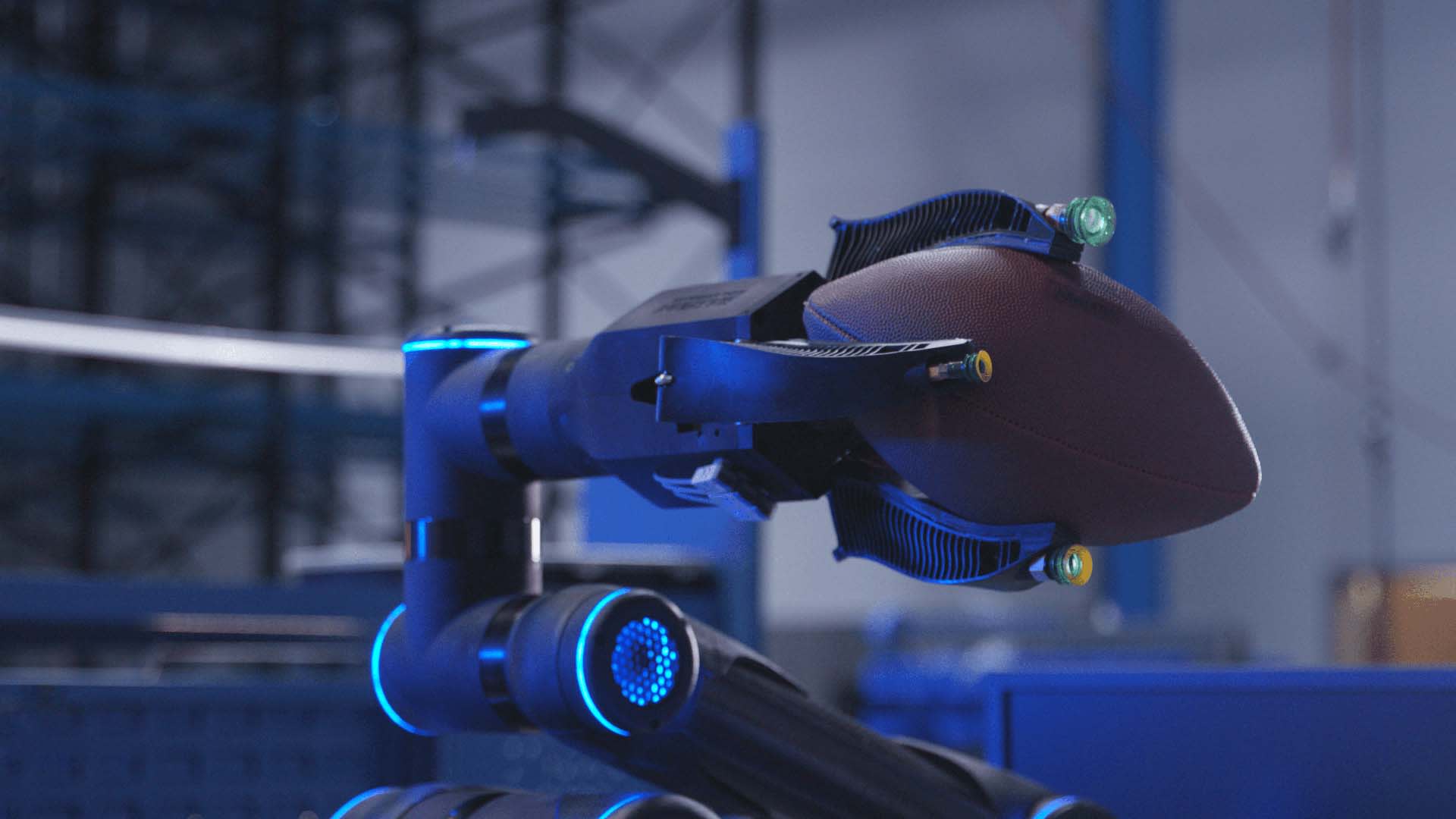 Metal Replacement: Lightweighting + Energy Efficiency
Traditionally, materials handling robots are made with metal because they need durable, rigid parts with high tensile strength. However, with the Carbon RPU 70 material, Bastian was able to meet these requirements for multiple parts, achieving the same quality as the previously metal parts and costing less to produce (Figure 3).

By using polymer parts as a replacement to metal (and with nearly 50% of the robot's parts being digitally manufactured), this significantly light-weighted the machine, helping it conduct less overall heat (compared to metal) and requiring less energy to cool.
Cost-Wise Customization
Being able to customize a robotic arm for every customer is critical. There is no "one-size-fits-all" for materials handling robots given the high variability in the robots' required jobs (e.g. navigating different factory layouts, different materials being handled, etc.). With traditional manufacturing methods, customization can be expensive due to the high cost and long lead times of tooling. However, using Carbon's Digital Manufacturing Platform, Fast Radius was able to help Bastian Solutions eliminate the need for tooling, receiving the parts in days instead of weeks or months. Bastian was able to quickly scale the robot arm for its customers' requirements and ultimately reduced their time-to-market + overall cost.
Shortened Product Development Cycle + Reduced Costs
Bastian Solutions ended up making almost half of their Bill Of Materials (BOM) with digital manufacturing. This not only improved the final product, it also saved Bastian Solutions considerable time and money, cutting two years off the project development cycle and saving $100,000 in production costs. With these cost savings, the Bastian Solutions Shuttle System can now be offered at a very competitive price, also benefiting their customers.
"We're excited that Carbon Digital Light Synthesis™ (DLS™) technology and innovative materials are playing a critical role in bringing the Bastian Solutions Shuttle System to market. The EPU 40 resin made it possible for Fast Radius to manufacture a texture on the robot's finger that allows the robot to pick up any part, of any size. This couldn't have been achieved using traditional manufacturing methods and is a great example of what kind of innovation is possible with digital manufacturing, specifically Carbon DLS technology and unique materials."
Dana McCallum Carbon, Head of Production Partners
3D as It's Meant to Be
Interested in utilizing the Carbon Digital Manufacturing Platform to make the unmakeable? Reach out to us at sales@carbon3d.com to learn more!