Improving Bioprinting with Biocompatible, 3D Printed Manufacturing Tools
The Puredyne® printhead is a new product in the emerging market of bioprinting, which is why it must be adapted quickly to market changes. By working with rapid product manufacturing GmbH (rpm) and producing in small, on-demand batches, ViscoTec Pumpen- und Dosiertechnik GmbH (ViscoTec) can quickly adapt the Puredyne printhead solution and pivot to customers' needs. Below we dive into the key requirements that led ViscoTec to choose the Carbon Digital Light Synthesis™ (Carbon DLS™) process and work with rpm.
---
Key Takeaways:
ViscoTec used the Carbon DLS process with Carbon production partner rpm to create the Puredyne printhead for bioprinting. The product won the Red Dot Design Award 2022 for industry design.
The high accuracy of the Carbon DLS process enabled the design to include intricate channels and complex geometries with tight tolerances that were otherwise unmoldable.
The Carbon MPU 100 biocompatible material met ViscoTec's medical approval requirements.
ViscoTec shortened time to market from 1 year with traditional manufacturing methods to 4 months with Carbon and rpm.
---
Introduction
ViscoTec is a manufacturer of dosing solutions focused on progressive cavity technology. Its Puredyne printhead solution, which includes patented single-use cartridges, enables precise dispensing in extrusion-based bioprinting for organ models, cancer research, tissue engineering, personalized medicine, scaffolds, drug development/testing, food, organs-on-a-chip, and cosmetics, among other application areas. Puredyne printheads can process low to high viscosity liquids and pastes, including hydrogels and cell-laden material, conductive inks, ceramic pastes, and more.
When developing the Puredyne printhead, ViscoTec worked with featured Carbon production partner rpm to utilize the Carbon DLS process and Carbon MPU 100 material for producing the printhead.
The printhead part printed by rpm using the Carbon DLS 3D printing process and MPU 100 material.
Background
In regenerative medicine, additive manufacturing has been leveraged to recreate living tissue––a process known as "bioprinting." Bioprinting can be used to explore new drugs while reducing animal testing, or to restore a patient's injured tissue. The long-term vision for bioprinting is to produce whole organs to respond to the general shortage of donor organs with patient-specific tissue.
In the past, products such as the "eco-PEN" or the "vipro-HEAD" showed the perfect suitability of the technology for use as a printhead for liquids and pastes. However, for bioprinting, the products had to be adapted to the special requirements of the market, and a new solution was needed.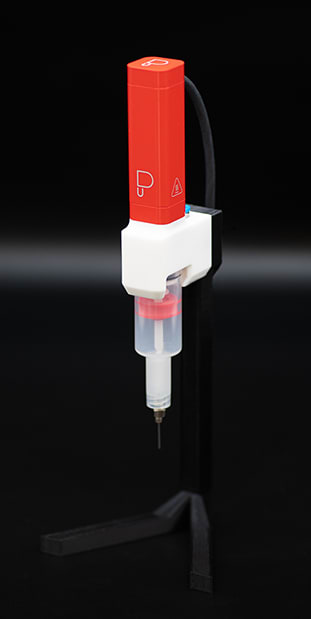 The Puredyne printhead solution with the white printhead part printed using the Carbon DLS 3D printing process (left) and in use (right).
Material and Part Requirements
ViscoTec's Puredyne printhead part had the following requirements:
Medical approval of materials in possible contact with the product
Chemical resistance to detergents and disinfectants
Installation space that is as small as possible
High design freedom
Tight tolerances
Easy cleanability
High surface quality
Low production quantities
Previously, ViscoTec tried to manufacture the part with PA12 in a powder bed, but the tolerances did not meet their needs. Additionally, the surface quality was not what they wanted, and post-production treatments were not a sufficient solution. Because the part had internal channels and undercuts, milling was not an option because it would not have enabled them to produce the complex design they wanted.
Solution
After other manufacturing solutions came up short, ViscoTec decided to work with rpm after learning that the Carbon DLS process could satisfy all of their part requirements.
Material
ViscoTec found that the Carbon MPU 100 material met all material requirements for the Puredyne printhead, including biocompatibility, hardness, high shape fidelity, and resistance to solvents. MPU 100 had the medical approvals required by Puredyne and could therefore be used in contact with living cells. The high chemical resistance of MPU 100 guaranteed the applicability of disinfectants and easy cleaning. Additionally, MPU 100 had the high surface quality and non-yellowing nature that ViscoTec was looking for.
Complex Geometries
The complex inner channels of the Puredyne printhead enable an air supply that moves the plunger down, so the pump is always getting material. ViscoTec found that the inner channels, as well as the small installation space, would not have been possible with other manufacturing techniques like injection molding or milling.
High Accuracy for Tight Tolerances
Because the part was used in combination with milled materials, tight tolerances and high accuracy played an important role. Thanks to the ability to easily print complex geometries with tight tolerances using the Carbon DLS process, ViscoTec could design the product freely without worrying about negatively affecting the manufacturability or functionality.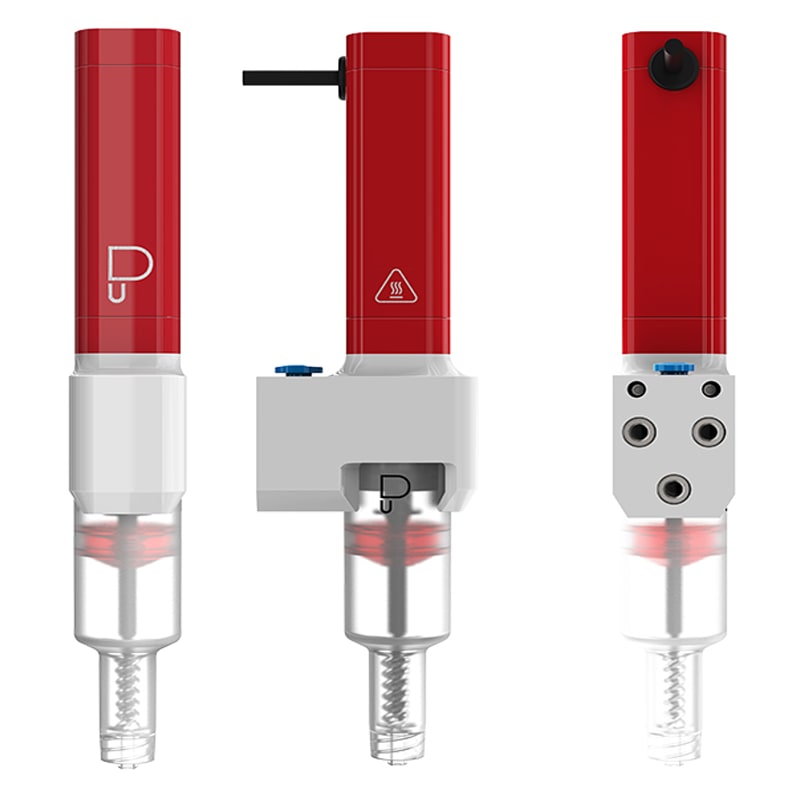 The Puredyne printhead incorporated milled materials (left) and complex internal channels (not displayed) that require high accuracy 3D printing.
Light Weighting
With the additive manufacturing approach, ViscoTec was able to reduce the dimensions of the Puredyne printhead, ultimately lightweighting the part. By working with an experienced partner like rpm, ViscoTec could quickly get feedback about additional opportunities to remove material without compromising print quality. They also worked together to optimize the design for a spotless surface quality on the final part. They ultimately reduced weight by 55% (from 275 g to 125 g) and reduced size by 25% (from 22 cm height to 16.5 cm). This not only allowed them to optimize production by being able to fit multiple printheads in one machine, but it also reduced the overall material needed.
Faster Time to Market
From the first purchase order of prototype parts at rpm, it took ViscoTec only 4 months to get to the final design, which included two complete redesigns of the part. One month later they were able to launch the final product. With traditional manufacturing methods, this would have taken roughly a year.
Cost Savings for On-Demand Production of Low Volumes
The Puredyne printhead represents a new product in the young market of bioprinting, which is why it is necessary to react quickly to market changes. By working with rpm and producing in small, on-demand batches, the Puredyne printhead solution can be quickly adapted and pivoted to the needs of the customers, whether it be adapting dimensions for new product sizes or creating custom branding. By having on-demand production capabilities, ViscoTec can experience cost savings by eliminating the need for warehousing and by more cost effectively producing lower volumes.
rpm is currently producing low volumes (50 at a time) of the Puredyne printhead solution to keep inventory low. Because Carbon DLS is a reliable production process with engineering-grade materials, there are no concerns about delivering the same quality parts for series production. Thanks to the on-demand nature of the Carbon platform, they are able to rapidly meet the increasing demand which they expect as the bioprinting market continues to grow.
Results
A Radically Better Product
With the Carbon DLS process and rpm, ViscoTec fixed numerous problems that are common for bioprinting like process fluctuations, bioprinting precision, and clogged dispensing needles, and made this next-gen printhead become a reality. The Puredyne printhead ended up winning the Red Dot Design Award 2022 for industry design and was featured in CNN Health. ViscoTec's Puredyne printhead is also now entering the North American market. To learn more about the Puredyne kit b, visit their website.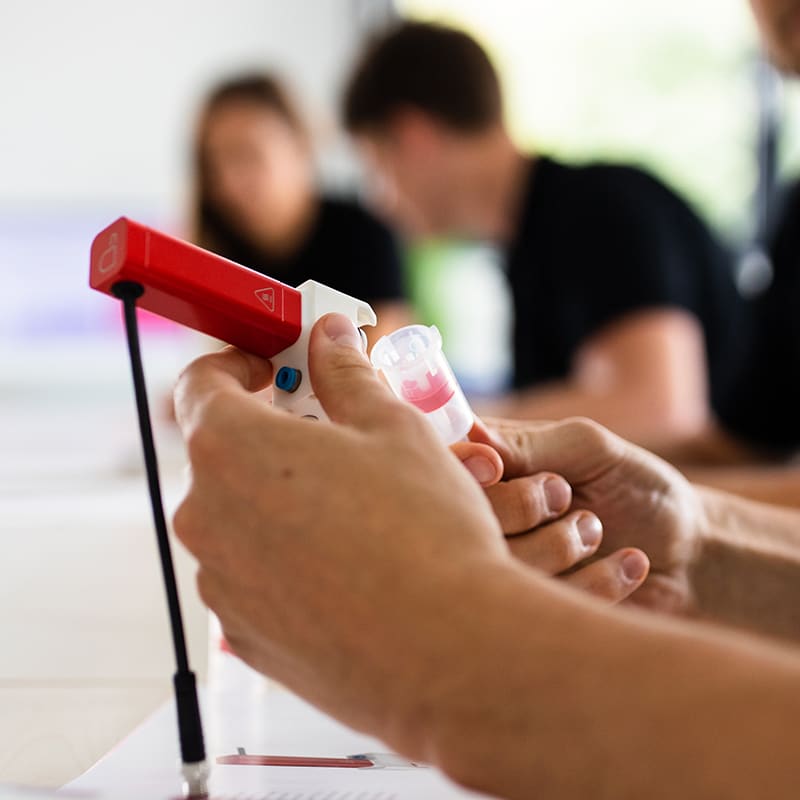 3D as It's Meant to Be
Interested in leveraging the Carbon DLS process for your part or product? Reach out to us to get in touch with a Carbon expert.
If you are located in Germany or the EU and are looking for a production partner with over 4 years of Carbon DLS experience and 25 years with plastic casting, reach out to rpm.