DI Labs Transforms Organic to Digital Using CT Scanning and Carbon DLS™
---
Key Takeaways:
DI Labs uses the Carbon DLS™ process to create parts with organic forms that previously were considered unprintable
The Carbon DLS™ process accelerates the workflow from CT scan data to 3D-printed physical parts
Post-processing techniques, such as dyeing and painting, can open up new color possibilities with the benefit of Carbon's isotropic, fully-dense material
---
Organic Inspiration
The beauty and complexity of the natural world has been a source of inspiration for artists, scientists, and engineers throughout the ages—inspiration that is sparked by observation. But the challenge of these inspirations is how to capture them in a digital format and furthermore re-create them with the same level of precision and wonder as they are created in real life. Sculptor Richard Fishman set out to tackle this challenge in collaboration with the team at DI Labs.
DI Labs has a reputation of generating innovative solutions, so when Fishman reached out to them with his idea for an organic-to-digital sculptural workflow, they were excited about the creative possibilities. According to their website, at DI Labs, "each team member is considered a 'solutionologist' and trained to embrace [the] belief that there is always a solution to the problems we face, both big and small." The team at DI Labs has the expertise to 3D print physical parts from CT scan data, and they have advanced post-processing capabilities, such as dyeing materials to achieve a specific color or aesthetic, so they were the perfect partner to make the vision a reality.
In an Instagram post from June 22, 2021, Fishman shared a reflection that he wrote in March, 2020, when he described his curiosity about "the life cycle of an orange peel, the incredible resilience of a cabbage leaf […]." Most of us are often quick to toss out the peel of an orange, rather than pause to observe and appreciate its structure, but Fishman used the change of pace forced on us by COVID-19 to pause and ask himself "What if?". And it is this interest in organic structures that is the driving force behind Fishman's most recent sculptural work, which was recently on exhibit at the Leila Heller Gallery in New York City.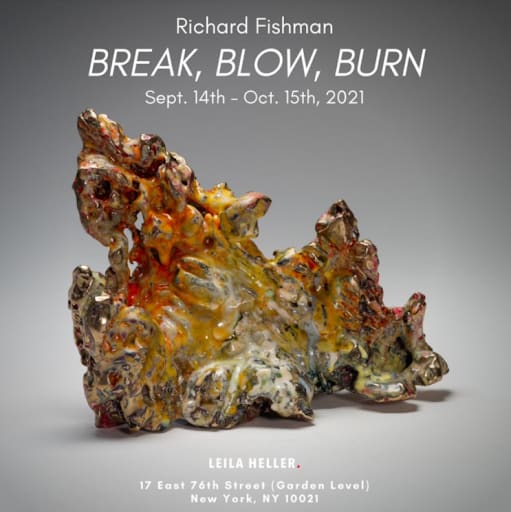 Capturing the Form and Color of an Orange Peel
Fishman has been creating sculptures since the 1970s, and throughout the years he has gained experience with multiple 3D printing technologies. His knowledge of 3D printing, combined with his desire to create art using organic materials, gave rise to his latest sculptural workflow. He is using Computerized Tomography (CT) scanning and 3D printing to blur the line between organic and digital. To create his most recent sculptures, Fishman experiments with natural materials and selects a piece with his desired form (an orange peel, a cabbage leaf, a piece of bone…). He then dehydrates it to preserve the structure.
After preserving the piece at his studio, Fishman ships it to Laser Design, where a digital replica is created using CT scanning. The CT scan data is then transferred to DI Labs in Willmar, Minnesota. As described by Alex Benson, a Solutionologist at DI Labs, CT scanning is "similar to additive manufacturing in the fact that a CT scan is multiple x-rays (slices) stacked on top of each other. CT scanning is typically used by the medical industry to learn more about a patient by seeing beneath the skin to locate tumors, see internal injuries, diagnose muscle disorders, and detect diseases and conditions such as cancer, heart disease and liver masses."
But in this case, Fishman is utilizing the high level of detail captured by the CT scan to magnify organic structures for his 3D printed sculptures. Benson explains that with CT scanning, "Fishman is able to showcase the complex internal lattice structure of his bone sculptures and acquire the finite details of the shapes he has created." Fishman's larger-than-life orange peel sculpture showcases how using CT scan data to create a digital file for 3D printing can yield excellent resolution when printed with the Carbon Digital Light Synthesis™ (Carbon DLS™) process.
The organic form is one component of Fishman's sculptures; another component is color. According to the press release for his Break, Blow, Burn exhibition at the Leila Heller Gallery, Fishman is "attempting to give shape to color, embedding the color in the sculpture rather than using it simply as a surface coating." Depending on the piece, Fishman uses paint, pigmented epoxy, and dye to achieve the finished look. When Fishman was creating his orange peel sculpture, Carbon's Henkel Loctite® IND 405 material, in combination with the proprietary dyeing process developed by DI Labs, aligned well with this concept of embedded color.
Going Digital
Because Fishman's organic-to-digital workflow is very similar to the workflow used for medical technology applications, there was plenty of crossover for the team at DI Labs to leverage their medical 3D printing expertise. Additionally, the Carbon DLS™ process made for an excellent medium to create these organic structures due to its high precision and excellent printed aesthetics.
When working with CT scan data, one of the biggest challenges is managing the file size. The raw scan data is often over one gigabyte. At DI Labs, Benson applied what he knows about processing digital files to prepare the CT scan data to be scaled and printed. During this step in the workflow, Benson would work closely with Fishman, sharing digital files so that Fishman could review the resolution and tessellations on the surface of the part before approving a file for production.
The team at DI Labs would share a digital file with Fishman for approval before production.
Once the team at DI Labs received the raw CT scan data, Benson used third-party software to reduce file size and to smooth faceting on the model. On the other hand, depending on Fishman's artistic direction, faceting might be incorporated as part of the aesthetic of a finished piece. Benson was working with the .stl file format, but he mentioned the possibility of using the .3mf file format for future work to help manage the file size. Benson also used another third-party software to repair and modify the files, performing operations such as fixing holes, thickening walls, removing an internal or unseen mass, and scaling the part. Because Fishman wanted his sculptures to be larger-than-life, Benson described how he used the scaling feature to maximize the part size based on the build volume for a particular model of 3D printer.
Formulating the Color
Fishman was looking for a material that would mimic the natural color of an orange peel, so at first he was drawn to Carbon's CE 221 material, which has an intrinsic amber hue. However, after consulting with the team at DI Labs, he decided to dye Carbon's clear Henkel Loctite® IND 405 material to achieve a similar visual aesthetic in a material with properties that are better suited to the long, thin features of the orange peel geometry.
For this sculpture, DI Labs leveraged their proprietary dyeing process to develop the perfect orange hue. The team at DI Labs has a deep understanding of the different process parameters that affect the final results when dyeing parts. They can adjust these parameters to fine tune and control the hue and saturation of the color, which allows them to work with clients like Fishman to produce a desired color with a repeatable process. After deciding on a color that met Fishman's specifications, they maximized the scale of the part to produce it on the Carbon M2 printer.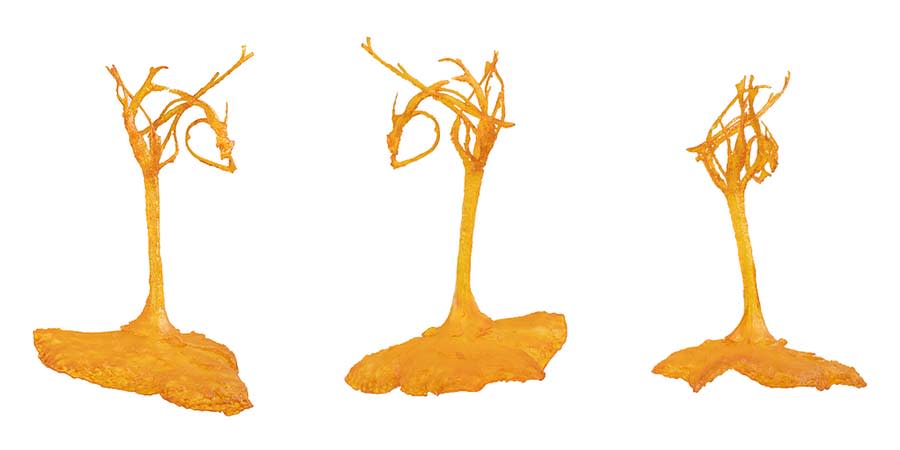 Mass Customization and a Solution-Focused Approach
Fishman's beautiful sculptures are essentially one-off parts, and there are exciting parallels to the concept of mass customization. The team at DI Labs has enjoyed collaborating with Fishman, and they see opportunities to apply the organic-to-digital workflow on the Carbon platform in applications such as patient-specific medical devices and in other products that could benefit from customization, which is an area where they see a lot of potential for growth. For example, DI Labs is offering mass customization through their Threedom division. On the Threedom website, customers can personalize a key fob by selecting from an offering of various materials, including Carbon's Henkel Loctite® IND 405 material.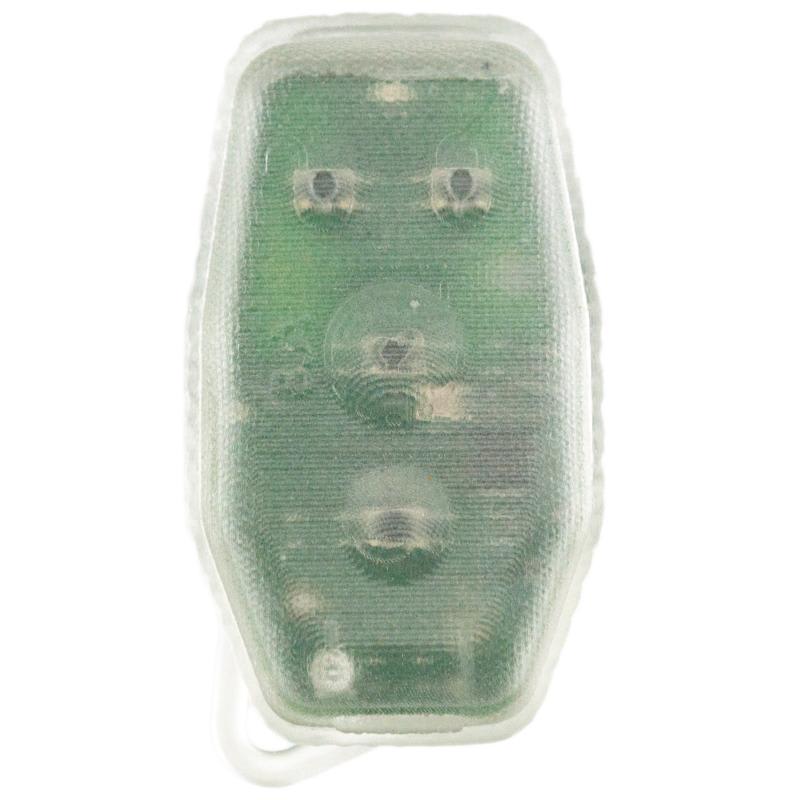 "DI Labs is accelerating innovation and unlocking opportunities for clients across a wide range of industries. For this project, our in-depth experience working with CT scan data from clients in the medical device industry gave us the expertise to take Richard's highly complex organic scan data and optimize it for additive manufacturing. We leveraged our Carbon M2 printers along with support from our fleet of industrial 3D printers to test, prototype, and collaborate with Richard to find the right mix of technologies, materials, and post-processing techniques for this unique, one-of-a-kind project. Our goal was to support Richard's vision and help him open doors for new opportunities as an artist."

Alex BensonSolutionologist, DI Labs
DI Labs has a solution-focused approach, and they enjoy collaborating with customers in the product development process. When it comes to aesthetics, DI Labs is able to leverage their expertise in advanced post-processing techniques to create new possibilities beyond standard offerings. Parts produced using the Carbon DLS™ process are isotropic and fully-dense, and when combined with finishing techniques such as dyeing, painting, or plating, the results are functional and highly aesthetic parts.
Want to see how you can make your creative design idea a product reality? Contact DI Labs here and follow artist Richard Fishman on Instagram to stay up-to-date with his latest work.
3D as It's Meant to Be
Interested in utilizing Carbon to accelerate product development? Reach out to us at sales@carbon3d.com to learn more!