It's difficult to overstate the importance of texture when dealing with medical devices. From ease of grip to functionality, a device's texture has a resounding impact on the work that medical professionals are able to perform.
If the device slips when a patient tries to use it or slides in a surgeon's hand in the operating room, then the device won't gain any traction in the market. The easiest fix seems to be the introduction of texture rather than a massive redesign. Appealing both functionally and visually, texture provides the user with the look of an end-use finished product with the usability to match. But the time, cost, and variability of determining feel through texturizing a device can often be costly or time consuming. If you put ten surgeons in an R&D lab and you undoubtedly will get a request for ten different textures applied to an instrument handle. And when you do commit to a certain texture, you will be hard pressed to justify the cost of making a new tool if the texturing choice was a miss in the market. Cue digital manufacturing.
At Carbon, we have integrated a texturing tool directly into our user interface, thereby enabling medical device designers to apply a custom texture digitally to a file, wrap it on a curve, or choose different sections for different grip profiles before executing a print. This tool is a limited release and requires training + care for optimal results. It has allowed our medical partners to bring to life numerous variations of the same device in a single print, further compressing innovation timelines. By eliminating the need for soft tooling and retooling on multiple iterations to lock a particular texture, our healthcare partners are accelerating their time-to-market with new devices and saving valuable research and development dollars in the process.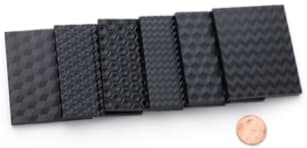 In addition, the cost-effective capabilities of digital manufacturing with the Carbon platform are enabling companies to execute small-run customized handles or grips for groups of high-volume surgeons according to their preferences. In doing so, these companies are lowering the cost of physician-matched preference items, and, in the process, increasing both physician satisfaction and brand loyalty. Watch the texturing process in our user interface here:
To learn more about the software tools in our user interface and other healthcare projects we are unlocking at Carbon, email us at lifesciences@carbon3d.com. If you're already a Carbon customer and are interested in utilizing the texturing tool, reach out to your Carbon technical partner for more information.