At Carbon, software allows us to change how products are being built and transform the manufacturing world. We build and test all software from the ground up, from firmware, to rich browser-based UIs, to multiphysics simulations, to algorithmic part design. All of our printers are internet-connected, with cloud capabilities that extend printer functionality and enable customers to manage their growing fleet. Whether it's finding ways to fine-tune lattice design simulations, or improving user experience and interaction methods, our Software team has new opportunities as we make strides towards a fully integrated and scalable additive manufacturing reality.
BEHIND THE SCENES OF CARBON TECH + SOFTWARE
We recently held our first Carbon Tech Talk at Carbon HQ where visitors were able to learn more about our vision, technology, products, culture, and customers. We showcased the Carbon Platform in action via lab tours and provided a behind-the-scenes view of the software that we're building to enable it all. Visitors were able to meet the software team and learn about the wide range of software challenges and programs they're working on, as well as hear first-hand what it's like to work at Carbon.
OUR TEAM CULTURE
Having contributed to breakthrough innovations at companies like Tesla, Google, and Apple, and hailing from top engineering schools like Stanford and MIT, software engineers recognize the opportunity Carbon creates to completely reshape every plastic product around software, from design to production. It spans all levels of experience, from fresh grads to senior architects, across a broad range of disciplines and interests: scalable cloud infrastructure, 3D graphics and computational geometry, firmware, user interfaces, and large-scale physics simulations.
"I love that engineering at Carbon doesn't just mean software engineering. We work daily with mechanical engineers, electrical engineers, material scientists, systems engineers…the list goes on. Even though we have different expertise, we're able to successfully collaborate and innovate across so many different teams."
Alex Jiang, Software Manager of our Software in Test team and Front End team
"Carbon has always had an extremely flat hierarchy and that culture runs deep within the software team. Although we each have areas of expertise, we are all encouraged to work across the stack and everyone is constantly serving as a mentor while simultaneously learning from others. I don't think that I could have grown this much as a software engineer at almost any other company."
Allan Horn, Software Engineer on our Full Stack team
SOFTWARE-DRIVEN PROBLEM SOLVING + APPLICATIONS
The Software team discussed our vast array of technical challenges, ranging from scalable cloud services, to 3D browser-based UIs, to computational geometry, to multiphysics simulations. They explained some of the hurdles we've overcome in the past and the types of challenges ahead as we continue to reinvent how parts are engineered, manufactured and delivered towards a digital and sustainable future.
"As a Software Engineer at Carbon, you can expect to work with an impressive team, a great code base, and a high-level of autonomy. With such great responsibilities, you have a voice and impact on the product, bringing value and perspective everyday that directly impacts software-driven additive manufacturing and society in the most positive way."
Anita Pagin, Senior Technical Recruiter at Carbon
The first five years of software development at Carbon have been primarily focused on building software to enable our customers to print amazing parts. The next five years will be about helping our customers manufacture those parts at scale. It is no small task; Carbon needs to enable automation, factory monitoring, analytics, sensor integration and many more features in order to truly usher in 4th Industrial Revolution.
"What excites me about what we're working on right now are solutions to new problem domains in the medical and mass customization spaces – both of which require the blending of software, hardware and material science to achieve."
Nhan Phan, Head of Software at Carbon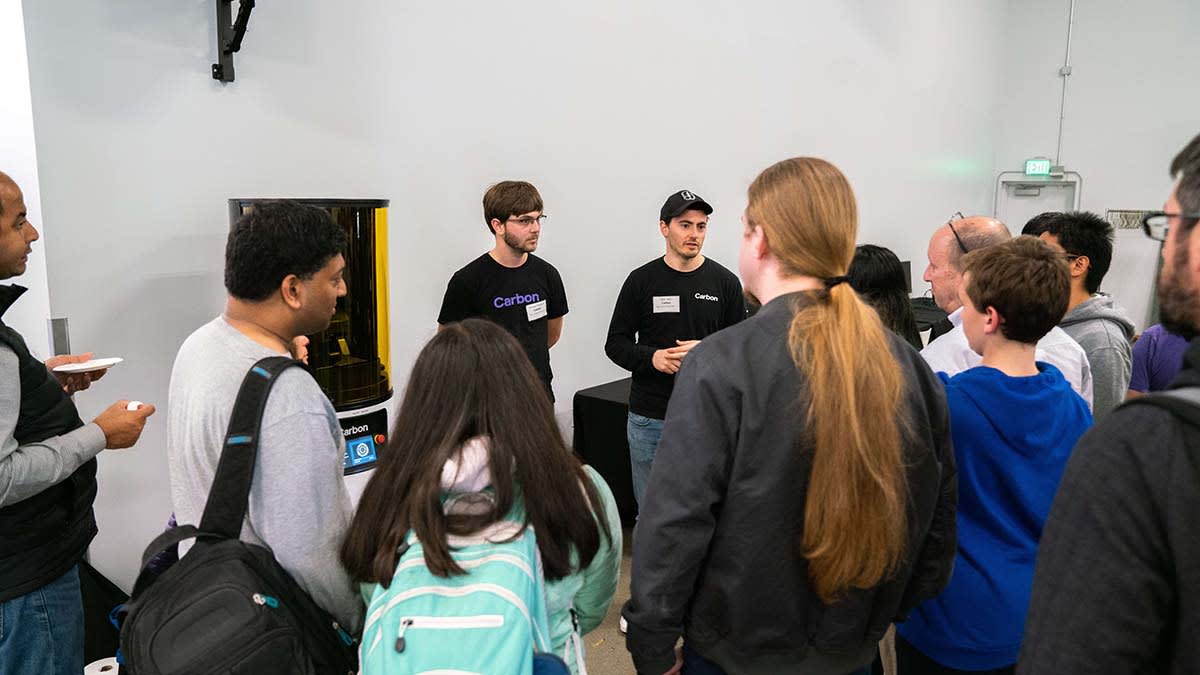 Finally, visitors heard from members of our leadership team, VP of Software Roy Goldman, CMO Dara Treseder, and CEO and Co-founder Dr. Joseph DeSimone about how our software has been a key driver in enabling Carbon's next-generation innovations. One recent case study they shared was around our partnership with Riddell to produce the first-ever digitally printed helmet liner to advance player protection for football players. Combining Riddell's digital head scan model with data from on-field impacts, the software-powered Carbon Lattice Engine automatically designs and simulates over 1,000 options and selects the optimal lattice liner for that individual athlete. The liners, made up of more than 140,000 individual struts, are carefully orchestrated into patterns for attenuating impact forces while providing excellent comfort and fit–all made possible through our software.

"Carbon is a truly unique place. It's so rare and wonderful to work for a company that uses software to make real physical things. It's so great to collaborate with folks from such a diverse set of backgrounds on super hard problems. At the end of every day, I know I haven't just moved bits around, I've changed how things are made."
– Christian Pederkoff, Software Engineer at Carbon
The Carbon Software team is excited to be driving software-powered additive manufacturing and be a part of its impact on the 4th Industrial Revolution. If you're interested in learning more about Carbon software opportunities, check them out here or reach out to recruiting@carbon3d.com.
Keep up with our software initiatives and updates by following @Carbon