Accelerating the Product-Design-to-Production Process
Carbon announced the acquisition of ParaMatters, which will enable product development teams to accelerate the design, development, and production of advanced products using additive manufacturing.
PROBLEM
Traditional Tools Aren't Optimized to Take Advantage of Modern Manufacturing Systems
This one big problem is actually multiple problems that compound each other. Some of these problems include:
Traditional CAD and CAE tools are cumbersome and inefficient
Poor integration of these tools with each other
These existing tools are not optimized for AM
Special knowledge is required to make it work
Wasted time and resources reduce market competitiveness
SOLUTION
An Integrated Platform to Streamline the Design to Production Process
Accelerating the product design to production process requires an integrated toolset optimized for a variety of advanced production processes that simplify design, streamline material evaluation and selection, and enable more control of the manufacturing process.
Companies are using additive manufacturing solutions today to produce previously unfeasible parts with advanced designs that deliver exceptional performance. Additionally, additive manufacturing enables the production of custom products at scale as well as economic production of parts at lower volumes with more options. Companies such as adidas, CCM, Resolution Medical, and Aptiv have transformed their design to Carbon production processes to enable better products and faster cycle times with significant commercial success. The addition of ParaMatters tools will allow these elite products to go from design to production even faster.
How it Works
The example below showcases how an integrated design to production software platform helps accelerate the product development and manufacturing process. The design problem involves consolidating four components in a CAD assembly into a single lightweight part, and choosing the right materials for the redesigned part. Choosing a material, which informs the final shape of the part involves searching vast options, and ParaMatters' software makes this process simple and fast. Finally, production, inspection, and post-production simulation are integrated for a simple, fast iterative design.
An Example Application: Camera Mount for Commercial Drone
Say an industrial drone producer needs a high-resolution camera mount that is lightweight, strong, and rigid to support the camera systems and forces during flight while being reasonably cost-effective.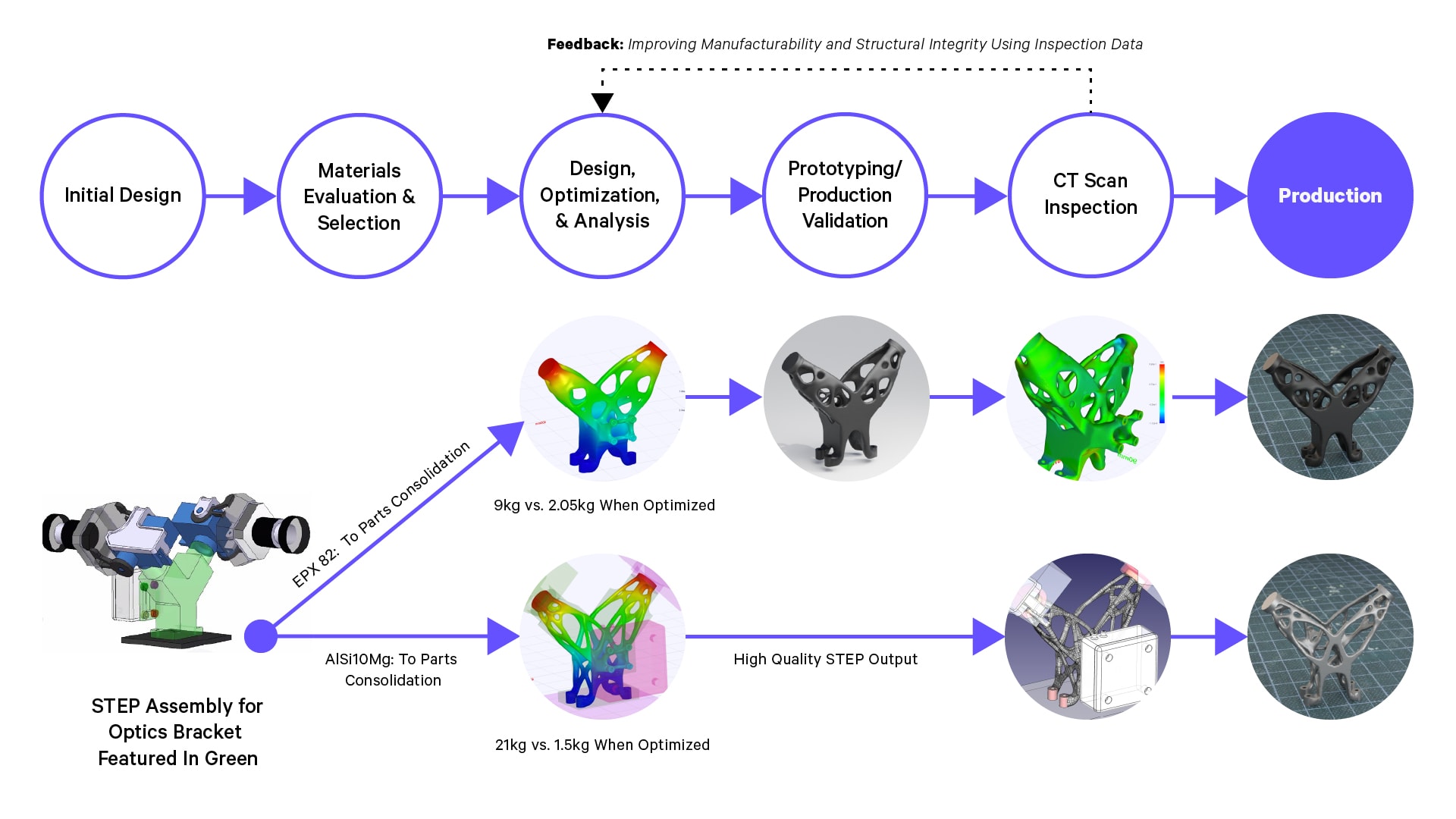 The design engineer outlines the digital thread workflow starting with a STEP assembly file (obtained from any CAD system) to the printed part.
1. Import STL or STEP files from CAD into the Carbon Software Platform. This would include any supporting parts and assemblies as well as any parametric data or tolerances on key features.
2. Assess material options from the management database. The database includes  wide coverage of materials from polymers to metals, including their detailed material properties.
3. Find and optimize designs for additive manufacturing. The engineer can evaluate a broad range of scenarios including analyzing AM compared to traditional manufacturing, material substitutions, and multi-material designs. The software further improves the design by consolidating assemblies into single parts, light weighting, and considering manufacturing constraints. Additional improvements to the design include state-of-the-art lattice design, topology optimization, and physics simulations based on Finite Element Analysis (FEA).
4. Preparing the part to be printed. The combined software will optimize the orientation of the part, slice, pack, and generate supports to get the part ready for printing. The file integrates with Carbon DLS print preparation and also seamlessly integrates with diverse machine classes for SLM, SLA, and SLS with design for manufacturability checks.
5. Manufacturing with Additive or Traditional Processes. Carbon's DLS process and materials can prototype and manufacture the part or the software can output high-quality STEP files for CAM processing or CAD refinement.
6. Inspection Analysis and Feedback Loop. If the final part is CT-scanned and loaded for 3D reconstruction, the Carbon Software Platform can compare the part as-built to the part as-designed. This closes the loop by allowing adjustments to the design and process parameters and improving overall accuracy.
Success: The Final Production Part
Sign Up to Get Software Updates
Sign up below to receive the latest Carbon software news and updates.
3D as It's Meant to Be
Interested in utilizing Carbon to accelerate product development? Reach out to us at sales@carbon3d.com to learn more!