Improvements to Volume Resin: More Discounted Resins, Dispensing Options, and More Sustainable Packaging
A volume resin pricing program is available for our most widely used resins, RPU 70 and EPX 82. Through this program, customers ordering 50 L of resin can get $50 per liter pricing, helping them go from idea-to-production on the same platform with a unique combination of material quality, aesthetics, durability, and greatly improved production economics. Now, to facilitate more production across other resins, Carbon is introducing volume discounts on more resins served in bulk packaging, with expanded guidance on dispensing options for our customers in North America and Europe.
New Volume Resin Pricing
Carbon is introducing new volume pricing options for RPU 130, EPX 86FR, MPU 100, and SIL 30 that scale with minimum order quantities and choice of packaging with discounts up to 66%. Note that volume resin pricing for EPX 82, RPU 70, and EPU 41 Black is still in effect.
Carbon customers should contact their account manager or customer success manager for more information on resin pricing options.
More Sustainable Packaging
Today, most resins are available in cartridges of 375-400 mL. Carbon will be offering these resins in 5-L cans to support higher volume production with less packaging waste.
RPU 130, RPU 70, EPX 82 & EPU 41 Black are available this month. MPU 100 and EPX 86FR will be shipping in early Q3 '22 in cans.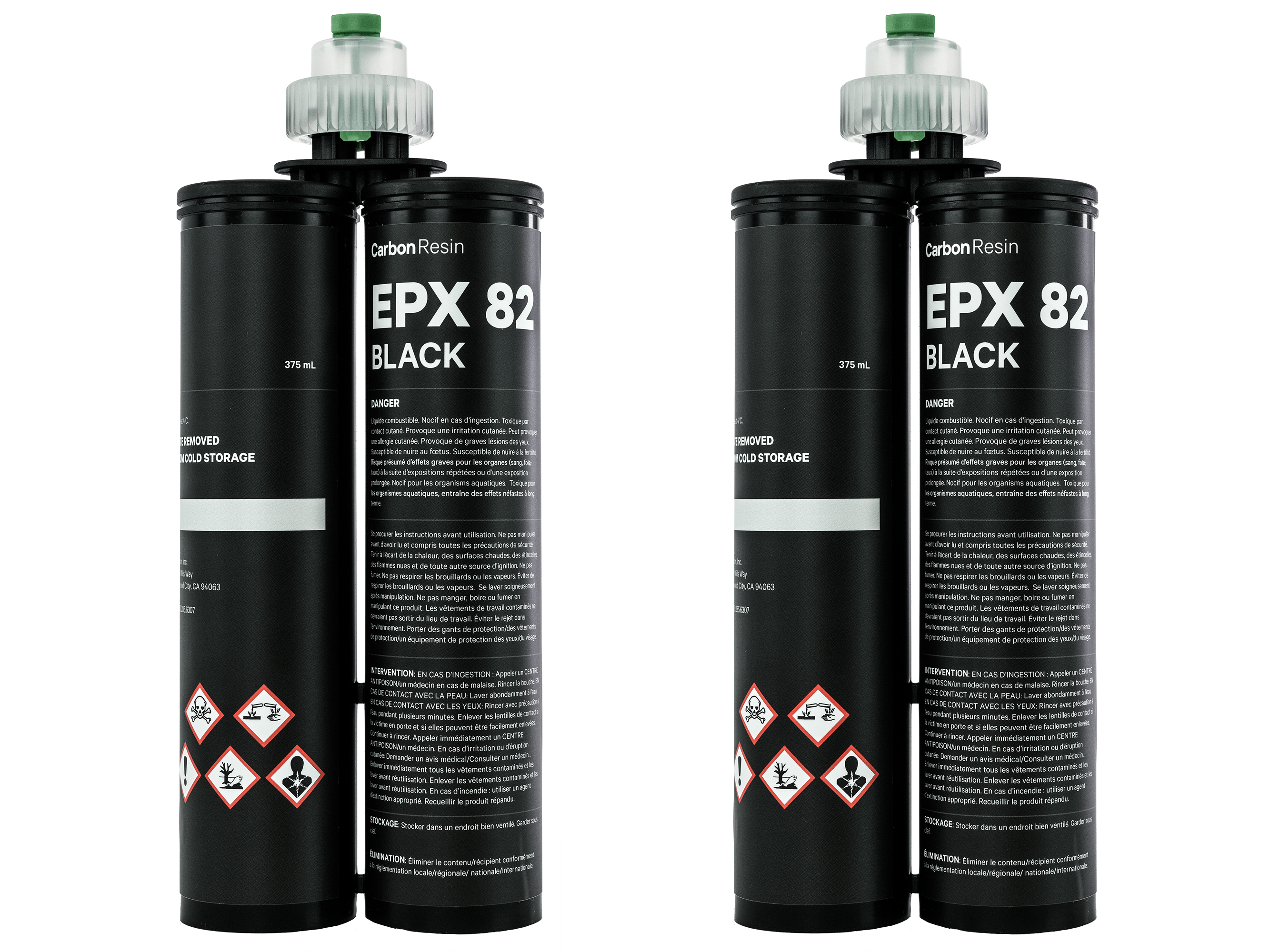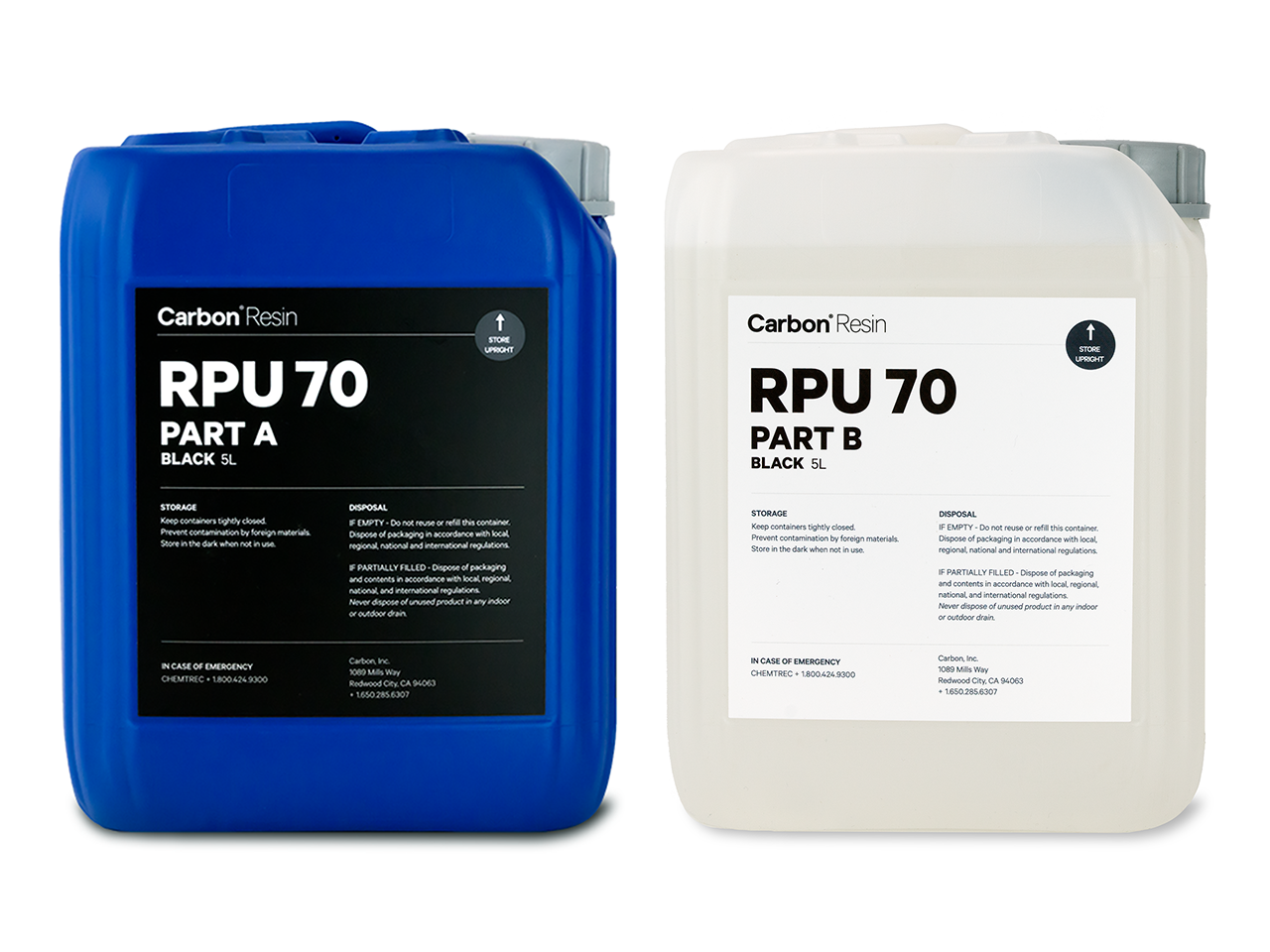 New Resin Dispensing Options
To facilitate dispensing from 5-L cans, Carbon is also introducing new dispensing options for what we term mid-volume dispensers. Mid-volume dispensers are ideal when dispensing between 2 and 10 L of usage per week across multiple resins and support the new 5-L can packaging.
| Resin Packaging Format | Resin Throughput per Week | Number of Resins to Dispense |
| --- | --- | --- |
| Cartridges | <2 L per week | 1 |
| Mid-Volume Dispensers | >2 and <10 L per week | Many |
| MMD Units | >10 L per week | 1 |
Mid-volume dispensers are a category of third-party products. Carbon is providing guidance on mixing best practices for customers interested in sourcing their own solutions. Additionally, Carbon has also validated two specific third-party mixers.
The Kakuhunter SK300sii is a lower capacity centrifugal mixer validated for RPU 130, EPX 82, RPU 70, MPU 100, and EPU 41 Black. Validation for EPX 86FR is in progress.
The Kakuhunter SK1100 is a higher capacity centrifugal mixer validated for EPX 82, RPU 70, MPU 100, and EPU 41 Black. Validating additional materials is possible by customer request.
By providing validated solutions and guidance on mixing best practices, Carbon expects to help both customers wanting a proven solution and those who wish to design and validate their own solutions.
Given these are third-party products, Carbon's technical support may be limited for products sourced by customers. For example, when troubleshooting workflow-related issues, technical support may ask customers using a non-validated solution to switch to cartridges to isolate the issue. You can continue to expect great customer service, as we will help as much as we can to make you successful.
We believe this new combination of resin pricing, packaging, and dispensing will make you even more successful in planning and executing your production projects with Carbon.
3D as It's Meant to Be
If you are a Carbon customer and are looking to place a resin order, please email orders@carbon3d.com.