Carbon Platform Improvements: September 2023
Carbon, the idea-to-production platform, is helping you at every stage of digital product development and manufacturing. We are excited to share some of our latest innovations now available to you.
---
Expanded Range of Functional Materials
Introducing a new world of color with EPU 46
EPU 46, a new high-performance elastomer material, is the first resin in Carbon's market-leading elastomer portfolio to offer incredible customization in both color and material stiffness. Available in both black and color base, EPU 46 enables customers to print colors unique to their brand and aesthetic. Material stiffness can be tuned through different resin ratios to achieve material stiffnesses from Shore 78A to Shore 56A without compromising printability.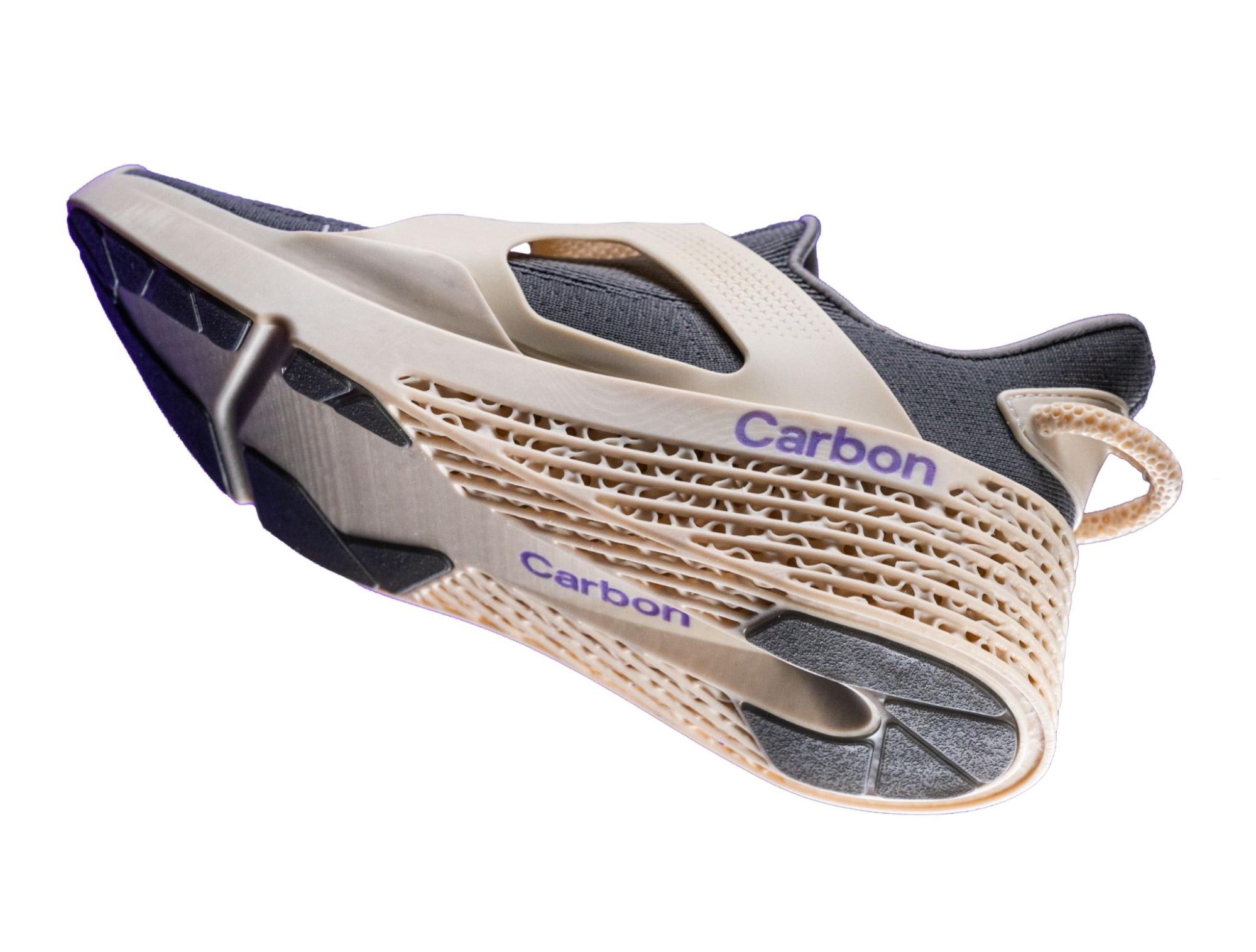 Durable enough for high-performance, demanding applications, EPU 46 is Carbon's premier energy return resin. One hundred percent stiffer than EPU 41, EPU 46 enables printing of lighter parts through lower-density lattices, which unlocks lower part economics and a wider range of printable geometries. This elastomer is 40% bio-based and is designed for solvent-free cleaning and resin reclaim to minimize waste.
Flexcera™ Smile Ultra+ now available on all Carbon printers
Flexcera™ Smile Ultra+ material is an FDA Class II-approved hybrid nanoceramic resin, developed by Desktop Health, indicated for crafting permanent and temporary dental restorations, including denture teeth, crowns, veneers, inlays, onlays, and dentures. This advanced, biocompatible material offers lifelike aesthetics, superior strength, and increased moisture resistance.
Flexcera Smile Ultra+ is available in four shades: A1, A2, B1, and Bleach. It is currently available for purchase in liter bottles in the United States only.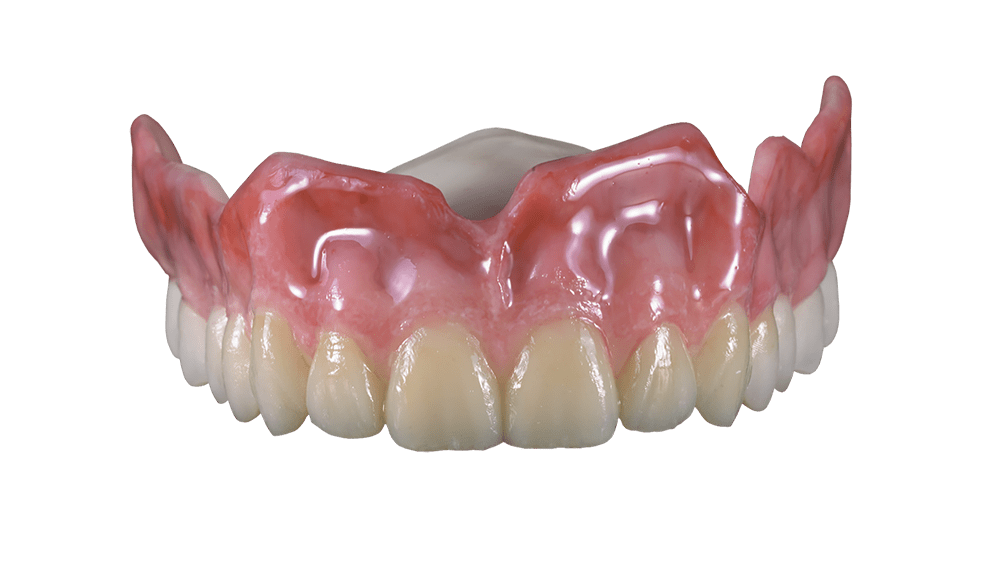 Improved Efficiency
Faster print times for rigid resins on L1, M3, and M3 Max printers
The default print plans for printing rigid resins on L1, M3, and M3 Max printers have been improved to deliver significantly faster print times and improved print success.
The new default print plans center around Carbon's Force Feedback technology. Print parameters such as pump height are now customized based on part geometry and are more responsive to resin viscosity.
Rigid prints on L1, M3, and M3 Max printers that use the default print plan are now 15–25% faster.
Dental lab customers could see upward of 33% higher throughput for M3 and M3 Max printers.
Snap multiple parts to the platform at once with Auto Snap (BETA)
The new Auto Snap feature can snap multiple selected parts to the platform surface in one action. The Auto Snap algorithm automatically detects the largest flat surface on each selected part and snaps it to the platform. This feature is particularly recommended for use with dental models.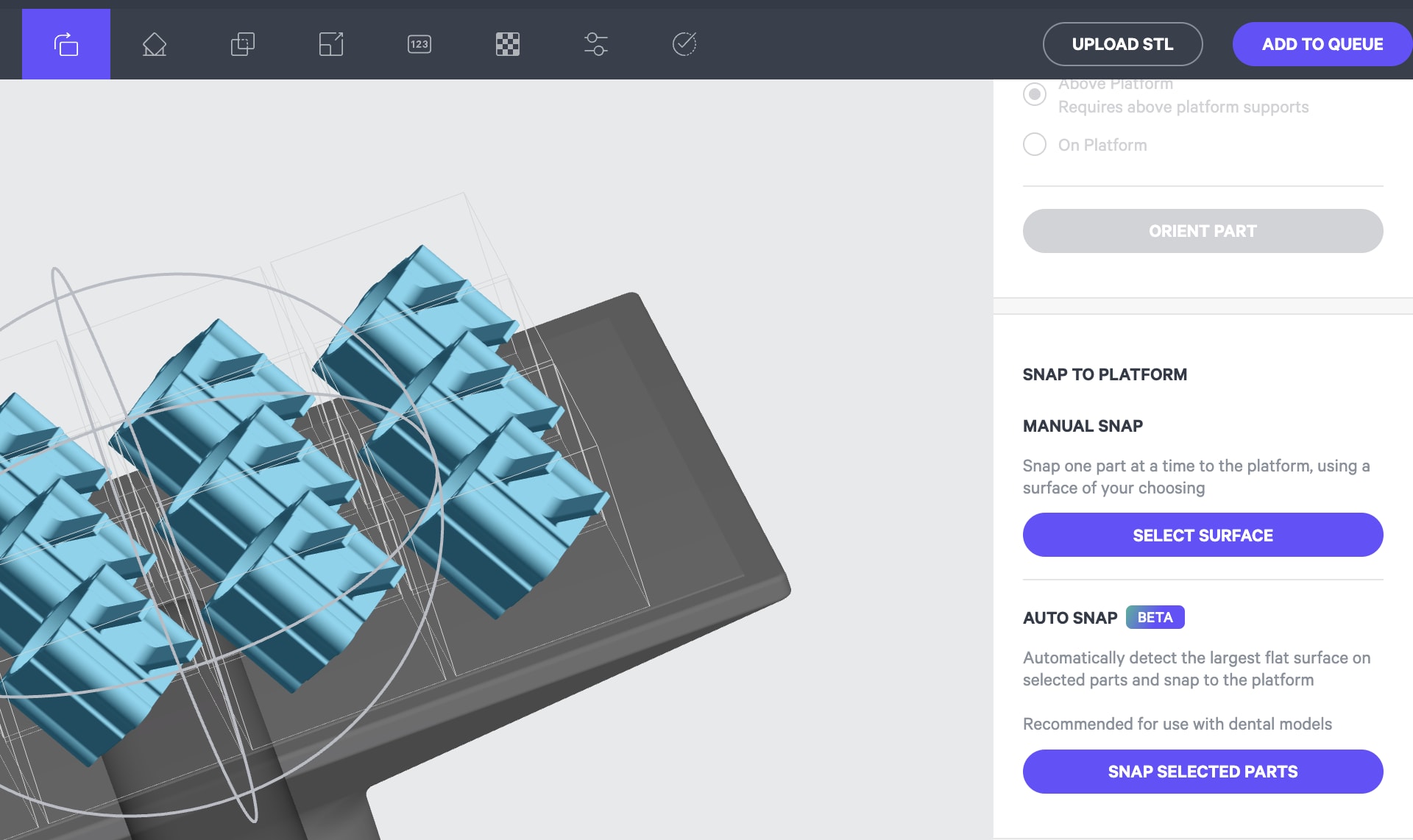 Improvements to Print Plan Adjustments interface
In printer software v1.40, additions have been made to the Print Plan Adjustments interface to improve usability. Additional parameters and print plan graphs are now available.
Print Plan Adjustments is an optional feature that is enabled for customers upon request. Reach out to support@carbon3d.com if you would like access to this tool.
Print preparation speed improvements
Various processes have been optimized so that key steps in print preparation are now faster:
Project creation (processing time when setting up a new project) is now faster for all projects.
Project edits (such as part transform operations or editing supports) are now faster.
The Gen2 slicer is now faster for all projects.
Better Part Quality
Better automatic part scaling to drive dimensional accuracy for EPU 45
For select resins, Carbon automatically applies geometry-aware scaling factors to parts to counteract the effects of mass loss and drive dimensional accuracy in final parts. In v1.40 software, appropriate scaling factors are applied for energy damping EPU 45.