Carbon Platform Improvements: May 2023
Carbon, the idea-to-production platform, is helping you at every stage of digital product development and manufacturing. We are excited to share some of our latest innovations now available to you.
---
Expanded Range of Functional Materials
Resin pot-life updates
Carbon has completed a study that re-examines pot-life guidelines for our resins and is happy to formally extend the recommended pot-life of certain resins as follows:
EPX 82: Old pot life: 12 hours → NEW pot life: 16 hours
EPX 86 FR: Old pot life: 12 hours → NEW pot life: 16 hours
RPU 70: Old pot life: 8 hours → NEW pot life: 12 hours
Note that resin formulations have not changed; this is simply a new guideline for how long dispensed resins may be used for printing. Resin pot-life recommendations can be accessed in full on Carbon Academy.
Improved Efficiency
Improved default print plans for elastomeric resins on L1, M3, and M3 Max printers
The default print plans for printing elastomeric resins on L1, M3, and M3 Max printers have been improved to deliver significantly faster print times without impacting print success.
Elastomeric prints on L1 printers that use the default print plan are now 20–30% faster. On the M3 and M3 Max, elastomeric prints that use the default print plan are now 30–50% faster.
Note that estimated print times (pre-print) might not reflect experienced print time improvements. Print time estimates are based on fleet-wide data about past prints, and may over- or under-estimate elastomeric print times on the default print plan. An upcoming software release will address this issue.
Improved tools and capabilities for adjusting print plans
To enable customers to be more independent in optimizing applications, Carbon is pleased to introduce additional functionality for adjusting print plans for all Carbon printers. An optimized print plan may help you achieve improved printing results and/or faster print times for a specific application. This feature is not automatically enabled for all customers at this time; to access this feature, contact support@carbon3d.com.
Print plan adjustment is a powerful tool. A thorough understanding of print dynamics and printer functionality is required to use this feature successfully. If you wish to alter print plans, please complete the relevant training on Carbon Academy.
More accurate print time estimates for M3 printers
To improve customers' ability to accurately estimate the cost of projects and effectively plan production schedules, time estimates for M3 printers have been refined using predictions from machine learning models. Due to the impact of using force feedback technology to adjust the print plan in real time in response to in situ print forces, M3 print time estimates can never be perfect. However, the new time estimates are now more accurate.
Version Lock
While Carbon encourages customers to stay current with software updates to access the latest features and printing improvements, we recognize that some production applications might be better served by a stable software version. For this reason, Carbon offers a Version Lock program that allows customers to stay on a single, specified software version for up to three years, with full support. We are pleased to announce that printer software v1.39 will be lockable. If you would like to Version Lock one or more of your printers, reach out to support@carbon3d.com.
Better Part Quality
Adding struts in Carbon Design Engine
We have released a new feature in Carbon Design Engine™ software, Add Struts, which rounds out the set of editing features that we've been working on. Now customers can select, update, delete, and add struts to their lattices. Here's a quick demo of adding struts: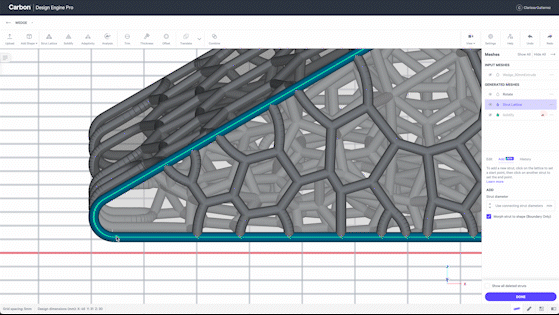 Like in other lattice editing tools, to start editing, click Strut Lattice in the Generated Meshes list.
Better automatic part scaling to drive improved dimensional accuracy
Various factors of the Carbon Digital Light Synthesis™ (Carbon DLS™) printing process and associated post-processing can result in part shrinkage due to mass loss. The final parts can be different from the nominal dimensions in the 3D model.
Carbon has historically applied a scaling algorithm to parts to counteract the effects of mass loss. With the v1.39 software update, we have updated our approach to scaling parts printed on the Carbon platform. This change applies to new projects. Consult the full v1.39 release notes to learn how to handle existing projects.
To learn more about how Carbon scales parts for accurate print outcomes, visit Carbon Academy.
Improved accuracy for select resin and hardware combinations
As a result of recent validation activities, Carbon has subtly altered print settings on certain hardware combinations for select resins. These changes will impact printed part dimensions in the xy plane. Following is a list of resins and the printer/cassette combinations that are affected by these print settings.
Resin
Printer/Cassette
EPU 40
M1 or M2 Printer / C2 or C5 Cassette
MPU 100
M1 or M2 Printer / C2 or C5 Cassette
L1 Printer / C2 Cassette
FotoDent® IBT
M1 or M2 Printer / C2 or C5 Cassette
L1 Printer / C2 Cassette
EPU 41 Blac
M1 or M2 Printer / C2 or C5 Cassette
L1 Printer / C2 Cassette
Lucitone Digital IPN
M1 or M2 Printer / C2 or C5 Cassette
L1 Printer / Any Cassette
RPU 130
L1 Printer / C2 Cassette
If you have questions about the impact of these changes on any specific applications (especially if you have a validated application and need help understanding how to navigate this change), please reach out to support@carbon3d.com for assistance.
See March 2023 platform improvements here.