AMUG 2019 TECHNICAL COMPETITION AWARD: CARBON X RIDDELL
At AMUG 2019, Carbon won the Technical Competition Award for the Riddell SpeedFlex Precision Diamond helmet, the first-ever digitally designed, manufactured, and delivered 3D printed helmet liner. Going from digital file to on-field in just six months, this innovation in head protection was made possible for Riddell through the Carbon Platform. Huge thank you to the Carbon and Riddell teams that pushed the envelope to make this innovation in head protection possible! #ProtectItAll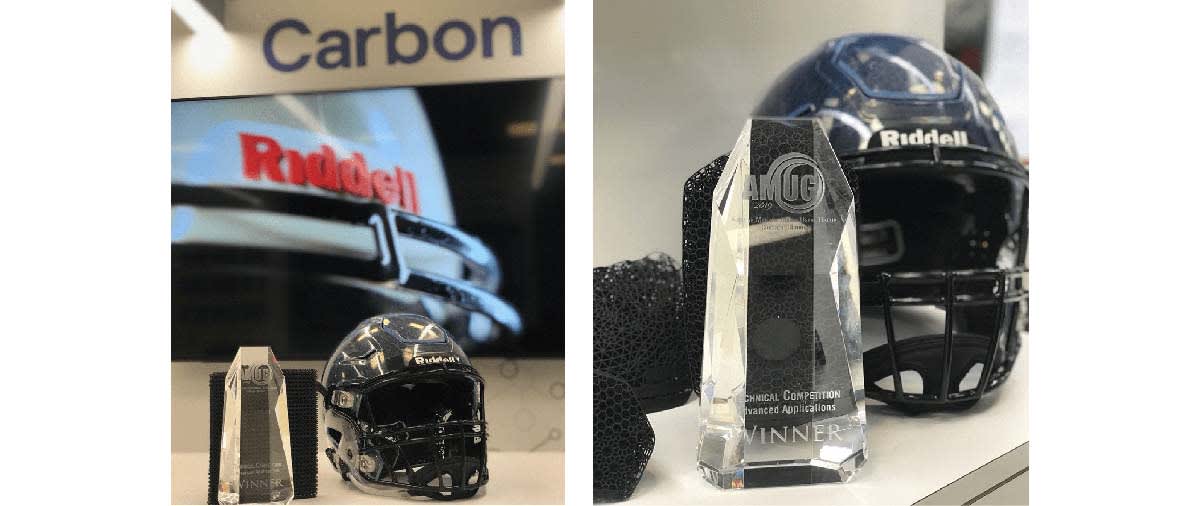 NASA SEEKER ROBOT: CARBON IN SPACE!
Carbon production partner The Technology House (TTH) worked with NASA to rapidly and cost-effectively produce four high-performance thrusters for the cold-gas propulsion system within the new Seeker robotic free flier inspector, built on the Carbon Platform. Seeker is a NASA free flyer technology demonstration project for autonomous robotic inspection that launched on April 17th aboard the Cygnus spacecraft for Northrop Grumman's 11th contracted Commercial Resupply Services mission to the International Space Station (ISS). Under a time crunch of approximately one year from project kickoff to integration for launch, NASA needed a technology that could quickly manufacture highly optimized propulsion components as part of a series of rapid integrated system design cycles. Carbon's digital manufacturing technology allowed the NASA team to successfully pursue agile development for space hardware as the Carbon Platform + plastic material Cyanate Ester 221 was ultimately validated as a viable production solution for their nimble venture into new robotics.

STELLA MCCARTNEY X ADIDAS ALPHAEDGE 4D
Stella McCartney, who first partnered with adidas in 2005 to create innovative, performance-driven workout wear, recently collaborated with adidas to create the limited-edition Alphaedge 4D sneaker line for women. This limited-edition sneaker combines Carbon cutting-edge technology with sustainable materials and modern appeal. The digitally-printed adidas 4D midsole is precision crafted on the Carbon platform and produces much less waste than traditionally manufactured foam midsoles. The midsole's revolutionary data-driven lattice design, powered by the Carbon Design Engine, has been engineered using years of data from elite athletes to respond to impact and pressure with targeted and controlled energy return for powerful bursts of movement. Check them out here.

LEADERSHIP TEAM UPDATES
We're excited to share our leadership team updates, which include promotions and newly created positions. Philip DeSimone is Chief Customer Officer, Craig Carlson is Chief Technology Officer, Meg Nibbi is VP, General Counsel, and Rich Narasaki has recently joined Carbon as VP, Brand Marketing!

CARBON FELLOWS PROGRAM
Carbon is excited to announce its Carbon Fellows Program, the highest distinction and honor within Carbon for scientific and technological advancement and innovation. Our inaugural Fellows are Senior Staff Research Scientist Steven Pollack and Software Engineer Abhishek Parmar. Steve's leadership in the development of Carbon's resins, such as MPU 100, has opened up new product opportunities for digital manufacturing medical devices and systems, and his insights into navigating the complex medical regulatory landscape have proved invaluable to our life sciences team. Abhishek's contributions to building the connected printer architecture, printer user interface, and modular design of our software stack help set Carbon apart from our competitors and have provided the groundwork for software to emerge as a defining aspect of the Carbon Platform.