In this article, we will highlight some of the key value propositions of the SPW and share how investing in this equipment will allow your organization to:
Produce consistent high-quality parts

Lower operating expenditures (OpEx)

Create a more satisfied workforce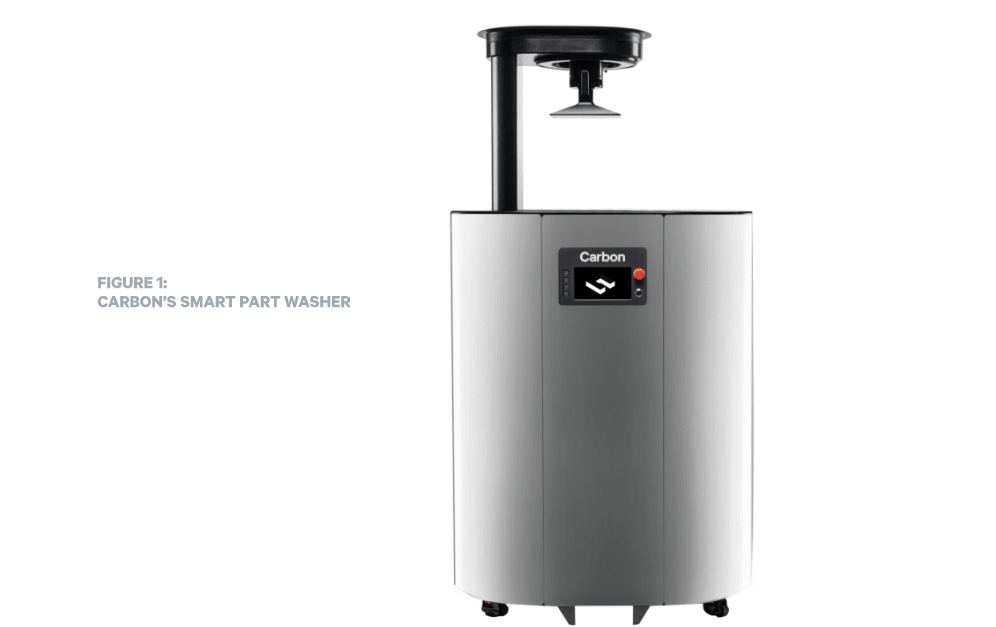 PRODUCE CONSISTENT HIGH-QUALITY PARTS 
Carbon has successfully led the 3D Manufacturing transformation by creating multiple unit-operations steps for the entire product-manufacturing process. With the SPW, customers performing at-scale production can now create high-quality parts with repeatable consistency and process control. In the past, the washing unit-operation that follows the printing unit-operation was ad hoc, not standardized, and not well defined. As a result, even though customers had developed in-house washing procedures that worked for them most of the time, there was room for error due to operator dependencies and process inconsistencies.
"Carbon's Smart Part Washer has far exceeded our expectations. Cleaning the parts without this solution was difficult and time-consuming. Using the Smart Part Washer, our wash time is now 75% shorter, enabling us to be much more efficient and productive with our time."Ben DeGraveLead Carbon Operator, Midwest Prototyping
Additionally, complex geometries (Figure 2) many times cannot be adequately washed with manual methods and require the mechanized high-shear cleaning that the SPW offers. Left-out resin in cavities and holes can negatively impact a part's performance, its fit, and functionality.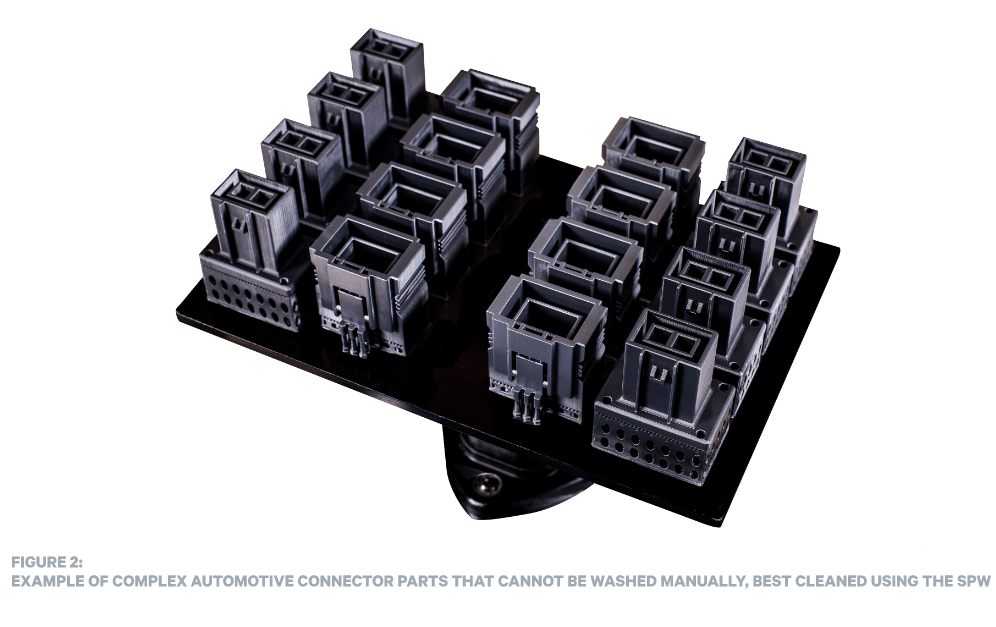 LOWER OPERATING EXPENDITURES (OpEx) 
Automation drives efficiencies and provides organizations with the means to deploy engineering and technical human resources to more value-added activities. The SPW delivers on this promise as well, based on data provided from two of our contract manufacturing partners, Midwest Prototyping and The Technology House (TTH). The SPW helped to reduce part-washing labor costs by 15%–50%.¹ There is an additional waterfall benefit of the SPW driven efficiencies, namely:
Lower overtime costs

: Our partner TTH noticed that after purchasing the SPW, they stopped incurring overtime costs associated with part washing as a result of the efficiencies from automated washing with the SPW. Overtime costs can be a huge burden for small- and medium-sized businesses, and tools that reduce these costs for better profit margins should be embraced by organizations.
"The part washer helps us get the most from Carbon's manufacturing technology, and it frees up our people for high-value activities. Now our business can grow profitably, in partnership with Carbon."
Lauren GoodVP of Finance, The Technology House
CREATE A MORE SATISFIED WORKFORCE
In addition to cost and efficiency, one of the biggest benefits of the SPW investment for organizations is a more satisfied workforce. Carbon customers across industry verticals produce thousands of parts regularly, so it is imperative that all aspects of the manufacturing process are less manual, more automated, and well controlled. The SPW relieves the workforce from the fatigue of carrying out a repetitive low-value activity and essentially gives users more control over part quality. One of Carbon's SPW power users Dave Bock, Additive Manufacturing Lab Manager at Aptiv, mentioned, "The SPW is a game changer. Makes life a lot better! This cuts down on my cleaning time by 50%, maybe even 75%."
Realizing these types of operational efficiencies results not only in cost reduction but also a happier and more satisfied workforce.
SUMMARY
The Carbon SPW is a critical unit of the SpeedCell system and is ideal for customers seeking to scale-up production and wanting a controlled post-processing workflow. To get more information about the SPW and how it can make your production more efficient, send us a note at sales@carbon3d.com.
---
¹Actual numbers will vary depending on multiple factors such as customer workforce allocation, volume of work, and mix between the number of SPWs and printers at customer sites.