Carbon software enables digital manufacturing
Multiple innovations in additive manufacturing will collectively be the driving forces for 3D printing to become the $16B industry by 2020 as analysts predict. In this white paper, we will discuss key features of our software innovations and explain how they power our industrial-grade printers for maximum effectiveness. We will share how CAD engineers can design parts right the first time and use software features to produce high-quality parts in a high-volume production environment.
Carbon's Software Toolbox
Traditional additive manufacturing approaches have forced manufacturers to make a trade-off between surface finish and mechanical properties. In contrast, Digital Light Synthesis™ technology is a breakthrough technology that uses digital light projection, oxygen permeable optics, and programmable liquid resins to produce parts with excellent mechanical properties, resolution, and surface finish. Our software is at the heart of bringing together our fine-tuned materials with robust, high-performance hardware to deliver products at scale, across industry verticals such as automotive, medical devices, dental, consumer electronics, and industrial parts.
A distinct advantage of Carbon's software is its ability to run in a browser. There is no need to download separate application; customers can work with their printers via a browser window on their laptops or iPads connected to the same network as the printers.  Let us now go deeper into some of the salient features of our software and how it unlocks true digital manufacturing.
Software Controlled Chemical Reaction
At Carbon, we understand that our customers expect to reliably 3D print high-quality production parts. To this end, our software is designed with customer experience in mind to assist users to successfully print parts for different geometries and part orientations using our resins. Complex physics and chemistry models are already built into the software, so the printer knows, for example, how to 3D print complex fluidics parts versus a midsole for an adidas shoe¹. This software-driven intelligence helps customers to iterate rapidly from design to prototyping to production stage and fundamentally disrupts traditional manufacturing. Let us dive deeper into two such software features:
(a) Heat Oracle: One artifact of 3D printing thermosetting polymer resins is the exothermic reaction that happens during the polymerization process. The heat oracle feature helps simulate the heat generated during a print across the build area. The software can evaluate potential hot-spots and take measures such as tuning print speed and compensate for heat-induced shrinkage. Figures 1a and 1b show an example for a part where we are able to simulate the hot-spots and compensate for shrinkage without going through a trial and error process of generating ideal production part parameters.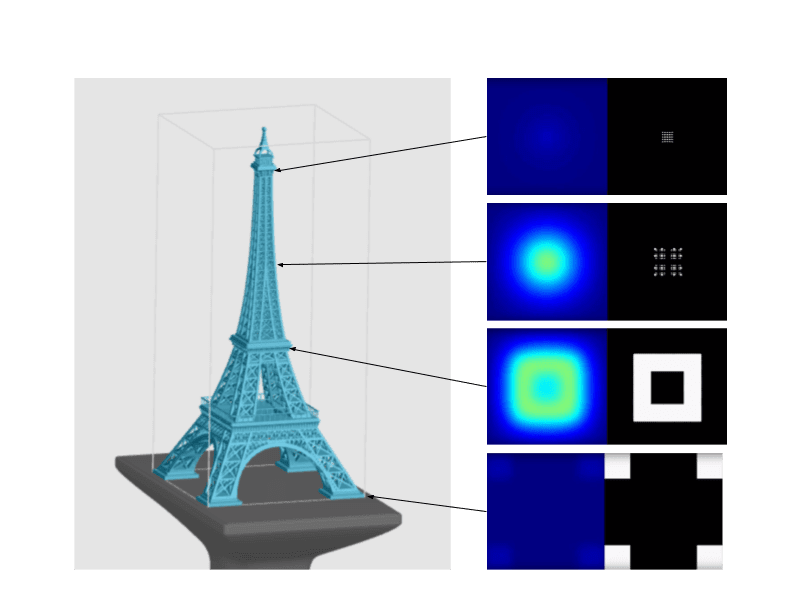 (b) Stress Simulation: The software allows designers to simulate stress build-up (Figure 2a) during 3D printing that can predict potential warping and/or cracking challenges with part production. Designers can change part orientation (Figure 2b) and simulate the stress profile to see no significant stress build-up (yellow color denoting lower stress vs. red color denoting higher stress build-up). The final part in this case was printed with no stress-related cracks. Currently, this feature is available only through working with a Carbon Technical Partner.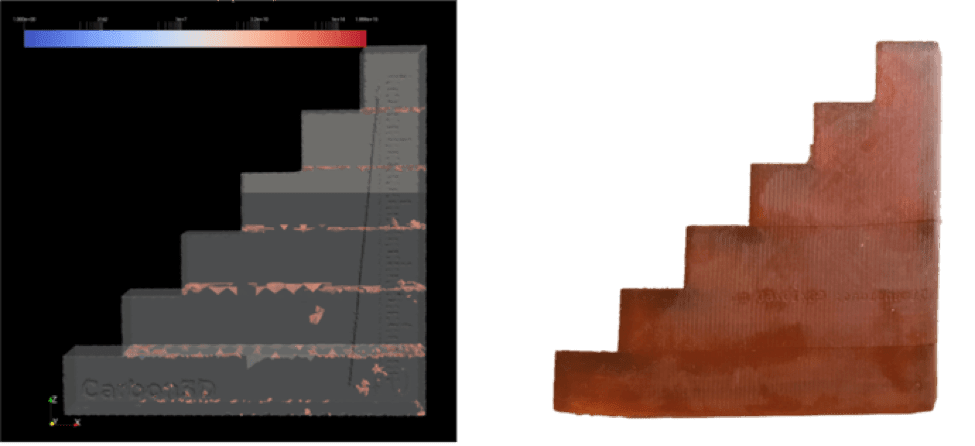 Algorithmic Design
With the assistance of Carbon's software, designers can now create optimized complex shapes and internal lattice structures. Previous technologies have struggled to deliver on the promise to print impossible-to-mold designs and conformal lattice-filled parts. The status-quo of available polymer printing technologies was especially inferior if you add the formidable challenge to go into production for complex designs. All this changed with the arrival of Carbon. For the first time, Carbon's algorithmic design approach and Digital Light Synthesis™ technology are making at-scale production of previously impossible designs a reality.
Consider an engineering part where we want to remove unnecessary material and minimize mass while meeting or exceeding performance criteria. Using our software, designers can run simulations based on experimental data indicating the anticipated uneven load on the part. Figure 3a shows what such a simulation would look like on a hollow part, where red indicates most (and unacceptable) deformation and blue indicates least deformation. Currently, this feature is available only through working with a Carbon Technical Partner.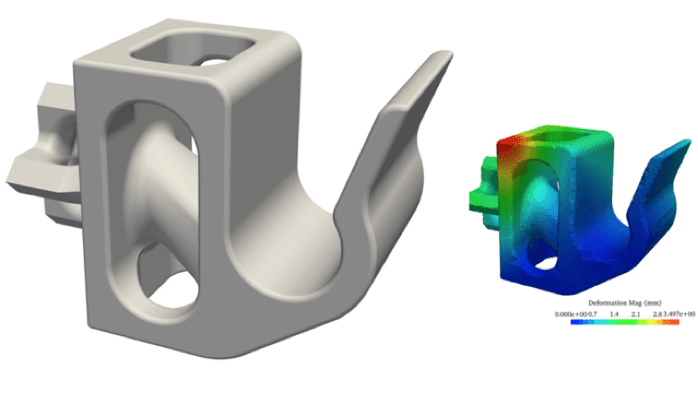 To fix the deformation problem, Carbon software can automatically generate the appropriate lattice based on the desired performance. The lattice would be sparse where the load is light and dense where the load is high. This variable density conformal lattice filling capability is unique to Carbon and re-running the simulation shows no significant deformation (Figure 3b) due to load imbalance. Again, Carbon's software tools empower designers to develop radically new designs and eliminate inefficient design iterations.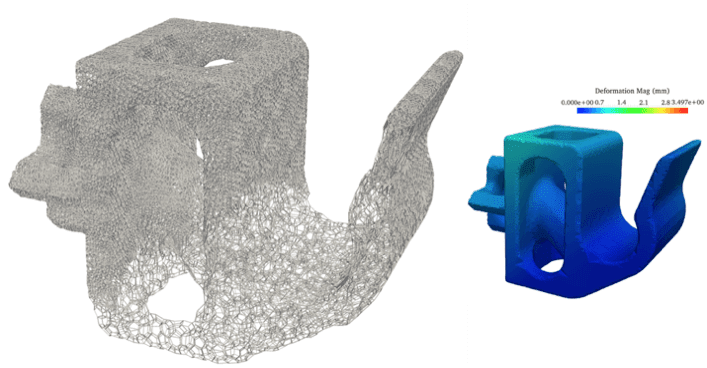 Carbon's lattice innovation capabilities are truly differentiated for the following reasons:
Probably tight conformal lattices for arbitrary shapes — robust & fast
Lattice cells are adaptive in size & shape, and connectivity patterns can be dynamic
Please work with a Carbon Technical Partner to explore how you can get access to our lattice innovation capabilities.
Going into Production
Driven by our mission to help engineers go into final part production faster, there are some additional software features that help execute on this promise. Let us review some of these differentiated features which go beyond designing parts but help engineers scale functional validation and final production of parts.
Printer Profiles: Carbon printers come with multiple printer profiles. We can help customers by creating a carefully tuned "Print Profile" that is optimized for production speed and repeatability. Customers can also take advantage of "Iteration" mode that is focused on producing a successful print in any geometry, but not optimized for speed.
Provenance: Carbon's focus to help customers design and make final production parts is the genesis of the provenance feature. For most of our customers, it is critical to know the full lineage of a produced part. With Carbon, everything is digitally traceable, down to a unique ID that can automatically be engraved or embossed on any part. This unique ID can be used to identify the digital historical record of the part, including identifying the specific printer, resin, and even post-processing protocols that were involved in making that part.
Texture: Carbon's technology has the ability to add textures to final production parts without any costly post-processing. Many polymer parts manufactured with traditional approaches are textured and for 3D printed parts to "look like" and "feel like" them, they need to match traditional texture requirements. However, typically textures are either added via costly post-processing steps or added very late in the design cycle, etched directly into the tool. Needless to mention that any errors in this step translate to costly retooling expenses.
We have a strong roadmap to solve this problem and have developed an intuitive technology that adds texture to surfaces with much more ease than any comparative solution currently in the market. Our goal is to eventually have a software that allows to identify the part surface(s) that need texture, pick the desired texture pattern and send to printers.  Currently, this feature is available only through working with a Carbon Technical Partner.
Fleet Management: Meaningful production volumes at scale can rarely be achieved using just one or two printers. For final production to happen at scale, manufacturers need an easy way to install and manage multiple printers or SpeedCell™  operations at a site. To enable printer fleet management, there are a range of features that are currently on our software product roadmap. From real-time dashboards to aggregate data and reports, to an API to enable integration with existing business systems our printer software platform supports fleet management of printers or SpeedCell™ operations more broadly.
Software Architecture Considerations
Our software development approach and our hybrid computing architecture are well aligned with our customer-first mindset.  We leverage both the compute resources on the printer itself (the edge) as well as computational resources on the cloud via Amazon Web Services (AWS). While we have significant computational power on each printer, a secure connection to Carbon servers at AWS helps to manage all printers from a central portal. It is important to make a clear distinction that customers' digital models always stay on the printer – behind customer firewalls – unless a customer gives Carbon special permissions to run some advanced simulations on their models. We also provide customers an option to have password-driven encryption on all their digital models, thereby ensuring utmost security to the digital models.
The AWS cloud connection provides value to customers by providing them access to the latest version of Carbon software. The software experience is an inseparable part of Carbon printers, and that cannot be achieved with software updates occurring at an annualized rate. True digital manufacturing cannot happen if customers are stuck with year old software features and our software architecture solves this problem. Customers have full control on when to include new software updates at their convenience into their production flow.
AWS integration also helps with orchestrating some other use-cases to provide customers with an experience that you would expect from an industrial-grade manufacturing solution such as:
| Software Features | Customer Benefits |
| --- | --- |
| Email notifications | Technicians would receive email notification when a print job finishes |
| Predictive service | Predictive serviceInternet-connected printers proactively share performance issues with a Carbon Technical Partner. A resource provided by Carbon, technical partners can help schedule preventative maintenance and can provide remote troubleshooting as well |
| Access to large-scale cloud computation for future applications | In future (with customer permission), all the simulations described above would generally run in the cloud to make computation time reasonable |
Conclusions
Carbon's software is the glue that helps us orchestrate complex industrial designs into final production parts using our resins and printers. While the aim of this article was to provide readers with insights into some of our breakthrough capabilities, we are constantly developing new software features with production needs in mind.  From design efficacy and simulations, to mass production flow –  our software is architected for at scale manufacturing and supports supply-chains for the digital manufacturing era. This is a vision Carbon shares with a lot of Industry 4.0² proponents. To that outcome, we are creating the building blocks to realize that vision.
If you are interested in learning more about our printers, resins and software features – please reach out via our contact us web form or drop us a note at sales@carbon3d.com
A Look Into Carbon Software User Interface
Using our browser based software with local model storage, it is easy to prepare your parts to print.