In mid-March, when Carbon engineer Hardik Kabaria became aware of a shortage of swabs for COVID-19 testing, he jumped into action to help. Despite not having a background in medical devices, he knew exactly how to employ software to generate an optimized design for a new swab that could be digitally manufactured on demand.
Over the past several years, Hardik has been the mastermind behind the development of Carbon's Design Engine computational design software, leading a team to create a powerful design tool that offers previously unachievable product capabilities, as well as the ability to input design constraints and performance requirements to algorithmically generate designs that match required specifications. Already, lattice-driven design using the software, combined with Carbon Digital Light Synthesis™ (Carbon DLS™) process, has enabled new and better products—such as top-performing football helmets by Riddell and bike saddles by Specialized that reduce the risk of injury to riders. But there had never been a moment as important and urgent as now.
As COVID-19 surged in the US, the team at Carbon began learning about nasopharyngeal (NP) swabs, and how manufacturing supply chain disruptions were causing severe shortages across the world that would undermine the country's ability to conduct sufficient diagnostic testing to help understand and slow the pandemic's spread.
When the team examined the design of a traditional NP swab, Hardik said he could turn around the first alternative lattice-based NP swab design by the next day. Turns out, with his colleague Owen Lu, he could do it in less than two hours. The world's first NP swab featuring a lattice design was born.
In the days that followed, Hardik led the process to rapidly optimize the swab design using the Carbon Design Engine software with Owen, refining the shape and precisely tuning the thickness and length of struts in different ways throughout the lattice structure of the swab head to deliver increasingly better mechanical and clinical performance. Iterations took mere hours and were informed by real-time feedback from clinicians assessing the swabs for patient comfort, biospecimen collection efficacy, and compatibility with PCR test systems for COVID-19. [1] [2]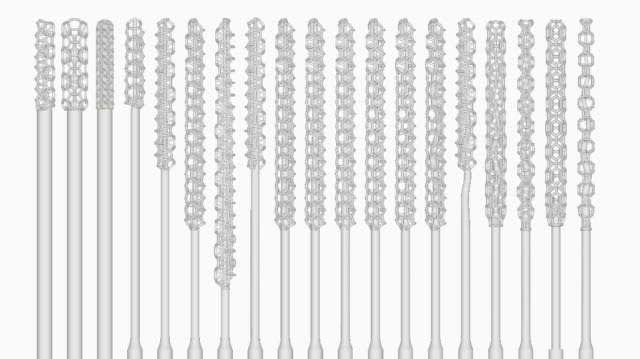 Ultimately, the new NP swab was launched on the market by Resolution Medical, an FDA-registered, in vitro diagnostic and medical device manufacturer, in only 20 days—which is unheard of for a medical device product. The Resolution Medical Lattice Swab, crafted with the Carbon DLS™ process, exhibits a highly flexible, conformal lattice with a hollow cage structure, providing abundant space for mucosal collection to aid specimen collection efficacy. Hundreds of thousands of Lattice Swabs are already being used by hospitals and institutions across the country for COVID-19 testing, and a new pre-sterilized product will be available in the coming weeks.

"Though the Design Engine wasn't developed specifically with swabs in mind, solving this problem was a perfect match for its capabilities," Hardik notes. "We are still only at the beginning of this journey of using lattice designs for products. There's such a vast range of possibilities for lattice-based products, and I hope this example can help inspire product designers and engineers in many industries."
The Resolution Medical Lattice Swab has helped address an immediate problem in the healthcare industry—a lack of access to critical supplies for more widespread COVID-19 testing. Its speed-to-market, using the Design Engine software, demonstrates the power of computational design joined with 3D printing, a vision driving Hardik's work since he came to Carbon in 2015.
"In that moment we worked as quickly as we could to use our lattice design capabilities to create a swab that could at least meet the performance of a conventional NP swab," recalls Hardik. In the end, the team may have achieved even more. There is early evidence suggesting that the swabs could help reduce false negative readings as well, which are fairly common for conventional NP swabs. This is especially important for understanding infection rates and preventing community spread of COVID-19.
Innovation in designing and manufacturing products to address urgent needs lies at the intersection of computational design software and current industrial 3D printing capabilities. With the Lattice Engine software developed by Hardik and team, lattice-based design continues to enable breakthrough products when paired with digital manufacturing, providing both powerful design and speed-to-market advantages. As Hardik notes, "the accelerated design and launch of the Lattice Swab demonstrates what can be achieved, but this is really only the beginning of what's possible with lattices."