CHALLENGES FACED BY NEO
Having worked with 3D printers since 2010, NEO Lab has rich experience with other printer technologies, and their lab technicians have seen it all:
(a) Constant printer failures/hard-downs due to mechanical parts failing
(b) Maintenance labor overheads and associated business productivity costs
(c) Edge distortions and edge inaccuracies on the stereolithography-based printers
These deficiencies have become a resource and efficiency constraint for the lab. Christian shared, "We can lose 10–25% of productivity in any given month due to various maintenance issues and required monthly maintenance on other technologies-based printers." Additionally, for the existing stereolithography-based printers, NEO Lab technicians have struggled with part-accuracy issues due to optical distortions at the edges of the build platform. As a result, NEO Lab had to decrease their daily throughput per printer. NEO Lab's—and the industry's—gap for a dependable 3D printer that offers a full portfolio of materials and easy-to-use software has been filled by Carbon.
CARBON: A TRUSTED DENTAL PARTNER
A $3.4B market in 2016,¹ the global orthodontics supplies market is estimated to grow steadily to become a $5.9B market by 2023. Driven by the need to serve the growing demand of their orthodontics customers, NEO Lab was seeking to add a new printer to make 3D-printed thermoforming models and functional appliances such as expanders, retainers, and maintainers.  
Carbon's subscription model and customer-centric partnership philosophy offered the perfect match for NEO Lab's business needs. Having experienced numerous issues with printer hardware in the past, Christian Saurman explains, "The simplicity offered by Carbon's subscription business model is refreshing. Instead of constant finger-pointing in the past as to whether it was a printer manufacturer issue or a lab operator issue, with Carbon's 100% inclusive service and support, the focus is always on keeping the business up and running." Carbon's subscription model enables labs to focus on business goals, growth, and customer satisfaction instead of worrying about printer maintenance.
NEO Lab's existing staff quickly became productive on Carbon's dental solution, by fully leveraging the initial on-site training on software, materials, and hardware provided by the Carbon team. NEO Lab's staff also took advantage of follow-up resources, such as dedicated dental experts and Carbon Knowledge Academy classes. Within one week of printer installation, NEO Lab was already making the following parts using Carbon's Digital Light Synthesis™ (DLS) technology:
Thermoforming models – Figure 1a

Acrylic wire appliances (retainers and space expanders) – Figure 1b

Full metal appliances that are laser welded together directly on the 3D-printed models (maintainers and space expanders) – Figure 1c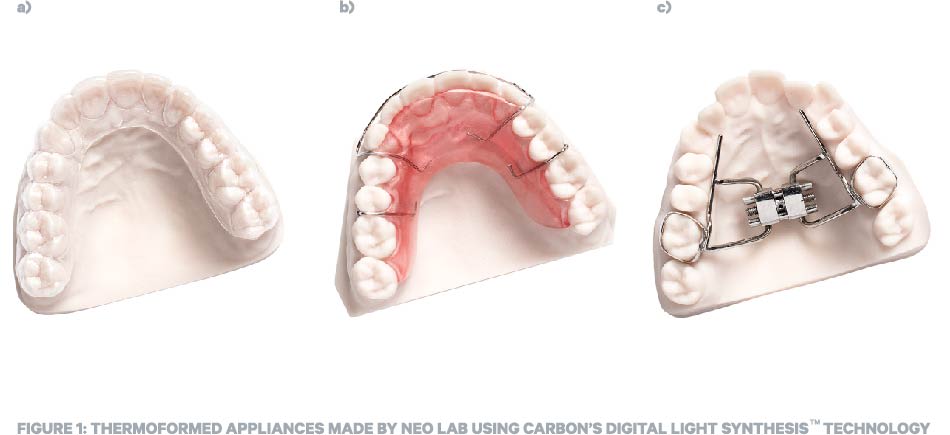 NEW NEO LAB
Powered by their first M Series printer, clearly-defined standard operating procedures, and 100% inclusive service and support, NEO Lab accelerated the Carbon solution, making more than 1,300 thermoforming models and functional appliances within the first month of installation. The process workflow adopted by NEO Lab for all their thermoforming models is highlighted in Figure 2.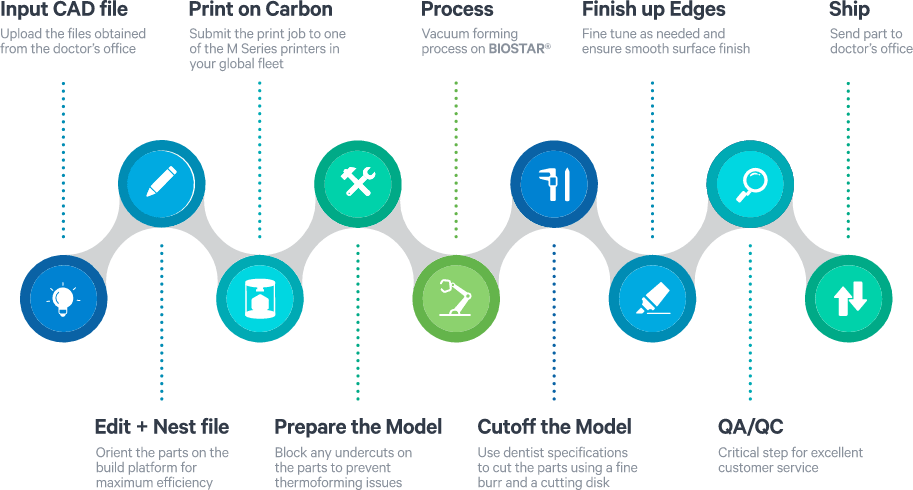 Figure 2: Thermoforming models process workflow at NEO Lab
The key drivers for 3D printing adoption for the thermoformed orthodontics market segment are printer reliability, part cost, customer satisfaction, and throughput, and Carbon's dental solution excelled on all these metrics. Christian shares, "Cost is important but not a critical decision variable for orthodontics. Our customers care about accuracy, on-time delivery, and patient experience much more." Salient points on how Carbon's solution excels in each of the four metrics are described below:
PRINTER RELIABILITY
No printer failures and no failed print issues with Carbon to date.

No maintenance overhead resources needed for Carbon's DLS versus conventional technologies, such as polymer jetting and stereolithography-based printers.
PART COST
Best in class per-part costs with Carbon printers.

Higher yields and higher throughput enable efficient use of workforce and material resources to drive cost efficiencies.
CUSTOMER SATISFACTION
No accuracy issues reported by customers across more than 1,300 thermoforming models and functional appliances.

Customers are providing feedback that the appliances are fitting well.

Carbon's hardware and software help create high-quality accurate models and appliances across the entire build platform, with no edge distortions.
THROUGHPUT
Carbon can produce 33% more parts compared to NEO Lab's polymer jetting printers in the same amount of time.

Print speeds with Carbon are fast. NEO Lab is able to print five full arches in only ~1.5 hours versus waiting for 3 to 4 hours with other technologies to see end results.

Making rush orders and last-minute nesting changes is highly efficient with Carbon, compared to polymer jetting printers for which renesting is a complex and tedious task. With the latter, the tallest part always has to be on the top-left corner because of gantry movement constraint.
SUMMARY
Encouraged by the printer reliability, high quality, competitive part costs, customer satisfaction, and throughput, NEO Lab has decided to place more trust and resources into the Carbon subscription-based partnership model. Within six weeks of owning their first Carbon printer, NEO Lab decided to order two additional M2 printers and a Smart Part Washer, becoming one of the first labs to have a Carbon SpeedCell™ system to continue to grow their business in the thermoformed orthodontics appliances segment.
If you are an orthodontics laboratory focused on making thermoforming models and functional appliances and looking for your next reliable 3D printer, reach out to dental@carbon3d.com to learn more about Carbon's dependable dental solution and partnership philosophy.
---