Kú Cycle Improves Athletes' Performance and Shortens Lead Times with Built-to-Order TF1 Triathlon Bike
Kú Cycle worked with Carbon production partner QDP B.V. to create the built-to-order TF1 triathlon bike. QDP produced numerous critical components for Kú Cycle's high-end custom triathlon bikes which included arm pads, grips, and clips for the wireless shifters. By leveraging QDP's expertise and the Carbon idea-to-production platform, Kú was able to upgrade their TF1 bike to include three new parts to improve a biker's performance, and implement an on-demand production solution that made their built-to-order business model even more cost-efficient.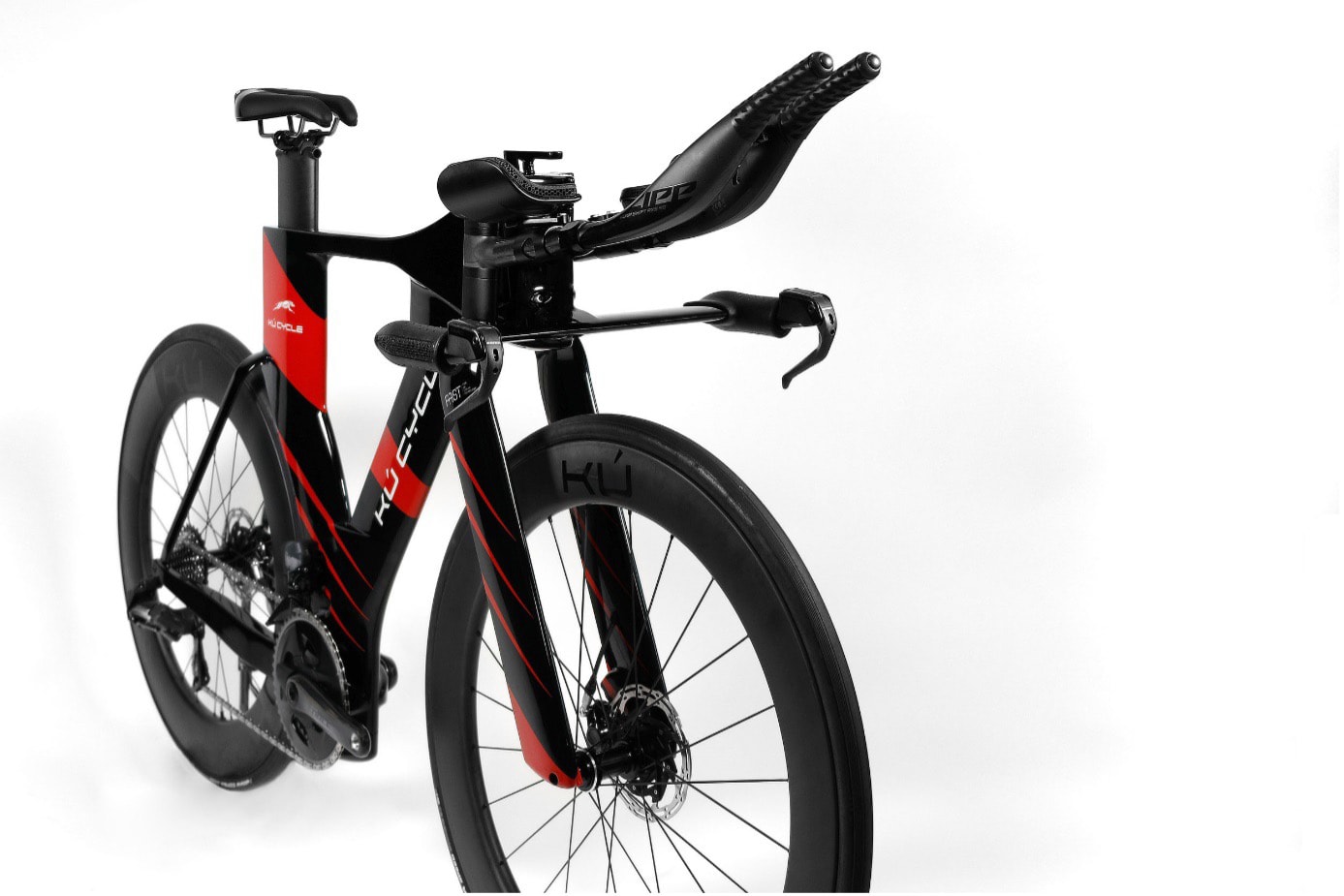 ---
Key Takeaways:
Carbon production partner QDP developed three built-to-order parts for the Kú TF1 bike, including two latticed parts made with Carbon Design Engine™ software and one rigid part.
Overall development time was reduced by two months when compared to traditional tooling timelines.
Lead time per order was reduced by two months thanks to QDP's on-demand production capabilities with the Carbon platform.
---
Background
Kú Cycle is a Dutch-based cycling company with a mission to design bikes and performance solutions that will change the sport forever by creating the perfect fit between body and machine. They believe a rider's position should be established independently of the bike and therefore see bike-fitting services as a pre-purchase service instead of a post-purchase service.
Carbon production partner QDP is an EU-based plastics manufacturer that has been designing and producing plastic products for many applications for more than 20 years. With extensive knowledge of materials and production know-how, QDP designers guarantee a design that is not only functional, but also has great aesthetics and is easy to make. Aligned with QDP's one-stop-shop approach, QDP serves as a creative partner, manufacturing expert, and reliable producer to meet all of their customers' needs.
With the design and production help of QDP, Kú Cycle introduced a new, built-to-order production process and a completely different sales model with a single objective in mind: athlete performance delivered. The end result was the Kú TF1, a cutting edge triathlon bike.
Introduction
A Flexible and Complementary Manufacturing Technology
QDP started working with Carbon because they needed a cost-effective manufacturing solution for small series production parts that otherwise would have been too expensive to manufacture with injection molding. They were looking for an additive solution to deliver a quality product that compares to an injection-molded part.
QDP was originally skeptical about 3D printing for end-use parts until they saw Carbon's work with Ford. With experience in the automotive industry, QDP knew how high the requirements were for materials. After learning that the Carbon platform could meet the strict validation testing and production reliability requirements of the automotive industry, QDP was excited to take on Carbon as a complementary manufacturing technology.
In addition to the automotive-grade materials, Carbon opened a new area of design expansion for QDP, allowing them to create durable lattice structures via Carbon Design Engine software which are robust enough for pro athletes like the customers of Kú Cycle. This combined with the fast iteration possibilities and lead times made the Carbon platform the perfect, flexible manufacturing solution for Kú Cycle's types of applications.
High-Performance Lattices
The Kú TF1 was previously introduced in the market. However, Kú knew they wanted to bring upgrades to the bike as soon as possible because the base bar grips and armrest pads were not at the level Kú wanted for their customers.
After being introduced to QDP's latticing capability via a previous project they worked on together, Kú knew foam wouldn't cut it to uplevel this bike––they were looking to develop unique latticed parts from the start. QDP access to the Carbon Design Engine gave Kú the opportunity to develop and implement extraordinary upgrades in a very short development time.
Built-to-Order, On-Demand Production
The Kú TF1 requires high quality plastic parts for the "finishing kit" to complete the assembly of the bike. The bike is built to order because getting the size exactly matched to a rider's fit coordinates is an important ingredient in the bike's ability to help improve an athlete's performance. This built-to-order model means Kú's forecast can have a very close horizon. Additionally, the ability to order parts on demand was a significant factor in Kú deciding to work with QDP and Carbon.

Kú was originally looking to mold their parts, most likely in a silicone; however, tooling costs and their production numbers made this a difficult problem to solve. The Carbon platform and QDP gave them the perfect blend of high-tech materials that offered major performance improvements and the ability to print in the limited numbers to match their built-to-order sales model.
SOLUTION
Ideation + Design
After witnessing how athletes used the bike, QDP discussed the importance of the points of contact where the athlete meets the bike (saddle, pedals, and hands/forearms). It became very clear that a lattice might help Kú create an interesting and unique product.
QDP started the design process for Kú knowing the parts would be produced on the Carbon platform. QDP's vast experience in molded and printed parts for production cut design time considerably because they were able to offer guidance on best practice early in the design stage. They could then take the initial design from Kú and make the fine adjustments to get the perfect printed part.
Development + Validation
Performance-Driven Materials
The grips and arm rest pads had to be comfortable for the rider for long periods but still be stiff enough to allow control of the bike from small inputs. The material had to stand the test of resisting sweat and the nutrition gels that inevitably get spilled during a race. Kú found that Carbon's EPU 41 material was ideal for the elastomeric lattice grips and arm pads, and Carbon EPX 82 material for the rigid shifter clips.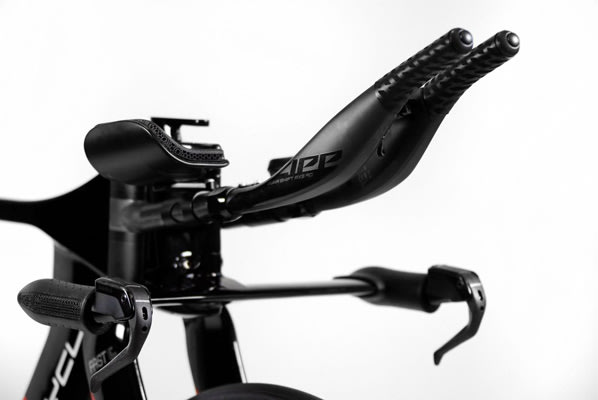 Eliminating Lengthy Tooling Timelines
Kú Cycle had its first prototype within two weeks, and QDP started the production within a month after the first sketch. Because QDP is prototyping with the same manufacturing technology used for production, the customer gets exactly what they expect. With the customer's feedback, QDP could easily adjust the product design and make many iterations in a short amount of time. As soon as QDP locked the final design, they could start the production within a week from that point.
If QDP had wanted to make the product with injection molding, they would have undergone the following lengthy timeline: prototyping, mold design, tooling, samples + shipping, optimizing the mold, production and shipping. This whole process takes several months versus 1 month with Carbon.
After the original prototype, Kú required only two additional iterations, one to develop the lattice, and which areas would be exposed and which closed to provide the right balance of grip and comfort; the second to perfect the fit to the base bar, which had to be tight enough so the grips did not slip but flexible enough to allow for assembly.
Additionally, Kú tested the early bike sets with athletes to gain more feedback. After receiving extremely positive results, they gained the confidence to go for a larger batch to introduce into their standard bike-build specification.
Results
Since launching the revamped Kú TF1, athletes have responded very well to the performance of all its products. Bike users include two Ironman age group world champions, one Challenge age group world champion, and a host of age group victories and podiums in Ironman races.
Kú Cycle is new to the triathlon market, but popularity is growing fast as word spreads about the Kú TF1's performance. Next year they will enter the US market and expect their numbers to grow significantly despite operating at the extreme end of a niche market. They are looking to produce 500–1,000 bikes over the next 12 to 18 months with QDP.
Overall, the Carbon platform worked well for both Kú Cycle in expanding the performance of their products, and for QDP in enabling them to give better solutions to their customers without the need for nor cost of injection molding. Both won in using Carbon as an end-to-end production solution that reduced design costs, allowed them to design parts the most optimal way with less restrictions, and enabled them to cost-effectively produce built-to-order quantities.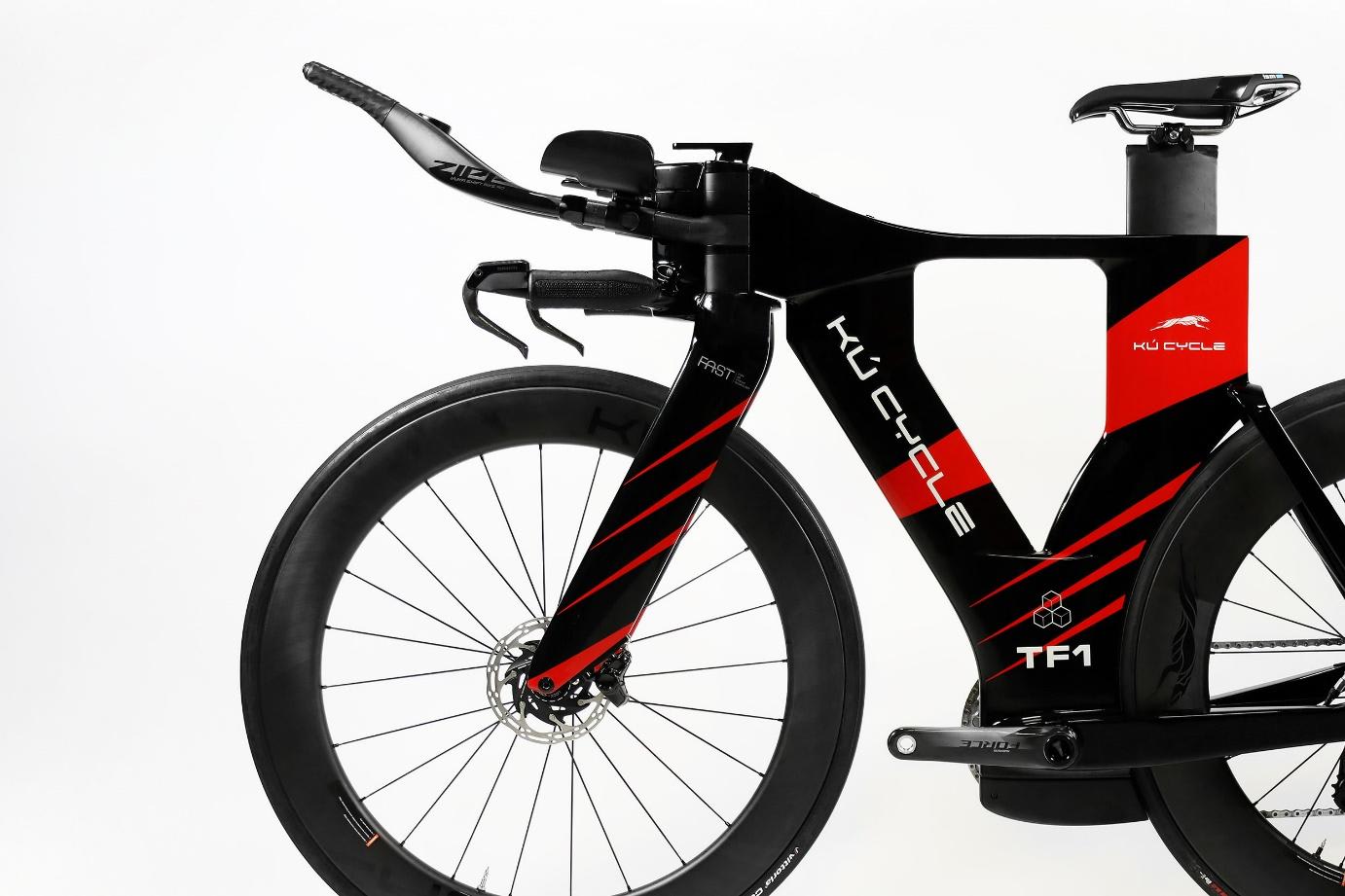 3D as It's Meant to Be
Interested in leveraging the Carbon DLS process for your bridge production needs? Get in touch with a Carbon expert.
If you're looking to manufacture high-performance lattices in the EU and want to utilize the Carbon idea-to-production platform, reach out to Carbon production partner QDP.