KEY TAKEAWAYS:
Met stringent automotive material requirements with Carbon's RPU 130 rigid polyurethane material
Reduced costs by 14% when compared to injection molding for low volumes
Expanded on-site manufacturing capabilities and now pursuing low-volume opportunities, utilizing Carbon as a complementary manufacturing technology alongside injection molding
As a global industry leader in assembly technology that specializes in high-volume manufacturing, ARaymond knows the importance of cost efficiency for low-volume automotive part production. With Carbon Digital Light Synthesis™ (DLS™) technology and engineering-grade 3D printing materials, ARaymond was able to cost-effectively produce a unique pipe holder fastener at low volumes –– saving 14% in costs compared to injection molding and enabling them to pursue new market opportunities where few others can compete.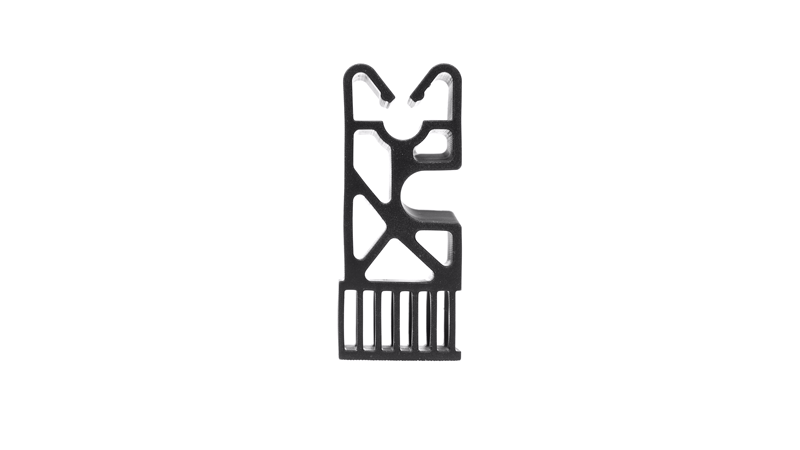 ARaymond designs, engineers, and manufactures assembly systems –– offering fasteners, connectors for fluids, cleaning systems, and bonding solutions for automotive powertrain, chassis, body, and electrical and mechatronics applications. ARaymond's unique solutions for complex assembly systems eliminate the need for tools, improve assembly line ergonomics, streamline manufacturing, and facilitate serviceability. Additionally, ARaymond is ISO 14001 certified for all of its manufacturing facilities worldwide, and its automotive-parts plants are IATF 16949 certified.
CHALLENGE:
Overcoming the poor economics of low-volume production in the automotive market
ARaymond received a low-volume production request for a critically important pipe holder fastener that would be mounted onto an existing M10 stud in a chassis and reroute a cable. The pipe holder would hold two tubes to maintain proper distance and protection from kinking, and would be produced at just 11,000 pieces annually –– an extremely low volume for a mainstream automotive part.
With new OEMs arriving in the marketplace, low-volume production requests are occurring more frequently, and molding continues to fall short as a cost-effective manufacturing solution for low-volume production. In this context, responding quickly and competitively to production requests at any volume is imperative.
In search of a flexible manufacturing solution with engineering-grade materials, ARaymond turned to Carbon for its low-volume production opportunities.
"By not having to invest in tooling, presses, and floorspace, Carbon Digital Light Synthesis™ technology has enabled ARaymond to participate in the growing mobility market."Dan DolanPresident & CEO, ARaymond Automotive North America
SOLUTION:
Engineering-grade 3D printing materials that meet automotive part requirements
ARaymond needed a 3D printing material with mechanical and chemical properties comparable to an unfilled thermoplastic like nylon or polypropylene. Carbon's rigid polyurethane (RPU 130) proved to be the perfect match for automotive part requirements given its strength, toughness, and heat resistance.

Iterate automotive part design at no cost for better results
ARaymond faced typical design constraints including draft, mold lock, and mold flow when designing for injection molding. In contrast, ARaymond easily and rapidly implemented design iterations using Carbon technology, embracing the greater design freedom afforded by additive technologies compared to traditional manufacturing approaches. By modifying the standard stud-mounted tube clip design, ARaymond optimized the part for Carbon DLS technology, resulting in the highest efficiency for both print time and material usage.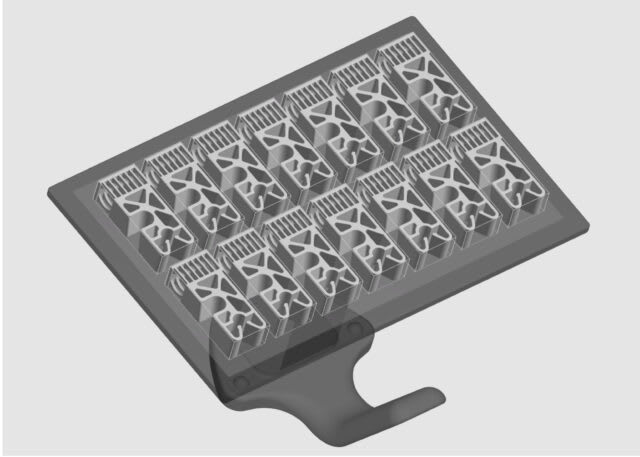 RESULTS:
No tooling required, 14% in cost savings, and new market opportunities
With Carbon, ARaymond was able to offer its customer a no-tooling investment option for the pipe holder at a highly competitive price – reducing production costs by as much as 14% when compared to tooling-based approaches. Overall, Carbon provided both ARaymond and its customer the confidence to pursue new opportunities in the automotive market where traditional suppliers can't compete by serving.
ARaymond is continuing to utilize Carbon DLS™ technology and materials to expand its low-volume offerings, and view Carbon as the perfect complementary technology alongside their high-volume molding efforts. Following the pipe holder, ARaymond is currently developing two additional automotive applications to be produced with Carbon.
Learn how Carbon can help you utilize engineering-grade materials for cost-effective, low-volume automotive part production by reaching out to us at sales@carbon3d.com.