Diversified Plastics Manufactures Complex Gyroid Lattice Structure Components for Thaddeus Medical Systems, Inc. with the Carbon DLS™ Process
The new IQ-ler™ packaging solution by Thaddeus Medical Systems allows for reliable transport of temperature-sensitive medical supplies and specimens, such as expensive biological therapies, vaccines, blood and tissue samples. It contains design-patented gyroid lattice structures that are only producible using the Carbon Digital Light Synthesis™ (Carbon DLS™) 3D printing process.
Steve Scully, MD, PhD, and founder of Thaddeus Medical Systems, Inc., was nearing the end of a fellowship at Mayo Clinic in Rochester, MN when he identified an opportunity to improve patient care with an active, smart cold-chain packaging solution.
The damage and loss rate when shipping temperature-sensitive medical supplies and specimens was nearly 20 percent as of 2015, resulting in approximately $35 billion in waste globally. In addition, as can cause increased lead times, a tarnished reputation and in the worst cases, loss of human life. In some instances, these fragile, critical shipments are packaged in cardboard with gel packs, blocks or dry ice. Other, more sophisticated packaging options lack the necessary high level of durability and do not address the chain-of-custody or real-time tracking and regulatory documentation.
The design-patented gyroid lattice structures in the IQ-ler, made using the Carbon DLS process and Carbon's high-performance silicone urethane material, SIL 30, help provide an ultra durable construction for the IQ-Ier system to withstand the rigors of shipping for many years. As a result, the end product is not only a better performing packaging solution, but also a more sustainable one given the ability to reuse the system many times. The lattice structures minimize vibration and shock while maximizing airflow in the payload, battery and sensitive electronic compartments, playing a direct role in temperature control to protect medical supplies and specimens. Future IQ-ler models may also incorporate additional lattice structures within the payload area.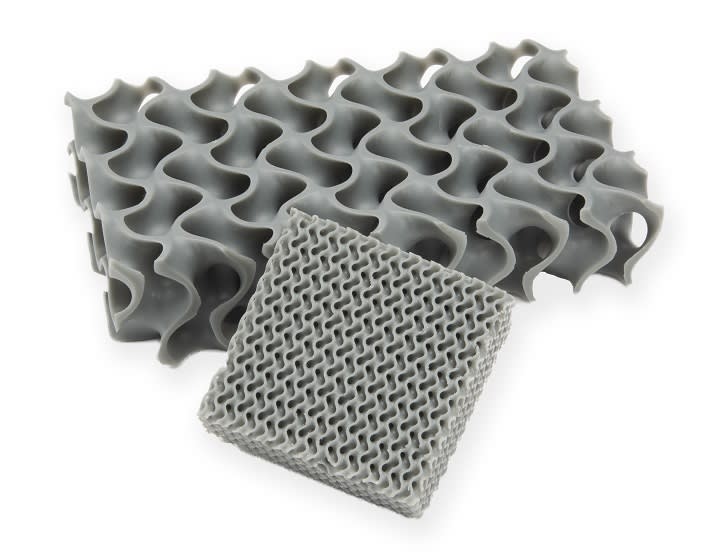 "The gyroid lattice can potentially only be produced using 3D printing or additive manufacturing technology," says Scully. "To find the right solution to manufacture these components, we tried parts made from several 3D printers, some very well-known brands. The prototypes from these 3D printers didn't meet specifications and didn't have a smooth surface finish. The material for the gyroid lattice needed to be compliant, flexible and resilient to provide exceptional vibration damping with smooth-surface finish characteristics. The only prototype parts that matched our specifications were manufactured using the Carbon DLS process, the core of DPI's Acceleration Station."
The Acceleration Station™ is DPI's service enabling engineering and production teams to work closely with customers to save time and money by optimizing parts for digital manufacturing. Central to DPI's Acceleration Station, the Carbon DLS process offers customers production-quality end-use parts without the added time and cost of tooling. In the case of the IQ-Ier, the ability to test multiple design iterations quickly using the Carbon DLS process and then produce production parts using the same process with the intended material significantly accelerated the product development timeline.
Thaddeus Medical is working with Christian Brothers University for product testing of the IQ-ler. Initially available in two sizes, this new packaging solution's market potential is substantial. The company is also actively beta testing the IQ-ler with various institutions.
Interested in learning how the Carbon DLS process can speed up your product development? Reach out to Carbon production partner, Diversified Plastics, here.