Bridging Production of Breakthrough ENT Technology to Speed Up Time to Market
Preceptis Medical worked with Carbon production partner Resolution Medical to create the Hummingbird® Tympanostomy Tube System (TTS): a breakthrough technology enabling ENT (ear, nose, and throat) surgeons to perform ear tube procedures in the comfort of the office without putting a child under general anesthesia. By leveraging Resolution Medical's expertise in medical device manufacturing and the Carbon idea-to-production platform, Preceptis was able to rapidly iterate functional prototypes, utilize Carbon's biocompatible material MPU 100, and bridge production until tooling was ready.
---
Key Takeaways:
Preceptis used the Carbon Digital Light Synthesis™ (Carbon DLS™) 3D printing process with Carbon production partner Resolution Medical to create the Hummingbird TTS device to improve ear tube procedure experiences for children.
The Hummingbird device got to market faster via rapid design iterations and on-demand, bridge production capabilities enabled by the Carbon DLS process.
The Carbon MPU 100 biocompatible material and accuracy met Preceptis' material and part requirements for the device handle.
---
Background
Over 1 million children receive ear tubes each year in the United States, making it the most common pediatric procedure and the primary reason for exposure to general anesthesia in children under three years old. Despite its routine nature, this procedure is rarely performed on awake children due to their inability to stay still. ENTs have no choice but to use full anesthesia, which comes with many side effects, and book an operating room, which drives costs up. Preparation for the procedure often takes longer than the actual surgery.
Introduction
Preceptis Medical was founded by parents, including a pediatric anesthesiologist, who wanted to design medical products focused on improving the lives of children. Their goal is to broaden options available to ENTs and parents, focusing on the safety and comfort of the child, while reducing health care costs.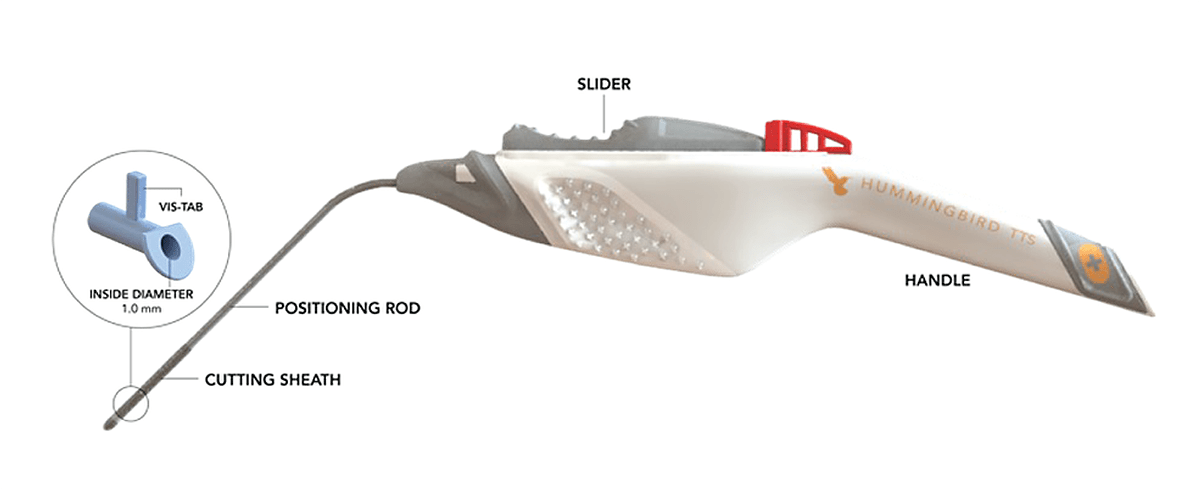 The Hummingbird device was designed in partnership with leading pediatric ENTs to simplify ear tube procedures and create options for the procedure to be done without general anesthesia. It is FDA 510 (k) cleared for in-office use in children 6 months and older.
MATERIAL AND PART REQUIREMENTS
When developing the Hummingbird device, the handle had the following production and part requirements:
Biocompatible material, could be used in contact with living cells
Compatible with sterilization processes
Bridge production solution, needed mold-like quality
Designed for mass production
Ability to rapidly iterate the design if needed
SOLUTION
On-Demand, Bridge Production
From the start, the Hummingbird device was intended for mass production. With tympanostomy being a common medical procedure, the product was designed for molded parts. But with a new design, Preceptis wanted to gain market experience before finalizing mass production tooling. To meet current demand and get their product to market faster, Preceptis needed a bridge tooling solution.
After evaluating other manufacturing solutions like low-cost aluminum tooling, Preceptis found the Carbon DLS process via Resolution Medical covered all of their needs thanks to its biocompatible materials, ability to rapidly iterate design, like-molded part quality, and on-demand production capabilities.
Now Resolution Medical is currently producing several thousand Hummingbird devices to meet demand while Preceptis waits for their tooling to be completed. Thanks to the flexibility and reliability of the Carbon DLS process, Preceptis and Resolution Medical are able to scale production if needed while delivering the same part quality as molded parts in full scale production.
Biocompatible Material and Like-Molded Part Quality
The Carbon MPU 100 material proved to be the perfect material match for Preceptis' surgical handle part thanks to its biocompatibility, molded-like surface finish and compatibility with sterilization processes. Additionally, the high accuracy of the Carbon DLS process resulted in parts that looked like their molded equivalent, proving to be the ideal bridge production solution for Preceptis.
Rapid Design Iteration
The Carbon DLS process allowed for fast design iterations which ultimately helped get the Hummingbird device to market faster. With the design and Carbon DLS expertise of Resolution Medical, Preceptis was able to produce and test eight variations of the device's housing design in one week, quickly identifying which provided the desired performance. This speed would be impossible using traditional molded components.
During early production, it was discovered that there was a problem with one of the internal components that could cause the ear tube to not deploy when the device was activated. Preceptis was able to complete three iterations of the redesign in one day, allowing them to easily test and rapidly fix the problem. This happened in November, and Preceptis was able to validate the change, rework, resterilize, and restock by December––an unheard of turnaround in the medical device industry.
RESULTS
Breakthrough Technology for ENTs
The launch of the Hummingbird represents a significant breakthrough in offering a minimally invasive approach that enables the surgeon to quickly and safely place ear tubes in the office setting. Until now, ear tube options were limited for younger children and always involved an operating room visit and general anesthesia for a routine procedure. With the Hummingbird device, ENTs can eliminate the risk and stress associated with general anesthesia during the child's ear tube procedure, now only requiring a topical anesthetic to numb the eardrum.

Additionally, the in-office procedure eliminates the need for fasting and the operating room, allowing for the child to return immediately to normal activities following the procedure and reducing overall costs of the visit. Last but not least, the parent now has the option to be present for the procedure, improving the child's overall comfort throughout the medical experience.
Global Impact
Long-term, Preceptis believes the Hummingbird has the potential to impact the lives of children in developing countries. According to the World Health Organization, chronic otitis media is the leading cause of hearing loss for millions of children and adults in developing countries. For patients with limited or no access to antibiotics or surgical placement of ear tubes, the risk of developing permanent hearing loss is significant.
"Hearing loss and deafness is a global health crisis, and the WHO estimates that 34 million children worldwide have disabling hearing loss. 75% of hearing loss in children in developing countries is preventable. I believe that the Hummingbird has the potential to make a significant impact in these countries due to the ability to address preventable causes of hearing loss (chronic otitis media) without a traditional operating room and general anesthesia."
– Dr. Frank Rimell
Pediatric ENT at Golisano Children's Hospital and Medical Director for Preceptis
3D as It's Meant to Be
Interested in leveraging the Carbon DLS process for your bridge production needs? Get in touch with a Carbon expert.
If you're looking to manufacture a medical device and want to utilize the Carbon idea-to-production platform, reach out to Carbon production partner Resolution Medical.