Bridge to Production with Carbon DLS: A Faster and More Affordable Path to Injection-Molding Tooling
---
Key Takeaways:
rpm used the Carbon DLS™ process to reduce the cost and time required to create a living hinge replacement bridge solution for automotive
Carbon EPX 82 material, an epoxy-based engineering resin, was selected for its high-strength characteristics and cost-effectiveness
Parts produced with the Carbon DLS™ process are injection-molded quality from the very first print
---
rpm – rapid product manufacturing GmbH, located in Helmstedt, Germany, is a producer of small and specialty series parts and functional prototypes. For over 23 years, rpm has produced small series, functional plastic parts using eleven different technologies to "bridge the gap" before moving into serial injection molding. These bridge solutions help keep project development costs within budget or allow its customers to produce small series parts. However, the path to creating serial injection molding tools still heavily involves design revisions, cost, and time delays, leaving opportunities for optimization.
As an early adopter of the Carbon Digital Light Synthesis™ (Carbon DLS™) 3D printing process, rpm decided to take on the challenge of improving the tooling design iteration process with one of its European automotive customers.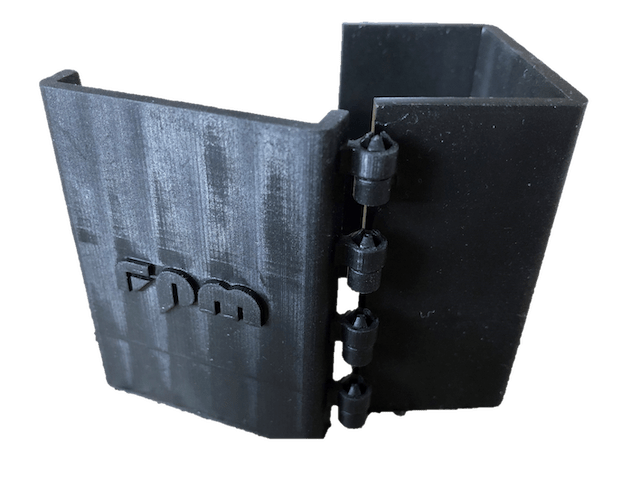 Rethinking design to cut costs and time
rpm was particularly interested in small cable ducts, brackets, and holding systems within the engine bay with relatively complex geometries. These components usually include a film hinge to allow installers to lay the wiring, snap it closed, and create a single component with a complex internal cavity. Producing these cable holders using the Carbon DLS process wouldn't typically be a good business case due to the large size of the components, especially those with a full living hinge. In addition, the part had three different hinges, which meant that there was no orientation that was ideal for placement of the part on the printer platform.
One of the benefits of using the Carbon DLS process was the material options available. The Carbon RPU 130 3D printing material provided the heat resistance and IMDS certification required for the application. However, to reduce production costs and achieve the customer's target price, the design was optimized for the Carbon EPX 82 material, a similarly high-strength, epoxy-based engineering resin.
During discussions with the automotive tier supplier, the concept of replacing the film hinge with a snap-in connector system came up as a way to create a reusable design profile that was suitable for production using the Carbon DLS process and could provide the performance necessary to mimic the end part during functional testing.
"The Carbon DLS process stands apart in additive because it allows us to achieve injection-molding quality from the first part we produce. This opens up new AM use cases focused on rapid ramping into series production and providing aftermarket parts. Carbon materials can withstand many of the stringent evaluation criteria for series production, bringing significant savings in both production time and cost. At rpm, we see that a pathway is being paved to transition seamlessly between the Carbon DLS process and classical injection molding based on the required part volume"
Dr. Claus ThomyManaging Director, Sales, rpm – rapid product manufacturing GmbH<
Bringing together design and materials using the Carbon DLS process
The rpm design team split the film hinge into separate parts for production and replaced the key elements in the design. After the first testing round, rpm and its customer began to notice additional benefits besides cost savings. Working with independent parts allowed for the sides to be reused when only one half of the part was iterated, resulting in half the print time and material required. The Carbon DLS process also permitted rapid design iteration, in which multiple designs can be printed in a single print job for testing.

Another key benefit of using the Carbon DLS process is that the Carbon EPX 82 material is IMDS listed and approved for end-use automotive parts. This led to realistic results during the testing phase to simplify simulation work when the parts are produced using other methods. The two-component materials from Carbon bring strong advantages that aren't found in other 3D-printing technologies.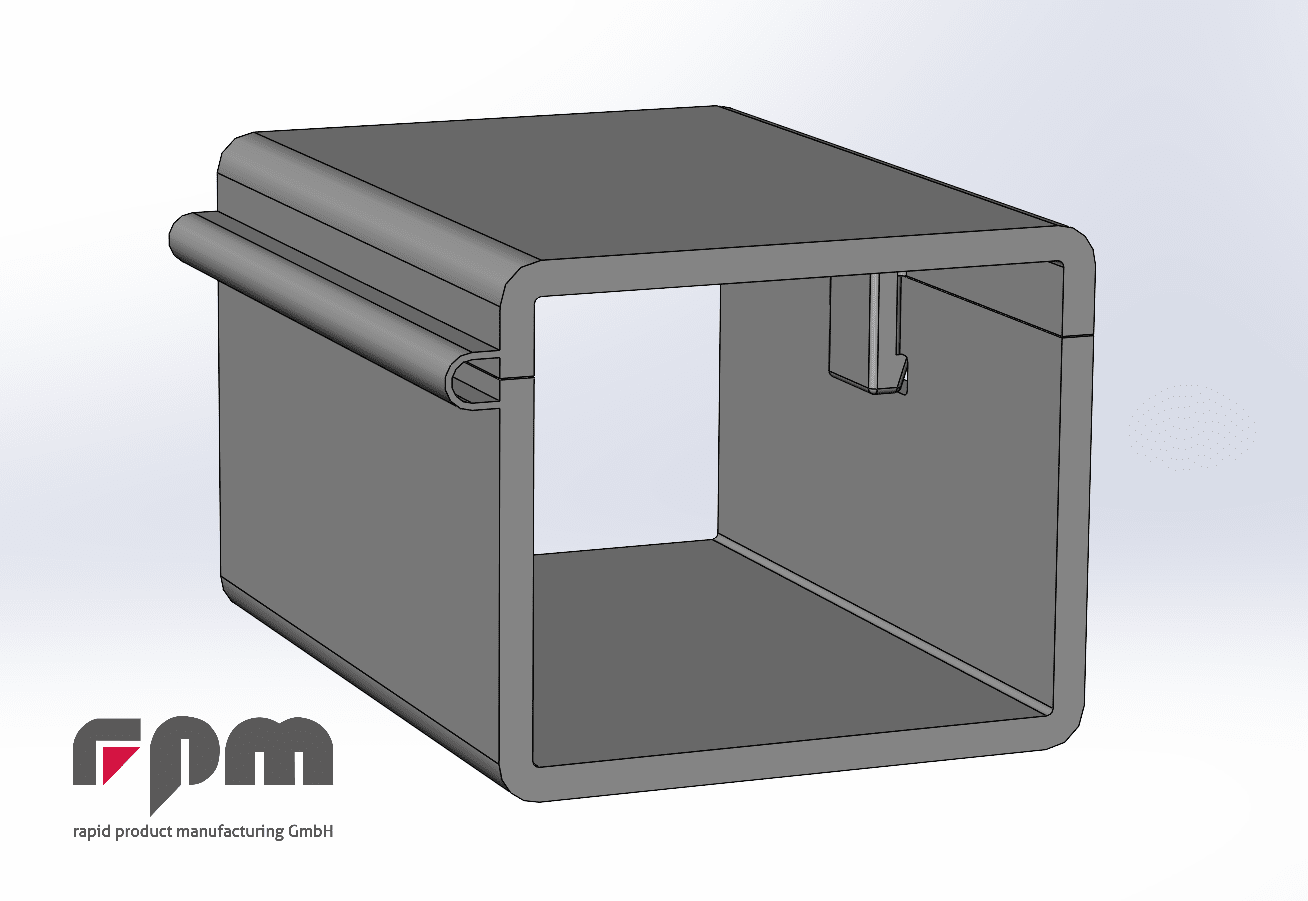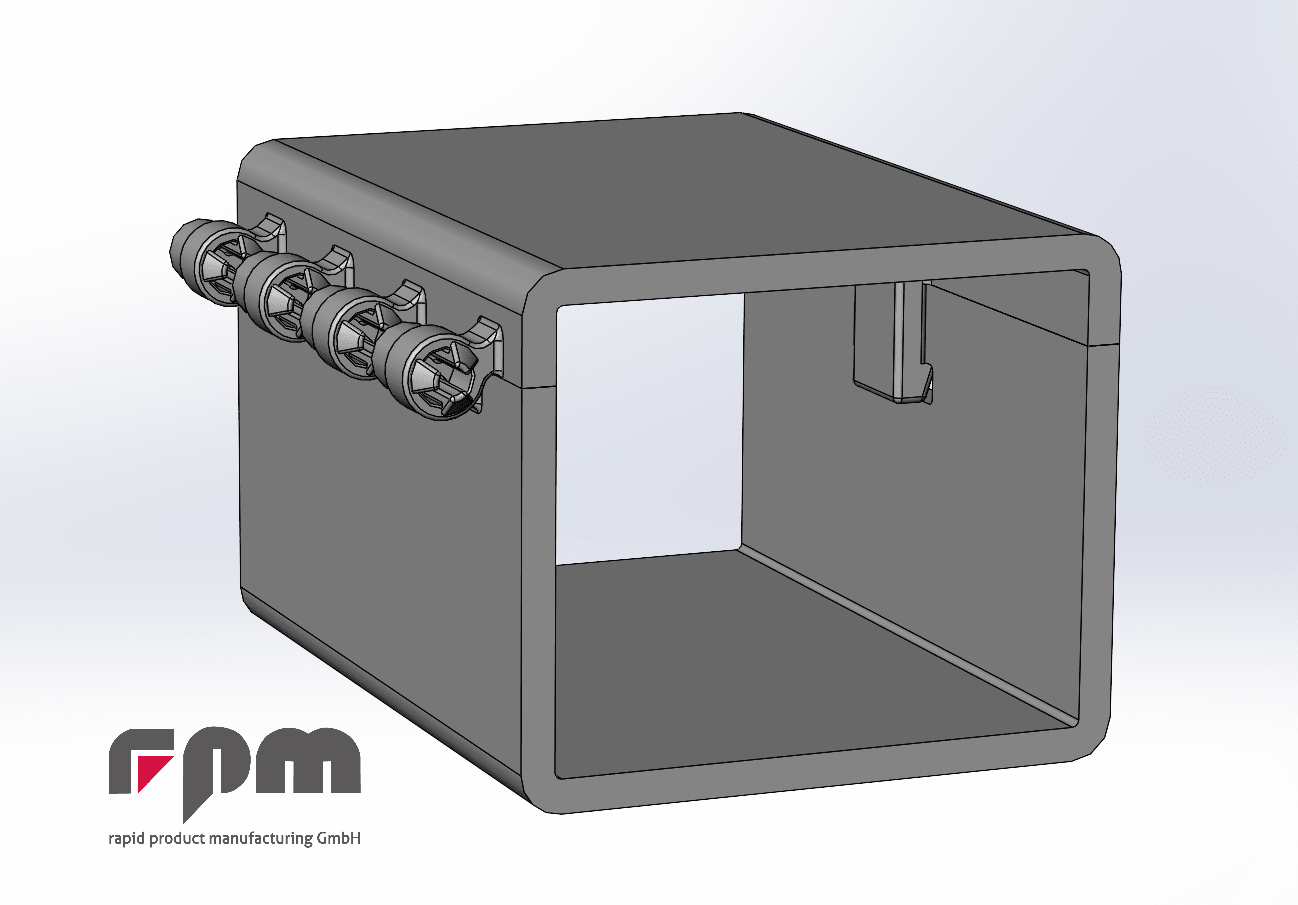 How the Carbon DLS process fits into a plastics technology portfolio
When rpm first added the Carbon DLS process to its technology portfolio in 2018, it saw production speed as one of the major benefits to the technology. After completing a few projects, rpm saw that Carbon's material selection was an even more important value driver.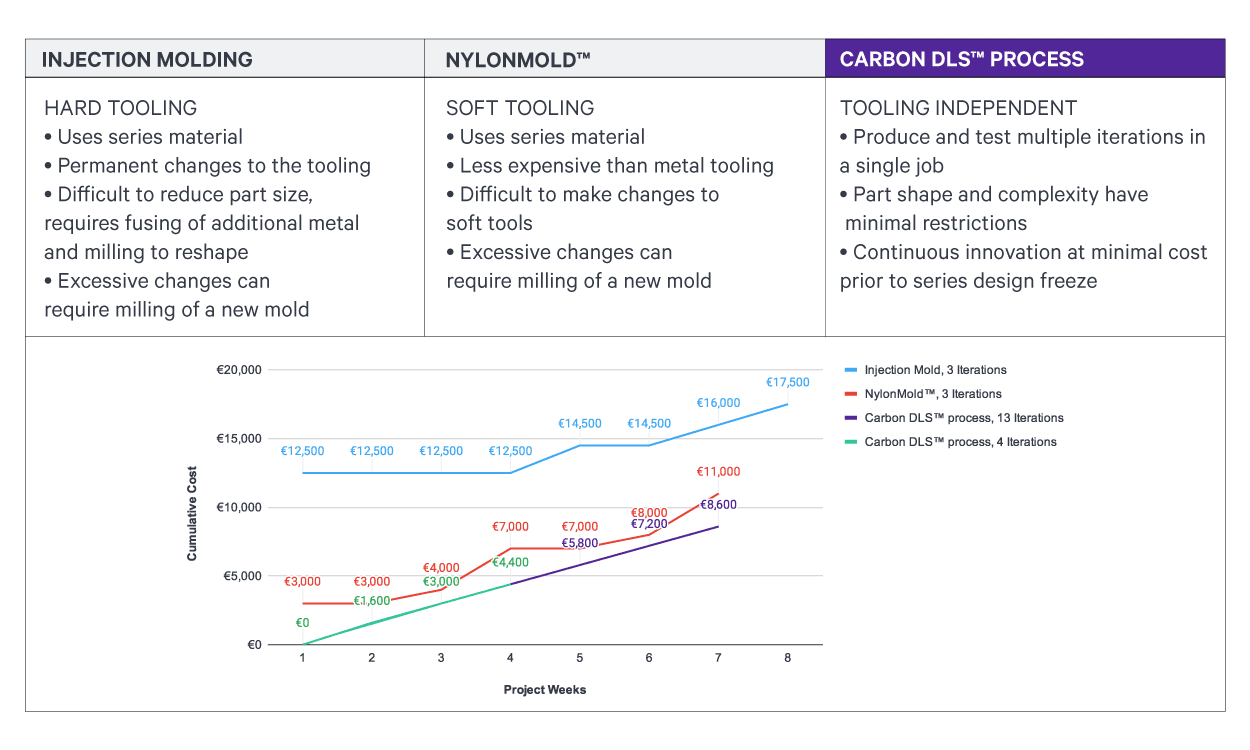 Compared to other additive manufacturing technologies, the Carbon DLS process shares many similar design considerations with the traditional injection-molding approach. For example, accounting for resin flow is similar to anticipating the cavities and geometries within a steel mold for injection molding. This makes it a very important addition to the rpm technology portfolio and in the plastics design process.
"Carbon DLS covers an important class of parts for small series production. rpm is producing high-complexity, small-sized parts from end-use materials without additional tooling. This fills an important gap within our ten in-house plastic technologies. In this particular DLS use case, we are adding design iterations while increasing speed and reducing overall project cost. Because we are working with series-like materials, additive manufacturing has moved further into the product lifecycle. We see a steady increase in these types of applications in the range of 500–2,000 parts, which is proving to be a sweet spot for DLS."
Dr. Jörg GerkenTechnical Director, rpm – rapid product manufacturing GmbH
3D as It's Meant to Be
Interested in learning how the Carbon DLS process can speed up your product development and bridge the gap between product development, pre-series, and full-scale production? Reach out to Carbon production partner rpm here.