adidas and Carbon are creating the next breakthrough in athletic footwear, leveraging the Carbon Digital Light Synthesis™ (Carbon DLS™) 3D printing process to bring a new product and platform to life: Futurecraft 4D. Together, we are developing the first mass-production process that makes previously impossible midsole geometries with revolutionary 3D-printable materials, paving the way for custom, high-performance shoes that meet the unique needs of each customer.
In close collaboration with the Carbon team, adidas is leveraging the Carbon DLS process and EPU 41 3D printing material.
adidas continues to challenge the industry with its relentless focus on innovation to improve the performance of athletic apparel. But their latest idea—creating shoes with variable properties across the midsole to improve shoe performance for different sports—presented a difficult hurdle. Midsoles cannot be injection or compression molded in one piece with properties that vary across the part. Although they can be assembled from multiple parts through a labor-intensive process, this introduces multiple potential points of failure. Confronted with this challenge, the adidas team shifted its focus to the possibility of 3D printing midsoles to unlock the design freedom needed to enhance shoe performance.
3D printing has previously been used mostly to prototype products in development before they were produced with traditional manufacturing techniques. 3D printers are generally not designed for manufacturing scale. Prints are often painfully slow, require wasteful part supports that are ultimately thrown in the trash, and use materials that are vastly inferior to those used for production, resulting in weak and brittle parts. For adidas, the 3D printing industry lacked the production-grade elastomers needed for a demanding athletic footwear application. As a result, while adidas could 3D print prototypes of their midsoles, the final midsole design was still constrained by the ultimate production process, i.e. injection and compression molding. To overcome this constraint and 3D print final midsoles, adidas turned to the Carbon DLS process, its factory-ready 3D printing method, and its high-performance materials to design and directly produce the next generation of athletic footwear. A trailblazing partnership had been forged.
"With Digital Light Synthesis, we venture beyond limitations of the past, unlocking a new era in design and manufacturing. One driven by athlete data and agile manufacturing processes. By charting a new course for our industry, we can unleash our creativity — transforming not just what we make, but how we make it."
Eric Liedtkeadidas Group Executive Board Member Responsible For Global Brands
Carbon's rapid product development process enabled adidas to iterate over 50 different lattices for the midsole before landing on the current design. Traditionally, product development has followed four steps: design, prototyping, tooling, and production. This process is so slow that many product development programs can only afford three to five redesign cycles before finalizing the design, constraining the product team's innovation. The Carbon-adidas collaboration made ten times as many iterations possible! Further, each iteration was produced with the same process and material as the ultimate product. These were not just prototypes for assessing a design's visual appeal: We could actually test midsole performance in the design stage. In other words, Carbon's technology makes prototyping obsolete. Gone are the days when it was necessary to prototype a product using a technology that does not allow for scale-up.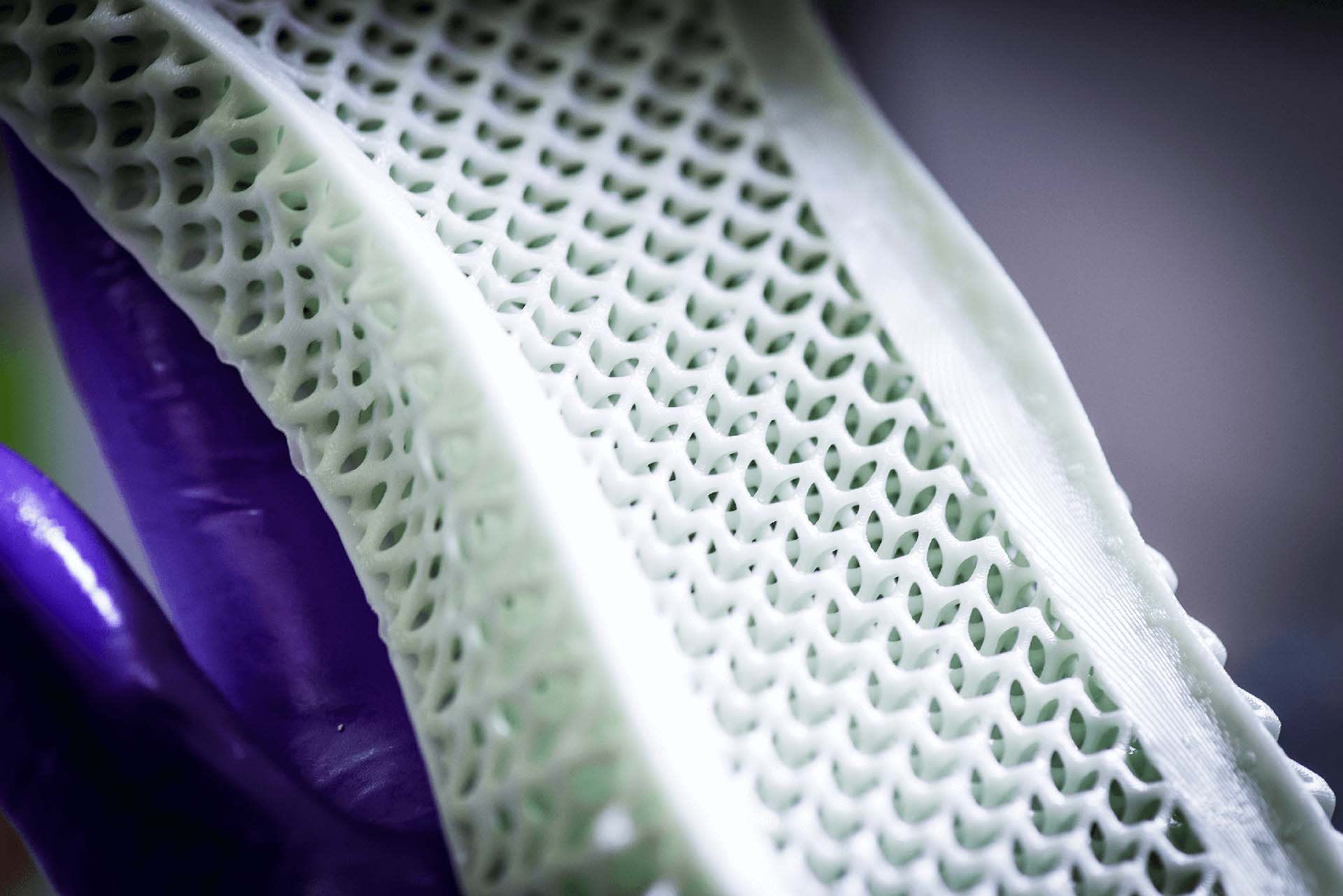 Motivated to enable the best production solution possible for adidas, Carbon established an incubator factory at its headquarters to develop and validate a print method and materials for Futurecraft 4D. In the incubator factory, Carbon developed a full print and post processing solution and validated it even before the equipment landed at adidas's factory. It allowed the teams to closely collaborate throughout the shoe iteration process to ensure that the ultimate design was the best combination of design, material, and print process.
Having developed production ready printers and materials, Carbon was finally obliterating the barriers to using 3D printing for manufacturing real products at scale. Leveraging our programmable liquid resin platform that uses light to set the shape and heat to set the mechanical properties, the Carbon team developed a proprietary print strategy for midsoles that enables printing with essentially zero support material. This not only saves on raw material costs, but also dramatically reduces manual post-processing steps of traditional additive manufacturing.
Moving quickly and gathering feedback with every iteration, the Carbon team developed a revolutionary elastic material for the Futurecraft 4D midsole. adidas needed to 3D print lattices in a stiff but resilient elastomer to create a high performance midsole with excellent energy return. Carbon's EPU 41 was the only 3D printable material that came close to the requirements for this application. When launching the collaboration, our teams realized that in order to make the shoe of the future, we needed to take what was already an incredible material and push the boundaries even further. Working closely with adidas to understand the use cases, the Carbon team iterated over 150 different material formulations to achieve the desired mechanical properties. The team also fine-tuned the color of the material to match the signature linen-green color of the launch shoe chosen by adidas's amazing design team.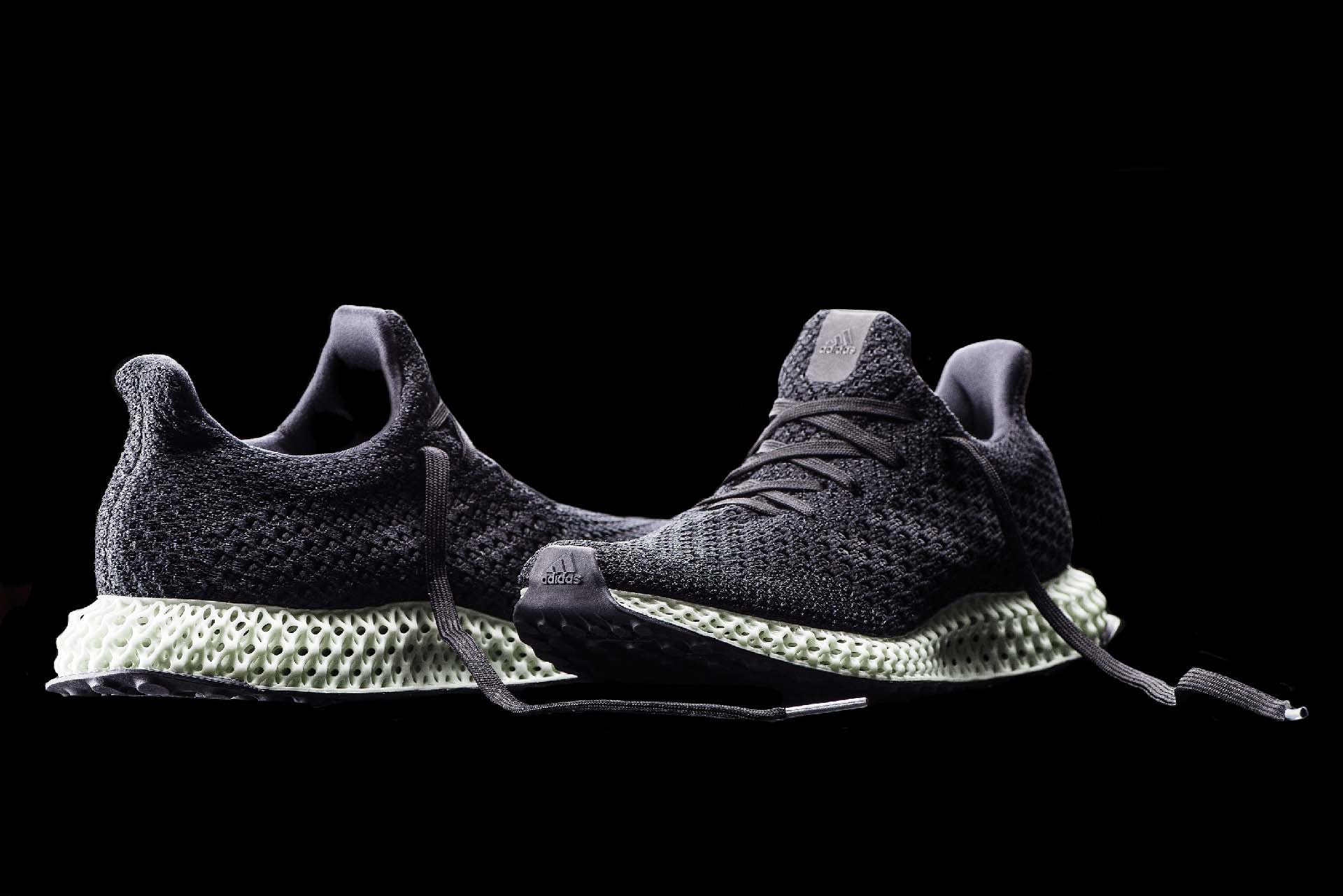 Carbon enables the design and immediate production of products, eliminating the conventional prototyping and tooling steps of a traditional product development cycle. This new production process has already allowed adidas to put a new shoe design in front of select athletes to better understand customers' needs around Futurecraft 4D and, ultimately, to craft a better performing shoe. The process enables adidas to print previously impossible designs without labor intensive and complex assemblies. It has also opened up the ability to create optimal designs relying on software to simulate the production and use of athletic footwear. An industry leader with exceptional sport-science expertise, adidas will be able to use this production process to craft custom shoes with an ultimate performance uniquely tuned for each customer.
Stay tuned for future case studies that dive deeper into specific aspects of adidas's collaboration with Carbon. Read the full Carbon + adidas Futurecraft 4D press release here.