THE VALUE OF CONNECTED DEVICES
Connected manufacturing equipment boosts efficiency in operations and service. Carbon's 3D Manufacturing solution provides this efficiency along with a complete digital workflow, continuous improvement, and access to the latest software tools. Thanks to a robust network architecture, Carbon can offer the benefits of connectivity while enabling customer control of their part files.
A major advantage of connected manufacturing equipment is the ability to efficiently monitor and control operations and update hardware. Because the system is monitored remotely, a connected system can accelerate customer support. Experts can troubleshoot remotely with the exact machine parameters available, eliminating the need for customers to identify and communicate contextual information about the issue. Operational data from a connected device also allows for more precise predictive maintenance, because performance degradation can be monitored and staff can be alerted to resolve issues before they impact production.
Connected hardware is foundational to how Carbon's 3D Manufacturing solution operates. Carbon sends over-the-air (OTA) updates that add new features and capabilities to printers and related equipment (referred to as devices in this white paper). These updates can instantaneously deliver optimized print parameters, better workflow tools, and seamless resin support. Soon, Carbon will deliver new design capabilities through OTA updates as well. Cloud-based software tools allow for automated part design, including advanced, automated support placement. Additionally, Carbon customer support delivers exceptional service because the support staff replicate and resolve issues with direct operational and configuration data from customer machines. Ongoing monitoring of operational data from customers also allows Carbon to predict and prevent customer issues.
Connecting devices requires a robust understanding of how to secure them. This white paper details how Carbon equipment installed at customer sites connects to Carbon servers and why some of the biggest, most security conscious Fortune 100 companies in the world feel comfortable connecting to Carbon, including several automakers, aerospace companies, and name-brand consumer companies.
"With Carbon's 100% inclusive service and support, the focus is always on keeping the business up and running."
Christian SaurmanNEO Labs
DELIVERING CONNECTIVITY, SECURITY, AND CONTROL
Carbon's connectivity framework distinguishes between customer model data and operational data to protect customer information while maintaining the benefits of connectivity.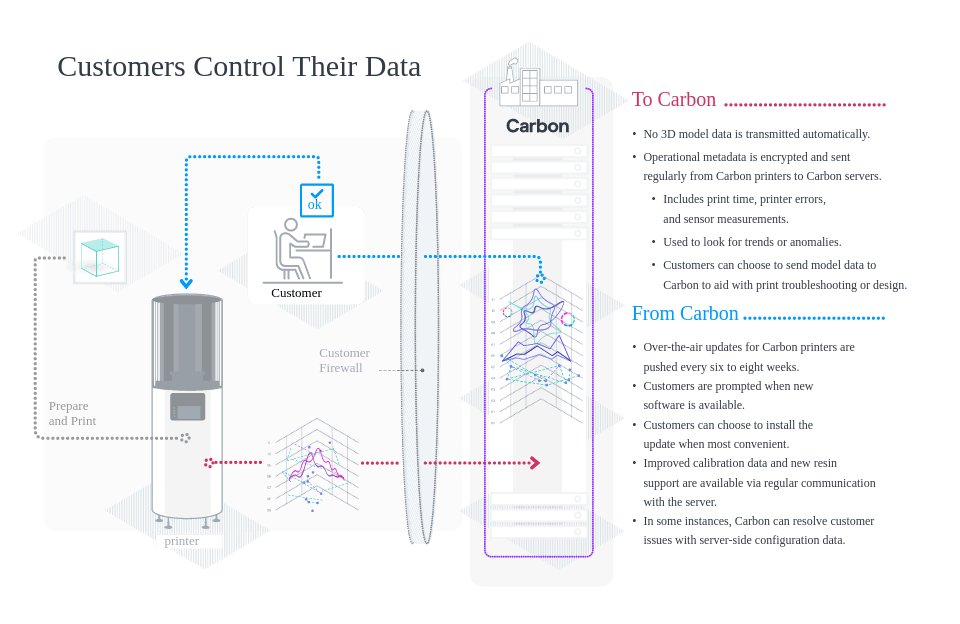 THE ARCHITECTURE: DATA CONTROL AND PROTECTION
Carbon devices, including printers and part washers, reside at customer sites and are configured to operate inside a customer's firewall. Customers access the printer directly via a browser on their computers, so that preparing and printing a file occur inside the firewall. Carbon devices connect to secure Carbon servers and only to those Carbon servers. All data transmitted to and from those servers is encrypted, protecting all data. The data is decrypted on a device at either end by the Carbon device or Carbon server. Logging in to the devices leverages the cloud to authenticate users and confirm their authorization to print.
Operational metadata is sent to Carbon automatically. This data includes print time, printer errors, and sensor measurements. Carbon analyzes this data to look for trends and anomalies. The data is used to predict maintenance needs, so that Carbon technical support can provide preventative maintenance. The information also streamlines troubleshooting, because device configuration and metadata from each print are readily available for Carbon technical partners.
DATA STORAGE AND TRANSMISSION
By default, all customer models are only stored on the local device. None of the information is uploaded to Carbon servers. With customer approval, 3D model data for a specific project can be sent to Carbon to aid with print troubleshooting or design. The interface for doing so is designed to call attention to this fact, so that any user transmitting a file is aware of what they are doing and must confirm that they intended to do so.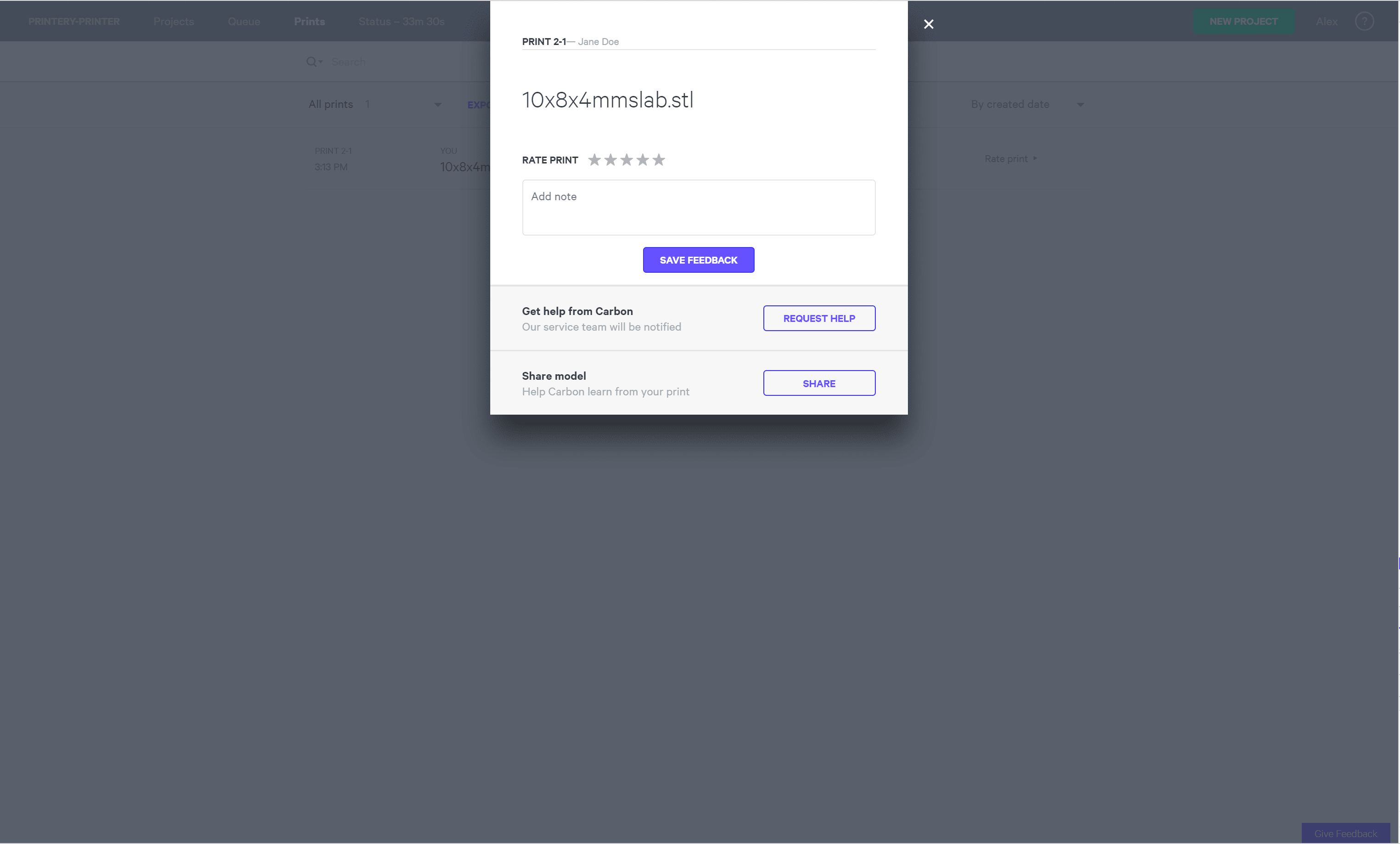 Figure 2: In Carbon's print interface, requesting help with a print is seamless. If a customer chooses to share their part, it is clearly labeled and requires confirmation that they intend to share their part with Carbon.
OTA SOFTWARE UPDATES
Carbon servers can and do send information to devices as well. Code changes that affect the printer's operation are sent via periodic updates that add new features and fix bugs. These updates are delivered roughly every six to eight weeks. When updates are ready, customers are informed that they are available and are presented with options for when to install. Improved calibration data and new resin support are updated through regular communications with the server.  In some circumstances, Carbon can resolve customer issues with configuration files. As an example, Earlens Corporation, a maker of custom-built hearing aids, shared representative design data with Carbon and utilized Carbon's over-the-air (OTA) software update capabilities to improve the accuracy of production molds used in making custom hearing aids. Read more here.

Figure 3: How OTA software for printer updates appear in the browser. Customers may choose when to install to maximize uptime.
DATA SECURITY
Carbon gives customers additional tools to protect their own data. Customers may choose to encrypt their models on a per-project basis. Customers must specify a password for each project. This security model is dependent on having one password per project controlled only by the customer; Carbon does not retain a master key and cannot bypass user passwords on models. Therefore it is critical that customers encrypting their models preserve their own passwords for continued access to their models.
THE FOUNDATION OF DIGITAL MANUFACTURING
Connectivity is essential to achieving a truly digital workflow with Carbon equipment. Connectivity continuously delivers improvements in operations and equipment. OTA updates improve the capabilities and performance of Carbon equipment roughly every six to eight weeks. Carbon also adds design capabilities on the server side that customers can leverage without the need for an update. Carbon's customers benefit from seamless, efficient support and predictive maintenance.
All of this is possible without sacrificing security. Communications between Carbon equipment and Carbon servers are encrypted, and customer model data is only transmitted when the customer desires Carbon design support. Customers can also control projects locally by encrypting their projects on the printer.
Are you ready to realize the power of digital manufacturing with operational efficiency and security? Contact us at sales@carbon3d.com to learn how to build secure end-to-end production workflows with Carbon equipment.