Carbon is launching a production-scale materials program that is unprecedented in the additive manufacturing industry. The program enables a path to sub-$100 per liter resin pricing. The sub-$100 resin pricing is a game-changer and will unlock new, high-volume 3D manufacturing applications for customers across industry verticals. For the first time, it will be cost-effective to make 3D printed parts using Carbon's technology at any scale. The first resin introduced under the new materials program is Rigid Polyurethane (RPU 70). Carbon will initially sell RPU 70 for $150 per liter, down from the current $250 per liter price, exclusively for customers who enroll in the program. As more manufacturers join the RPU 70 material program, Carbon expects to reduce the price to sub-$100 per liter in the near future.
The price reduction is enabled by Carbon's ability to drive material costs down as cumulative resin volume increases (Figure 1). The cost reduction benefit is passed to our customers and enabled by Carbon's ability to establish partnerships with large chemical suppliers; build a global production partner network; leverage economies of scale in production and distribution; and institute new technologies that enable bulk packaging and automated dispensing of resins.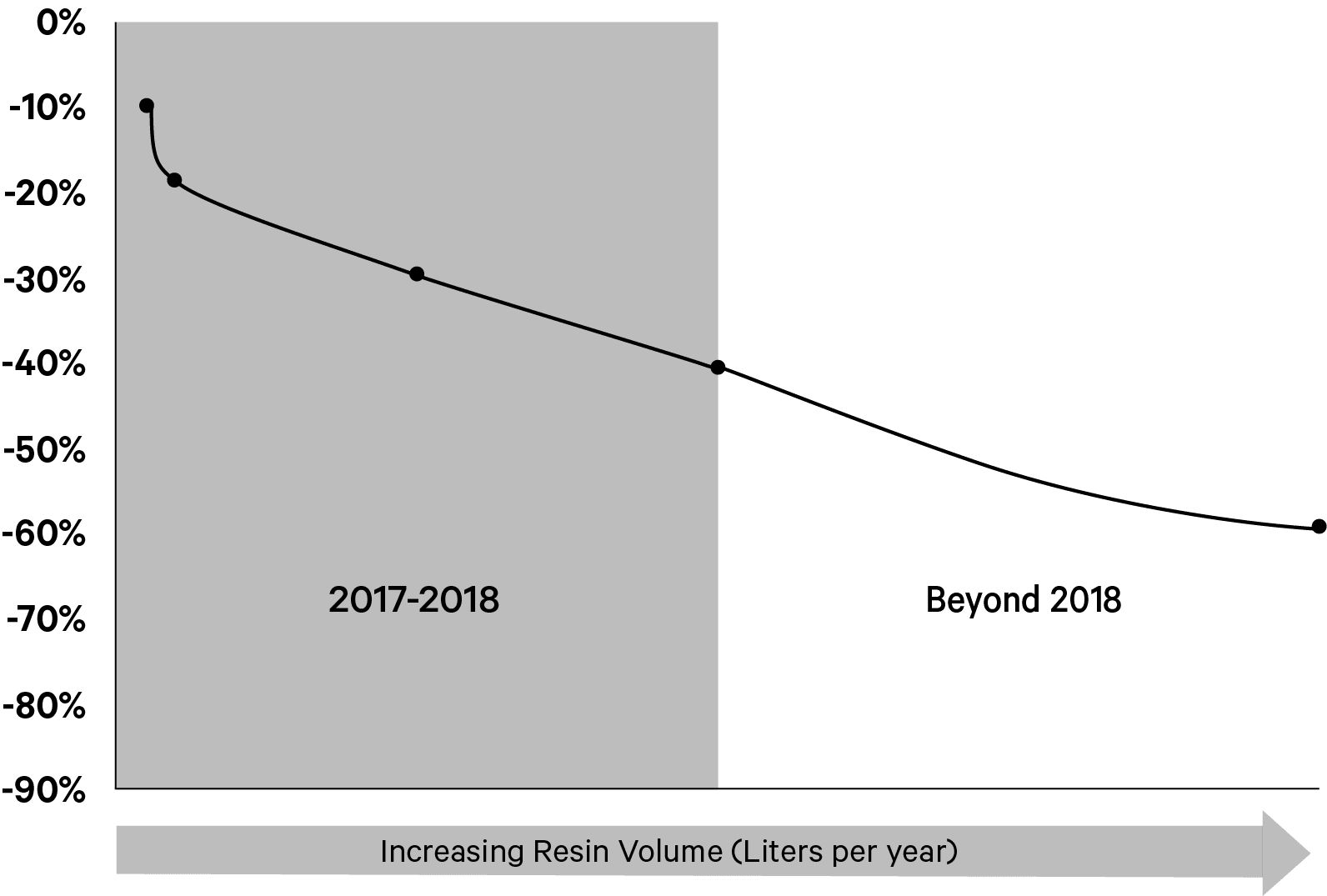 Figure 1: Percentage of cumulative cost reduction with resin volume increase for Carbon's production resins
"Reduced cost is one of the big attractions of integrated electronics, and the cost advantage continues to increase as the technology evolves towards production…" Gordon Moore wrote these words in his seminal article 52 years ago. Moore's law of cost reduction and the doubling of transistors on a chip every 18 months ushered an era of unprecedented growth and innovation, creating a $350B semiconductor industry with the proliferation of chips in mobile phones, automobiles, PCs, USB drives, and wearables. Across our modern history, whenever technology innovations drive costs down, they serve as catalysts to market adoption. This leads to the ecosystem's development of software, services, equipment, materials, etc., which, in turn, result in overall market development and value creation.
Carbon is leading the charge of shifting the focus of the additive world from prototyping and niche applications towards high-volume manufacturing. As with the semiconductor industry, the path to industrial volume pricing reductions led by Carbon is transformative for the manufacturing sector. Historically, production-grade 3D printing polymer resins have been prohibitively expensive. By driving reductions in the price of resin materials, Carbon is effectively increasing the number of parts that can now be more efficiently manufactured on Carbon's technology by millions. Our SpeedCell™, inclusive of the M Series printers and Smart Part Washer, and production-grade materials are path-breaking solutions for high-volume manufacturing. To become a true competitor in traditional manufacturing processes such as injection molding, we are now enabling solutions for other aspects of the manufacturing value chain. To this end, some of the initiatives Carbon is leading are as follows:
Establish a global production partner network

Introduce MMD (meter/mix/dispense) for all our high-volume production resins

Leverage economies of scale for resin manufacturing and distribution

Create a robust supply chain with built-in redundancies
ESTABLISH A GLOBAL PRODUCTION PARTNER NETWORK
Currently, with more than a dozen production partners around the globe, product development teams now have local access to Carbon's technology and world-class expertise. While our existing production partners have helped us realize our vision in the United States, Carbon is now expanding operations into Europe by teaming up with new production partners Citim, a member of the Oerlikon Group, Fast Radius, and Oechsler in Germany; and, Fast Radius and Paragon in the U.K. Such global growth is yet another important milestone in Carbon's strategy of bringing a complete system–materials, hardware, supply chain, and the right players in the industry–together to make its additive manufacturing vision a reality.
INTRODUCE MMD (METER MIX AND DISPENSE) FOR ALL OUR HIGH VOLUME PRODUCTION RESINS
High-volume production applications require new hardware capabilities to ensure that our customers can manufacture quality products with tight process control. Carbon is also launching a resin dispensing instrument called an MMD developed in partnership with Henkel Adhesive Technologies, a global leader for high-impact solutions in adhesives, sealants, and functional coatings. This accessory to Carbon's recently launched SpeedCell™ manufacturing system will allow for the proper dispensing of large amounts of RPU 70. This will improve the ease of resin handling, repeatability of the process, and quality of the final products. One of our production partners, The Technology House, has already implemented this new MMD device.
"We've been watching Carbon for some time now, and, as a chemical company, we're impressed with its innovations in materials as well as its surge into the consumer goods industry. We're delighted to work with such a promising company to develop hardware and materials solutions to bring pioneering technologies like 3D printing to traditional manufacturing and support the expansion of these capabilities to a variety of markets and applications. This is the future."
Philipp LoosenGlobal Head of 3D Printing, Henkel Adhesive Technologies
LEVERAGE ECONOMIES OF SCALE FOR RESIN MANUFACTURING AND DISTRIBUTION
Carbon is championing economies of scale to reduce all cost elements in the manufacturing value chain to drive prices down and to pass the benefits to our customers. One initiative, relatively novel to the world of additive manufacturing, is the availability of 1,000 L intermediate bulk container (IBC) totes for our materials program customers (Figure 2). The IBC tote, compared to a 400 mL cartridge, brings the packaging costs per liter down by a factor of 100x. More importantly, larger production lot volumes simplify traceability and improve usability for large-volume applications.
Figure 2: The 1,000 L IBC tote used by our production-scale materials program compared to a 400 mL cartridge
CREATE A ROBUST SUPPLY CHAIN WITH BUILT-IN REDUNDANCIES
Carbon's customers span the globe and expect robust global suppliers to support their needs. Carbon has developed a global resin supply chain by partnering with some of the largest chemical companies in the world. As Carbon's volume and customer reach expands, we will strive to enable local-for-local resin supply and will partner with global third-party logistics companies to meet customers' resin delivery needs.
Ford is one of the first automotive companies to take advantage of these new production offerings and our materials program, allowing them to accelerate the introduction of 3D printing into the traditional manufacturing process. adidas, a global consumer products company, is another customer committed to production with Carbon materials. They are gearing up to print hundreds of thousands of midsoles using hundreds of thousands of liters for the Futurecraft 4D athletic footwear line, launched with Carbon in April 2017.
"Ford shares Carbon's vision of 3D manufacturing and is actively working with Carbon to accelerate the implementation for automotive applications."
Dr. Ken WashingtonVice President, Research and Advanced Engineering and Chief Technology Officer, Ford Motor Company
Interested in Carbon's production-scale materials program? If you have an existing high-volume product that is difficult to manufacture using injection molding or are developing a new product that you want to produce cost-effectively with more design freedom, contact our sales team at sales@carbon3d.com.
Read the full press release.