Stiff, Strong, Highly Accurate
KeyGuide is a biocompatible resin for manufacturing surgical drill guides used in dental implant surgery. A robust formulation yields a final product with superior accuracy and strength.
Class I 3D Printing resin indicated for intraoral use in guided dental implant surgery
High strength and stiffness for withstanding typical forces during use
Exceptional accuracy ensuring consistent fit of the guide and sleeves
Autoclave sterilizable
Producing with KeyGuide on the Carbon platform yields a workflow that is unparalleled in efficiency, quality, and consistency, enabling labs to completely produce 8-12 surgical guides in under 2 hours. The resin is available in the US, Canada, EU, UK, and Australia.
KeyGuide™
Keystone Industries®
Color

Tinted

Flexural Modulus

2400 MPa

348 ksi

Flexural Strength

106 MPa

15 ksi

Biocompatibility

ISO 10993-5 and ISO 10993-10
Discover KeyGuide and Carbon
Data Sheets and additional documentation are available from Keystone Industries.
---
Resin availability may vary across countries and is subject to change. Resin properties and specifications are established by their manufacturers and provided by Carbon for convenience purposes. For up-to-date information on resin availability across different jurisdictions or for additional information regarding resin properties or specifications, please contact the resin manufacturer.
ISOTROPIC PARTS WITH UNMATCHED SURFACE FINISH
Surgical guides produced using Carbon Digital Light Synthesis™ (Carbon DLS™) have outstanding mechanical properties, resolution, and surface finish.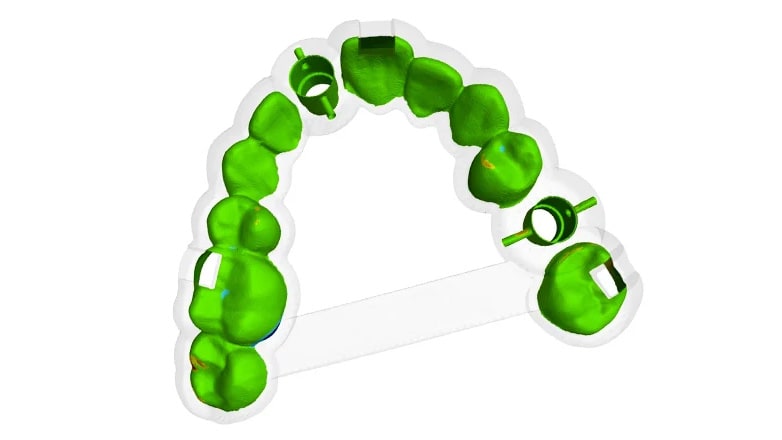 EXCEPTIONAL ACCURACY
Carbon's sophisticated print plan adjusts and optimizes for any guide geometry, yielding high accuracy of complex surfaces printed at various angles. This results in consistent accuracy of the critical intaglio surface and sleeve ports, necessities for an effective surgical guide.
The image above show CT scans of surgical guides produced using Carbon DLS and KeyGuide resin. A green surface indicates accuracy within 150 microns of the .stl file.