Carbon Partners with 3Shape to Streamline Clear Aligner Production Workflows
With innovations across treatment planning, design software, and digital production methods, it's not surprising that clear aligners are one of the fastest growing segments in the dental and orthodontics industries. As the space continues to get more competitive, dental labs, orthodontic groups, and direct-to-consumer clear aligner providers are turning toward reliable digital processes to improve patient outcomes and experiences, and gain a competitive edge. However, while there have been major strides in scanning technologies, treatment planning software, and 3D printing materials and processes, there has been little compatibility between them. These siloed efforts were slowing workflows, and we made it our mission to provide a seamless experience.
That's why we're excited to announce that Carbon is now a Validated Technology Partner with the 3Shape Clear Aligner Enterprise platform: a comprehensive software solution for designing clear aligners.
"Ensuring all of our innovations work seamlessly is key for large scale production of clear aligner models. Our partnership with 3Shape makes 3D printing technology easier to integrate into workflows from treatment planning to production."
Phil DeSimoneChief Product and Business Development Officer, Carbon
3Shape, based in Copenhagen, Denmark, is a leading developer and manufacturer of 3D scanners and CAD/CAM software solutions for dental and orthodontic industries. Through its Clear Aligner Enterprise platform, 3Shape is an industry leader in efficient case handling and treatment planning.
Through this partnership, labs can ensure seamless file compatibility between 3Shape and the Carbon L1 Production Solution: an end-to-end 3D printing platform for producing high volumes of 3D printed dental models for clear aligners while still maintaining superior quality and impressive throughput. With intuitive APIs as a key component of the digital workflow, Carbon's printer software enables the exchange of data and production files, as well as the integration with manufacturing and ERP systems.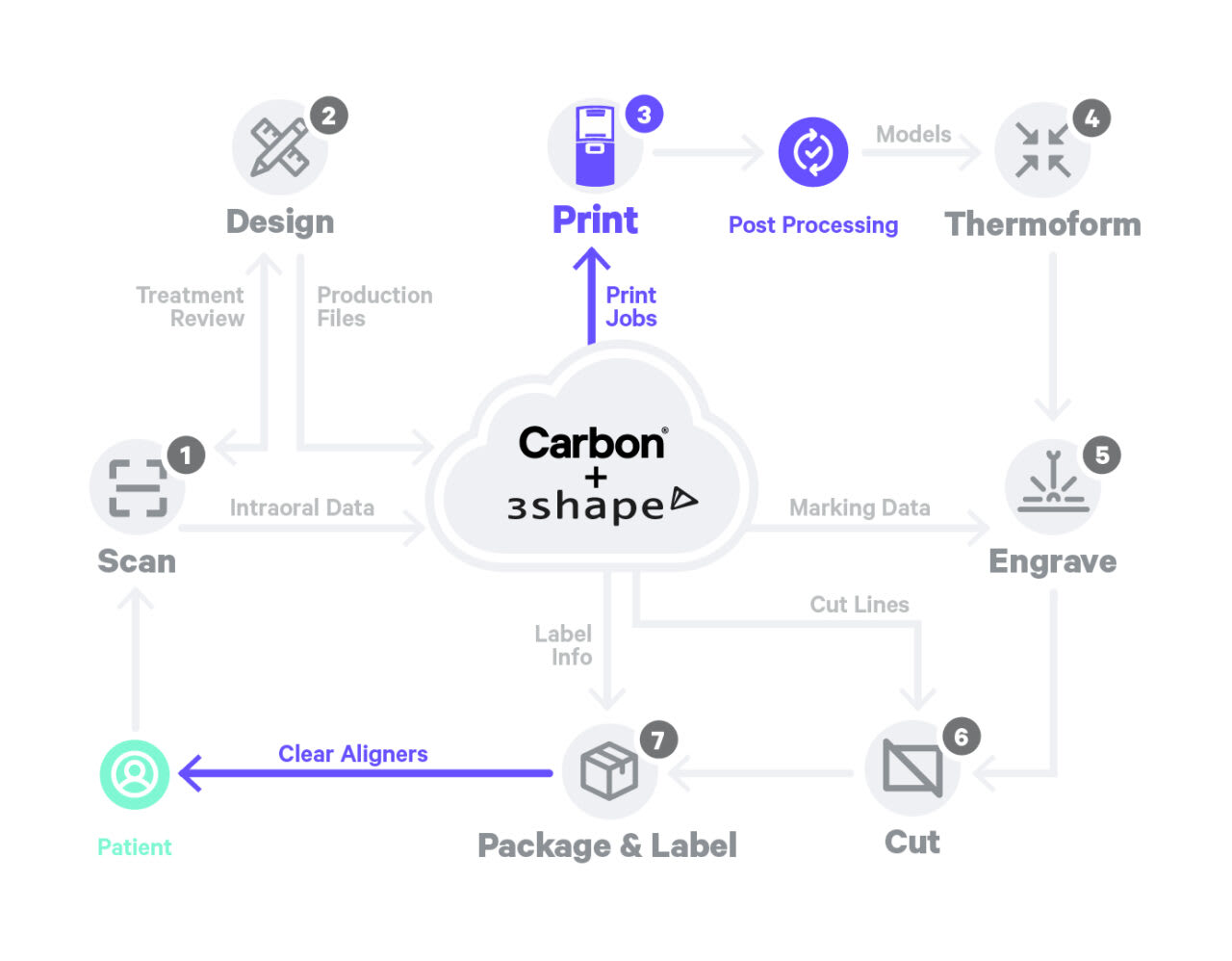 "The purpose of our Validated Technology Partner program is to ensure customers will experience a harmonious process. We're proud to partner with Carbon to create a seamless digital ecosystem for clear aligner production workflows that enhances patient experiences."
Arjumand HougaardDirector, Clear Aligner Enterprise Solutions, 3Shape
By pairing the industry's best 3D scanner solution with the industry's most reliable clear aligner production solution for 3D printed dental models, Carbon and 3Shape are enabling dental and orthodontic professionals to create a truly scalable and flexible clear aligner workflow with quick turnaround times––from treatment planning to production.
3D as It's Meant to Be
Whether your lab is just starting to manufacture clear aligners or growing an existing line, Carbon can help you ramp up and quickly scale. Learn more about the L1 Production Solution here, or reach out to us at dental@carbon3d.com to speak with a Carbon team member.