Introducing adidas 4DFWD
The world's first 3D printed, anisotropic lattice midsole, designed to move you forward with only your normal vertical impact pressure.
The Evolution of an Icon
The 4D has been an icon of design and manufacturing since it was introduced in 2017, and is one of the largest applications of 3D printing in history with millions printed and sold worldwide. Now the 4D has leapt forward once again with the new 4DFWD midsole made with the Carbon DLS™ process. The 4DFWD uses Carbon's latest high-performance resin optimized for forward motion and a smoother transition delivering a unique running experience.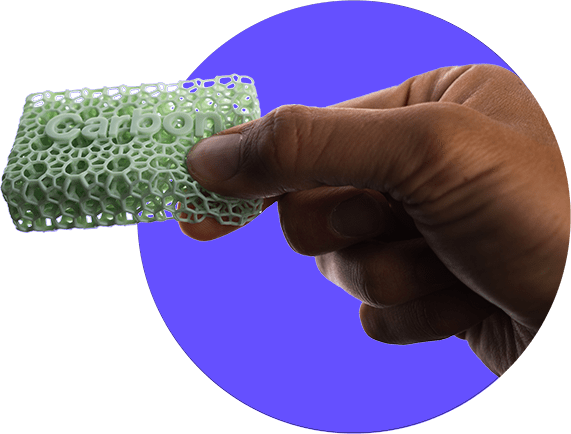 Get your EPU44 Sample Puck and Learn the Ins and Outs of Latticing
EPU 44 is the high-performance elastomer used in the previous adidas 4D Futurecraft midsole. Don't forget to grab a copy of the updated latticing whitepaper to see what new insights drove the design of adidas 4DFWD.
Carbon's next-gen, high-performance elastomeric (EPU) material represents many breakthroughs in photopolymer technology, optimizing for
print time, accuracy, and post-processing of high-volume applications.


39%
Bio Based


23%
More Cushioning


15%
Reduction of Braking Forces
Built-In Mechanical Advantages
The 4DFWD lattice utilizes an entirely new 3D printed midsole design which incorporates a unique property of physics directly into this advanced running shoe. The proprietary FWD CELL shape translates vertical impact forces from a runner's downward step into forward momentum.
The cell shape, size, and strut diameter are some of the parameters that can be fine-tuned when building lattices, giving designers and engineers ultimate control when building high-performance products.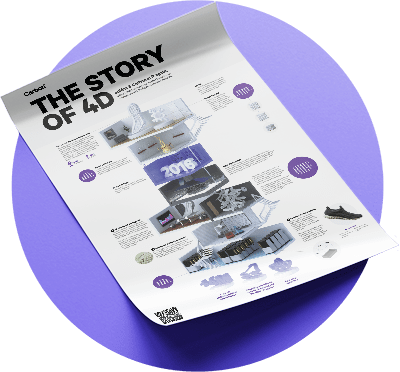 The Story of 4D
adidas and Carbon partnered to make a breakthrough product with the help of Carbon DLS™. Get a free print-ready copy of the full story and see how each part was integral to the development of adidas next-gen 4DFWD midsole.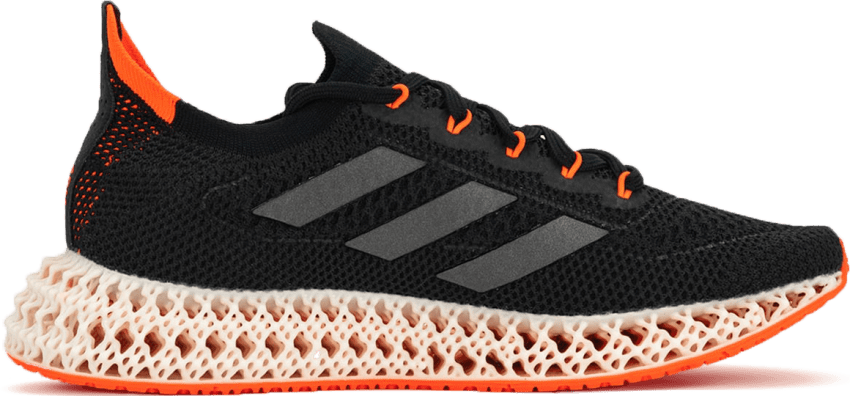 The 3rd Generation in the 4D Product Line
4DFWD represents the power of the partnership between adidas and Carbon––where a vision can be realized when ideas are unencumbered by the constraints of traditional manufacturing. The freedom to be creative has fueled this partnership from the very beginning.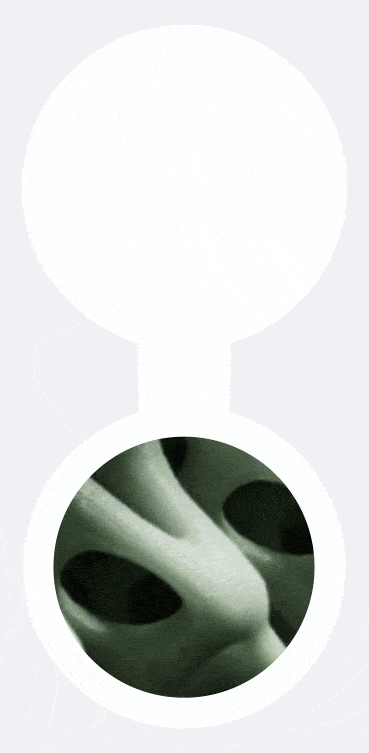 2016
Partnership
adidas has provided the world's greatest athletes with top-performing, innovative products since its inception. In 2016 adidas and Carbon partnered to realize completely new paradigms in their designs and manufacturing that would allow them to once again raise the bar of performance.
Development of 4D Begins
Carbon's material scientists developed an entirely new elastomeric material, EPU 41, that could live up to the demanding mechanical properties of a revolutionary running shoe midsole. Additionally, the development of cutting-edge additive processes and tools were critical for efficiently manufacturing the new unmoldable midsole at scale.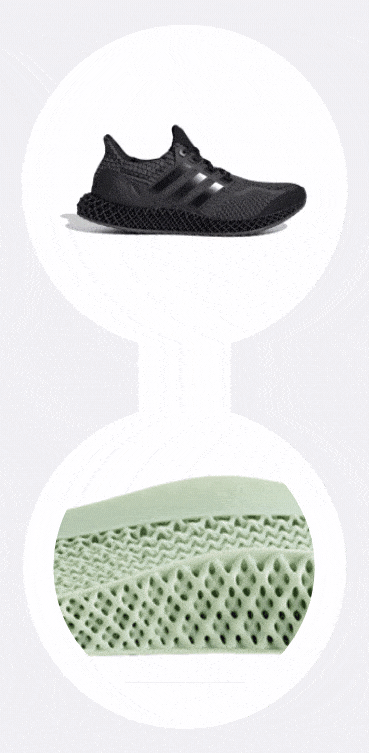 2017
4D Futurecraft Launch
The Carbon DLS™ process allowed adidas designers to create one of the most advanced shoes with a multi-zone midsole produced from a single print. The monolithic, lattice design comprises over 10,000 individual struts that enable the precise tuning of the midsole for performance––increased lattice density provides support, while decreased density creates cushioning, giving runners lasting comfort with responsive feedback.
Work on Next-Gen EPU Begins
Carbon and adidas assembled the best and brightest material scientists to begin developing the next generation, high-performance elastomeric resin. The mandate was lighter, stronger, faster.
2018
AlphaEDGE Launch
The AlphaEDGE midsole was tuned for a more versatile performance by precisely adding thickness to the struts directly under the strike of the runner's heel.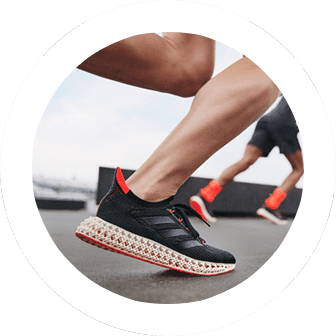 2021
4DFWD Launch
adidas 4DFWD is the game-changing result of a perfect blend of unconstrained creativity, powerful technology, and bleeding-edge material science. adidas and Carbon will continue to finetune this blend in order to keep expanding the boundaries of what's possible.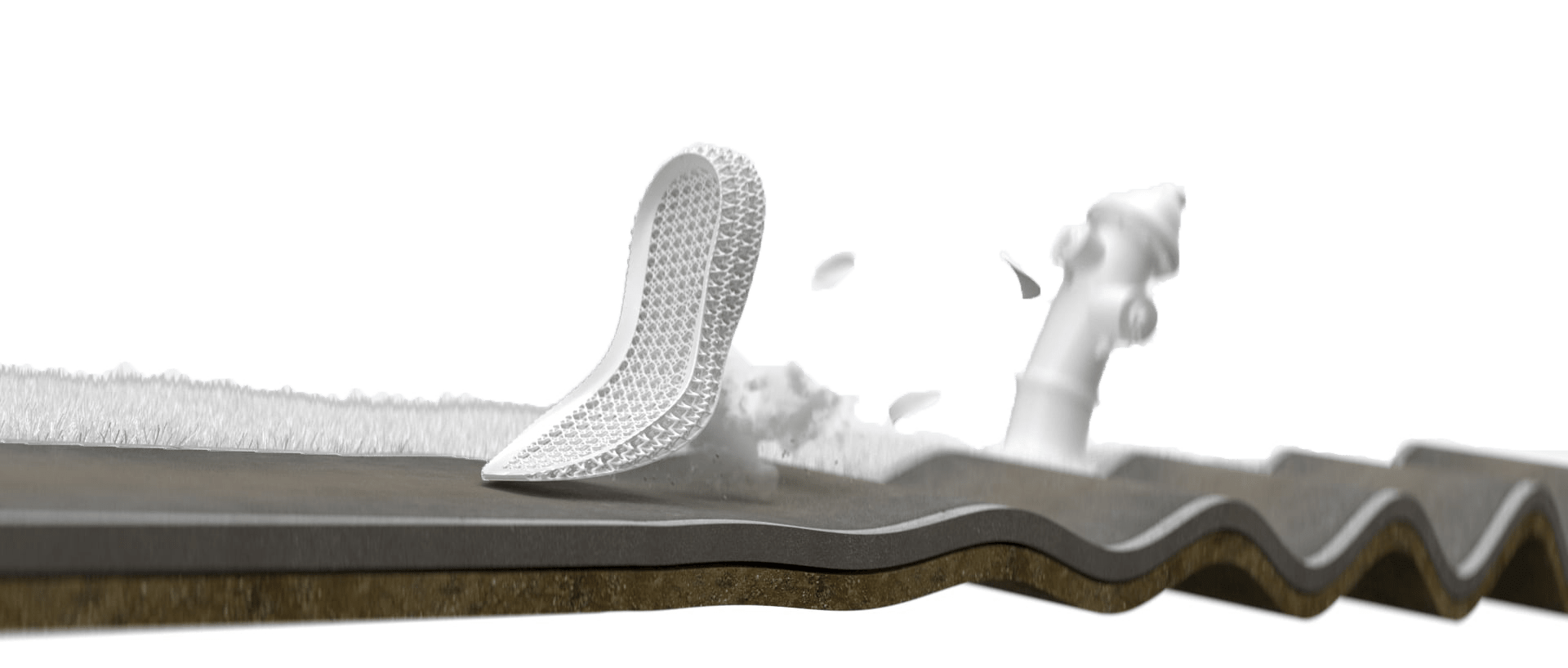 Post-Processing
Automated, Solvent-Free Spinning and Vacuuming Followed by Dual-Cure
DLS Advantage
High-Performance, Unmoldable Geometries, Programmable Metamaterials
Get Started with the Carbon DLS Process
Carbon Design Engine
Generate conformal lattices faster than ever before with Carbon Design Engine.